Post Views: 16
Imagine having a gaming experience with no interruptions and lagging. Where you own a game server that is stable & solid like a rock and speedy like the wind.
Where you win your game without technical glitches and control your whole gaming universe, where there is no chance of harassment and attacks, and where you get technical assistance the moment you need it.
Sounds like an overly-promising thing?
Believe me. It isn't.
A 'Dedicated game server hosting' serve all these on your table.
Whether you are an eSports pro, casual player, or new to the gaming world, we have searched far & wide to take your gaming experience to another level.
So get ready to know all about the best dedicated game server hosting designed only for you & that tick all your boxes.
In this blog, you will learn:
What is a dedicated gaming server?
What are the benefits of a dedicated server for gaming?
Top 5 dedicated gaming servers.
When to consider having a dedicated gaming server?
How to choose the best dedicated game server host?
What is a Dedicated Gaming Server?
Let's understand it with an example.
Picture this –
You & your friends love playing a cricket match. You all reached the ground with excitement & found it occupied by other players. Though there was space, it was not enough for you all.
You all played, but there were disruptions, disturbances, lack of flow, Miscommunications & other troubles. It started happening every day.
Fed up with latency & poor gaming experience, you & your friends decided to get a ground on rent. A place that will be solely dedicated to you, providing you with enough space, resources, and rich experience.
You rent a ground & start playing your cricket match without disruptions, with the number of friends groups you want, every day.
It is what you get when you choose a dedicated gaming server.
Dedicated hosting is having a physical server that's exclusively available for you.
And dedicated hosting is different from VPS & shared hosting, which requires you to share resources with other websites on the server.
There are numerous benefits of having the best cheap dedicated game server hosting. Let's see them.
Also Read
How to Get a Free Dedicated Game Server
What are the Benefits of Having a Dedicated Game Server Hosting?
With a server that hosts only your website, you get multiple benefits. A dedicated game server hosting has:
Stable & high-performance hardware.
A fully optimized network connection.
Less to no risk of downtime.
Multi-player handling capacity.
No performance issues or slowdowns in between the game.
Control over server resources.
Access to configuration & settings.
Customizations are available, such as setting game rules, mods & plugins.
Adjustments to resources like upgrading hardware to fulfill increased demand & increased number of players.
High level of security compared to shared hosting.
Protection against gaming harassment and threats like DDoS attacks.
Unique gaming environment with a community of players from all over the world & engagement.
And since you have plenty of resources, your server can handle the sharpest traffic spikes.
It means dedicated server hosting is the best choice whether you're a small community aiming to grow or a professional player looking to expand further.
List of Best and Cheap Dedicated Game Server Hosting
Here is an extensive list of the best dedicated game server hosting platforms for gamers and streamers.
1. Liquid Web (Editor's Choice)
Liquid Web Server Hosting is well known for its managed hosting services. It has built its reputation for providing instant support like no other.
Liquid Web game server provides you with –
A powerful hardware
Fast processors
16 GB RAM in their standard plan
452 GB SSD storage
5 TB bandwidth
Low-latency
High-speed connections
It offers services for various games, including Minecraft, Counter-strike: Global Offensive, Ark: survival evolved, Rust, Team Fortress 2, and more.
Special features of Liquid Web
Liquid Web dedicated game servers give you –
Powerful hardware for a smooth & lag-free experience.
Fully managed hosting that keeps you secure & updated.
Support through industries-certified administrators like Red Hat Linux, windows & others.
DDoS protection that safeguards game servers from denial-of-service attacks.
User-friendly, one-click installations.
Dedicated team to help you migrate from your current hosting.
16 data centers with level-3 technicians.
500+ on-site hosting professionals.
Pricing plan:
The standard cloud-dedicated servers start at $149/month.
2. Ultra host (Best Overall)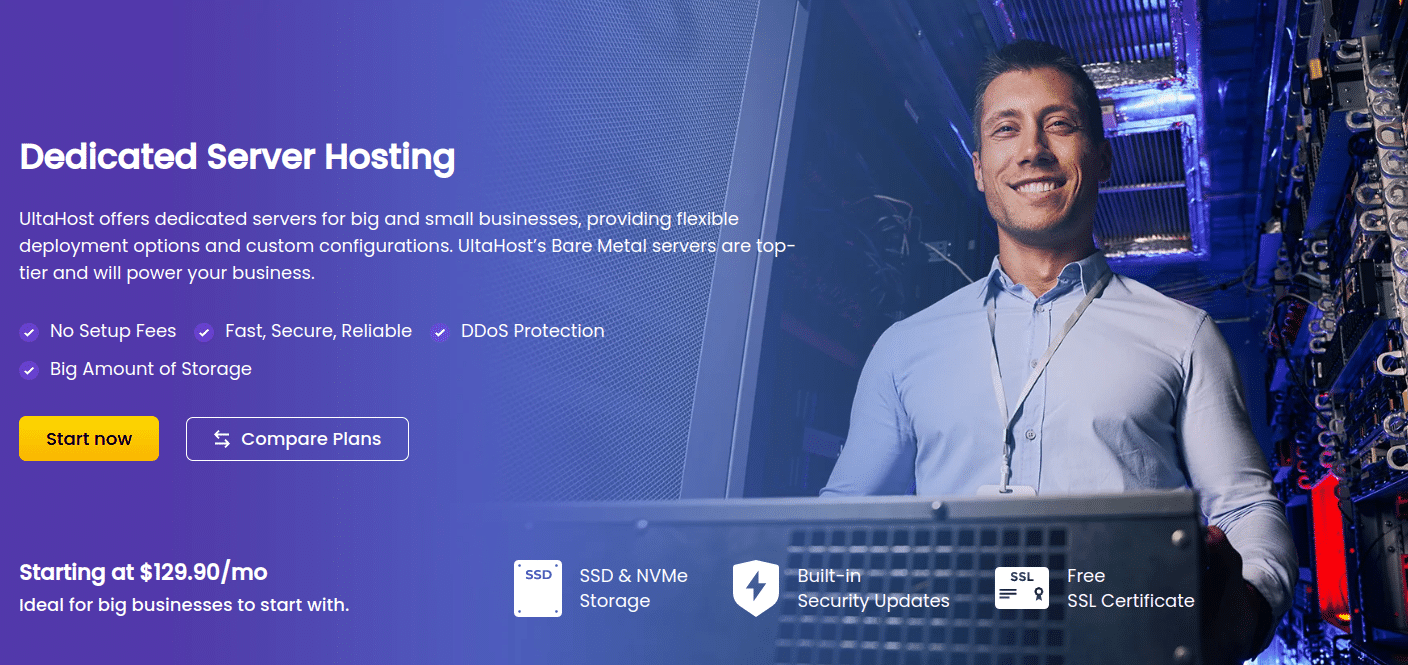 With 10+ years of experience in this field, Ultrahost is a renowned dedicated game server provider. They have served more than two lakh satisfied customers & made a name for their extraordinary performance & customer service over the globe.
Their standard plan provides –
2*960 GB SSD
64 GB RAM
99.99% uptime
Free SSL certificate
Built-in security updates
Managed gaming server
It provides game server hosting for – Minecraft, SA: MP, Terraria, and MTA: SA.
Special features of ultra-host
Ultra-host dedicated game server hosting gives you –
Complete protection against DDoS attacks.
Server located at multiple locations to ensure the lowest latency.
Custom control panel to manage your server.
Hardware with no downtime or getting offline issues.
Full FTP access.
MySQL database to create databases with a single click.
The ultra-host support team is available 24*7 in your service.
Pricing plans:
The starting price for ultra-host dedicated game server hosting is $129.90/month.
They keep providing up to 25% discount on special occasions. So, check for a promo code before you buy.
3. ScalaCube (Better Gaming Experience)

If you're looking for a company designed specifically for game server hosting, ScalaCube is your perfect destination. ScalaCube is famous among players for its reliability, simplicity & ease of use.
A Minecraft server of ScalaCube includes –
20 players slot
15 GB SSD storage
1.5 GB RAM
Unlimited game servers
Backup system
plugin/Mod support
Instant set-up
It offers popular multi-player game servers, such as Minecraft, bedrock, ARK: Survival Evolved, Rust, Hytale, CS:GO, Starbound, Terraria, Valheim, Factorio, and Project Zomboid and many more launching soon.
Special features of ScalaCube
ScalaCube dedicated game server hosting offers –
The fastest, most reliable & cheap Minecraft server hosting.
Servers located all over the world, including India, give no space for internet latency.
A single-click installation.
A premium service on a pocket-edition server.
Unlimited game servers with unlimited slots.
A custom control platform with unparalleled stability.
DDoS protection.
A promising 24*7 support for you.
Pricing plan:
The plan for ScalaCube dedicated game server host starts at $2/month. And Minecraft server starts at $5/month.
They keep offering discounts on your 1st invoice.
4. DreamHost (Cheapest Option)
DreamHost's dedicated game server hosting comes with HDD or SSD hard drives, which makes its uptime lightning fast. To ensure your site is always up to date, they use the best available hardware & software.
The DreamHost standard plan for a dedicated server includes the –
1 TB HDD
4 GB RAM
Extreme performance
Option to Reboot your server
Special features of DreamHost
DreamHost dedicated server hosting promises to deliver –
100% network uptime guarantee
24*7 DDoS protection & 2N+2 power redundancy.
Full root & shell access.
Uncapped bandwidth
Ubuntu Linux
24*7 technological support & monitoring.
IPv4 & IPv6 address.
Unlimited traffic on your site.
Unlimited reseller and subaccount.
Pricing plan:
The standard Plan for DreamHost starts at $169/month.
5. Interserver

InterServer has been in the gaming industry since 1999. It's a 22 old company with a motto of delivering high quality at a low cost. What makes it unique is its- Cloud hosting.
Special features of Interserver:
Reliable hosting service with a proven uptime of 100%.
A budget-friendly quality service.
A price-lock guarantee. The price you signed up for is the price you pay.
10 GBPS dedicated server. That means your connection speed will be exceptional.
20TB transfers and fast internet connections in 15 minutes.
Up to 120 Terabytes of space to meet all your gaming needs.
24*7 uptime monitoring & assistance.
DDoS Protection against illegitimate traffic & hacking.
Pricing plan:
The price for InterServer dedicated game server hosting begins at $67/month.
When to consider having dedicated game server hosting?
A dedicated game server is a must-have for you if you –
Plan to increase traffic.
Looking for high security.
Need high performance, stability, control, and versatility.
Focus on growing your career in gaming.
Expecting player growth in the future.
How to choose the best dedicated game server host?
Still have questions like:
Are dedicated servers good for gaming?
How do I choose a good dedicated server?
How much RAM is sufficient for me?
To overcome them, you can check the customer reviews of the mentioned game hosting websites.
There are trusted websites like – Trustpilot & Google Maps that will help you choose the best dedicated game server hosting.
Besides these, several factors play a crucial role in choosing the best dedicated game server hosting, like –
The physical location of the server as it impacts latency. Choose a server geographically close to your target player base.
Look for high-performance hardware, reliable network infrastructure & uptime guarantee in a dedicated game server host.
Distributed denial of services [DDoS] can disrupt your gaming experience. Choose a robust DDoS hosting provider.
Check the scalability of the gaming server so that your future growth & increasing number of players won't affect the speed & uptime.
Check for customer support service before choosing a server to overcome technical issues you may face.
Opt for a custom control panel to make server management easier.
Compare prices, costs & value provided by different dedicated game server hosting.
By considering these factors, you can make an informed decision & choose the top dedicated game server hosting for yourself.
Final Thoughts: Best and Cheap Dedicated Game Server Hosting
The market size of gaming is constantly evolving. According to a gaming market analysis, the industry is expecting a growth of 380 billion USD by 2028.
Data not only shows the market growth, it also indicates the increasing number of players & their expectations for enriching gaming experiences.
And, to fulfill the player's demand & keep pace with continuous technological advances, game developers & hosting Companies are making things smoother for you.
A best dedicated gaming server host not only multiplies your experience but also provides you with 10x security, reliability, protection from harassment & threats, and a fulfilling experience.
https://linuxbuz.com/best-resources/best-dedicated-game-server-hosting