Courtesy of Sports & Social
Courtesy of Sports & Social
There was one glorious night in October when sports fans could flip on their televisions and catch the NFL, MLS, NHL, World Series, college football, and WWE at the same time. So clearly, you're going to need to find a great sports bar if you want to take advantage of the plethora of available televised sports. Lucky for you, Nashville has you covered with a wide variety of sports-centric bars and restaurants with enough screens to track your favorite team any night of the week. Ranging from cozy neighborhood pubs to huge shrines of high-def entertainment, there's something for everyone when the big game is on.
Various
If Broadway Brewhouse had never accomplished anything other than being one of the innovators of the Bushwhacker, that boozy frozen chocolate concoction that has become the start of so many bad ideas, they would have a special place in Nashville's heart. Not resting on their frigid laurels, they also serve up some really novel chicken wings including jalapeño molasses-glazed and fiery habanero sticky versions. Add in a wall of craft beer taps and games on the tube over the bars, and you'll understand why Broadway Brewhouse is a Nashville institution, even if their original location in Midtown is now operating under new management as Broadway Brewpub & Brub.
Green Hills
If you thought there were already enough Paneras in the world, you'll be pleased to discover that the location at the Mall at Green Hills has been replaced by an astounding 21st-century sports bar that boasts more than 20 HDTVs and a 33-foot-long media wall that can showcase multiple events. An outdoor patio offers al fresco dining and drinking options, and because it's in a mall, free surface lot parking is copious. The food options are pro-level, highlighted by a Signature Tower piled high with loaded nachos, quesabirria egg rolls, traditional & boneless wings, cacio e pepe arancini, and fries.
SoBro
Despite the name and association with the popular Barstool Sports brand, calling this new venue a "sports bar" is a bit of an understatement. Sure, there are plenty of huge screens showing the big games, a full bar menu of beers by the bucket and specialty cocktails, and all the sports bar food staples including wings, burgers, tenders, and nachos, but this place is so much more. The cavernous hall houses a massive stage that showcases full-scale concert performances by touring bands, complete with light shows. When the staff pulls up all the furniture for late-night dancing space, (including, paradoxically, the barstools,) this place turns into a party.
Germantown
Located on the edge of Germantown on the way to North Nashville, this neighborhood hang attracts fans of all of the city's pro teams plus college fans of Tennessee State University and Vanderbilt. This sort of eclectic crowd can feel comfortable cheering for their favorite teams because Germantown Pub strives to be an inclusive destination with a genuinely hospitable vibe. The kitchen offers smoked wing tip specials during Monday and Thursday night primetime NFL games, so there's twice the reason to visit.
 
East Nashville
This Five Points neighborhood fixture has been a gathering spot for sports fans who enjoy cold beer and watching multiple games together on the wall of screens stretching the length of the bar. So, pretty much, all sports fans. The kitchen stays open until midnight, so you can even grab something to eat while watching late-night West Coast games.
Midtown
Imagine if Deb Paquette, one of Nashville's most beloved chefs for the amazing international cuisine at her restaurants Etch and etc., were to create a casual menu for a laid-back neighborhood gastropub. Well, you don't have to imagine it, because that's exactly what she's done with Jasper's, which bills itself as "the next evolution of the sports bar." The menu turns traditional pub grub on its head with dishes like potato wedges with mozzarella, queso, onions, jalapeño, salsa roja, and chili. The large bar is ringed with televisions showing your favorite games, and the restaurant also offers a few video and table games to amuse yourself during halftime.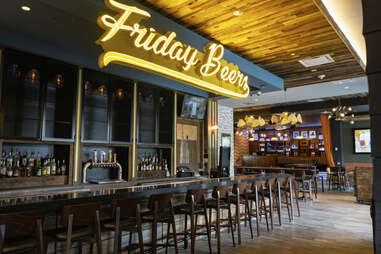 SoBro
A spinoff of the Friday Beers social media channel, this high-end sports bar is like an Instagram post come to life. Located just far enough from the craziness of Lower Broad (but still an easy downhill crawl into the fray), Almost Friday Sporting Club is a destination for sports fans seeking bottle service vibes, cold beers, multiple screens, and over-the-top food options like corn dog and chicken tender towers. Don't be surprised if a round of shot-skis breaks out; just bury your inhibitions and join the fun.
SoBro
The front of this SoBro emporium is dedicated to an immense tasting room and gift shop featuring Ole Smoky Moonshine, but once you power through that space it opens up into a wondrous shrine of delights. There are multiple bars serving beers from Ole Smoky's corporate cousins at Yee Haw Brewing plus food from White Duck Taco Shop and Daddy's Dogs. Then there are the screens. The glorious, humongous screens playing the biggest games on the biggest displays around. Inside or out in the amiable beer garden/adult playground, it's virtually impossible to turn your head and not see one of those screens. That's exactly how we like our sports bars, visible from space.
Downtown
Nashville's most authentic British pub is the perfect spot to enjoy a proper pint or two of imported English ale while watching football (both kinds!) on the telly. The subterranean lair lends itself to losing track of time with no sunlight to gauge the hour of day, but as long as you've got an order of fish and chips or a shepherd's pie in front of you, what's your hurry? Fleet Street is the home pub for Arsenal fans, so maybe don't wear your Tottenham Hotspur supporter scarf if you don't want trouble.
 
Germantown
This (literally) elevated sports bar features a large outdoor patio perched high above the third base line of the Nashville Sounds First Horizon Park so you can take in a ballgame without buying a ticket or paying stadium prices for your beer and food. You can even reserve a space for up to 20 people with your own dedicated server for a private event. Dozens of televisions spread around the spacious interior show all the big games, and their menu of sandwiches and flatbreads will keep you energized for a day of marathon sports viewing.
 
Donelson
This venerable sports bar in the 'burbs near Gaylord Opryland Resort doesn't draw the tourists like urban core watering holes do, and that's a good thing. The decidedly old-school restaurant and bar has everything you'd want for your game viewing pleasure, cold beer, and a huge menu of burgers, wings, pizza, sandwiches, and barbecue. However, they're best known for their version of Nashville hot chicken, a fiery fried dish that is remarkably legit for a sports bar. With heat levels like "Satan's Tongue," order at your own risk.
Belle Meade
When Sam's opened a location in the tony Belle Meade neighborhood, the crowds were so big that people parked their cars on the side of the highway and walked a block to get to the sports bar. Apparently that's what access to multiple television screens showing all the big games, slow-cooked ribs and chicken, fantastic burgers and perhaps the best wings in town will do.
Various
This powerhouse chain of sports bars already had a rabid following at their locations in Brentwood, Franklin, and Bellevue, but when they opened their latest outpost downtown on 5th Avenue, that really pushed them over the top. A 48-foot LED video looks like something out of Vegas or the command deck of the Enterprise, and the bar features a beer tap for every foot of screen. In addition to all those beers plus wine and cocktails, the food menu is a double threat. In addition to classic Southern comfort food like meatloaf and fried chicken, Corner Pub also serves some pretty respectable tacos and fajitas courtesy of their Mexican sister restaurant, Esquina Cantina.
East Nashville
Noble's prides itself on a list of draft beers that's as long as Lebron's arm, but don't miss out on their cocktails and frozen drinks. The food is definitely elevated above your normal sports bar fare with all sorts of meats coming off the smoker and a notable offering of burgers. Big screens ring the dining room, bar and popular outdoor screened porch, and the upstairs "Break Room" stays open until late so you don't have to miss the west coast start times of your favorite teams.
Germantown and Sylvan Park
As more young people move into the new housing springing up all over Germantown, the neighborhood has been looking for a good sports bar. Neighbors stepped into that gap quite nicely with their second location in town. Like at their original Sylvan Park restaurant, the new Neighbors smokes all their meats in-house, ranging from brisket to ribs to pulled pork, and serves them alongside bar snacks, sandwiches and lots of cold beer. Add in a focus on local sports teams, and that's a sure recipe for success.


https://www.thrillist.com/drink/nashville/best-sports-bars-nashville-right-now