If you can't connect to the EA Sports FC 24 online services, the servers might be down. Here's how to quickly check the EA FC 24 server status and what you can do to find out whether it's a server based problem or a result of a local network issue.
We've all experienced it at least once – you're looking forward to playing some FUT matches, but as soon as you reach the loading screen, you get an error message telling you that you are unable to get online.
This happens far more often than we'd like, and it's due to the EA FC 24 servers either being offline, undergoing scheduled maintenance, or experiencing some random problems.
FIX YOUR FUCKIN SERVERS EA

ive been trynna open my rivals rewards since this morning pic.twitter.com/Vbdr7HkOPJ

— HM9 (@Spliro) January 12, 2023
At least there's a reliable way of checking the EA servers – in this article, we will show you how to find out whether there is a problem with the EA FC 24 servers or not.
EA FC 24: How To Check Server Status

In case the online services aren't available in EA FC 24 or any other FIFA game, EA usually informs the community on their specially dedicated Twitter account. This account will also inform you early if there is a scheduled server downtime to come. Watch out for update posts for server issues on there.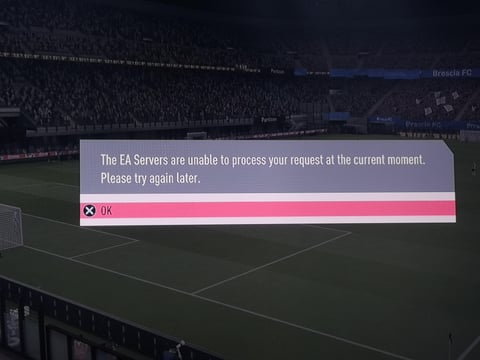 Another way is to check dedicated server websites like downdetector. Here, you can check whether other FIFA players experience some problems with the EA Servers as well. You can even report problems if you have any, so other players know when the servers are down.
Obviously, we don't work for EA – otherwise there wouldn't be these issues – so if the servers are down, we can't tell you anything else than: sit back and wait. Sooner or later, you will be able to play EA FC 24 again – hopefully without any issues. Until then, use the time by reading guides around the game or just play some offline matches.
Can't Connect To The EA Sports FC 24 Servers? How To Fix Potential Local Network Issues
There isn't any information about known server issues regarding EA FC 24, but you still can't log into FUT? Then there might be a problem with your internet connection. This is what you can try out:
If you're in touch with some friends that also play EA FC 24, ask them whether they have the same problem. If they don't, you can be pretty sure that it's a local network problem and not a server based one.
For PC players: Check whether EA Sports FC 24 is blacklisted in your Antivirus Software or firewall.
Restart your router.
Restart EA Sports FC 24.
Restart your PC/console.
If you're using a VPN, check whether the connection works when you turn it off.


https://earlygame.com/fifa/ea-sports-fc-24-down-how-to-check-server-status