Given the relentless heat waves that have affected much of the U.S. this summer, it's pretty reasonable to expect that a so-called Indian summer will follow in temperate regions like the southwest. Which is why autumn just might be the perfect time to enjoy the last of the year's idyllic days spent at the swimming pool in places like Las Vegas.
Sitting right at the heart of the Las Vegas Strip, The Cosmopolitan of Las Vegas' pool scene is perfect for discerning travelers seeking to make the most of their stays. Its stylish and socially vibrant Pool District offers a distinctive set of aquatic playgrounds where guests can enjoy everything from a refreshing dip to some relaxation in the sun, or gathering socially for great food and drink.
A distinguishing element of cabana and daybed reservations at The Cosmopolitan is that, rather than paying a traditional rental fee, guests commit to a built-in food and beverage minimum for the day they're reserving the space, enabling them to sample even more of what The Pool District has to offer.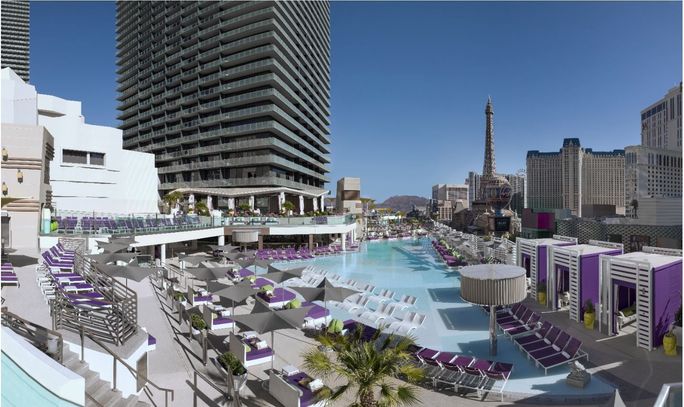 First off, there's the Boulevard Pool on Level 4 of Boulevard Tower, where upbeat music and intimately spaced lounge chairs and umbrellas set the scene for laying out, splashing around, or mixing and mingling. It features two pool decks with spectacular views overlooking the Las Vegas Strip, walk-up bar, and recreation area with games like billiards, foosball and more. 
Of course, those who want to take their "daylife" experience to the next level can reserve daybeds, complete with plush platform cushions (about the size of a queen-size mattress) and lounging pillows. For daybeds without a mesh canopy top, guests can request an umbrella upon arrival, subject to availability for select premium locations only.
Or, guests can opt for one of the sumptuous poolside cabanas that can accommodate up to 8 people and include a host of elevated inclusions. Most cabanas come with a dedicated server and the following amenities:
HD television
Refrigerator stocked with complimentary soda and water
Complimentary fresh fruit platter (upon request)
Safe located inside credenza
Each Lower Deck Cabana includes all of the standard cabana amenities listed above, plus a couch and four lounge chairs along the water
Each Upper Deck Cabana includes all of the standard cabana amenities listed above, plus a couch and one or two lounge chairs in front of the cabana
Meanwhile, the Chelsea Pool, located on Level 14 of The Chelsea Tower, provides a more low-key soothing environment with a private canyon-like feel. This rooftop pool is a lush, stylish oasis where you can wind down from the excitement of the Strip, relax and re-energize. Where the Boulevard Pool is geared toward creating a lively social atmosphere, the Chelsea Pool is filled with discrete havens that offer varying degrees of seclusion.
Lastly, the iconic Marquee Dayclub, on Level 2 of the Boulevard Tower, is an exclusive poolside environment where guests can enjoy Marquee's signature food menu, specialty cocktails, and bottle service offerings. A premier Las Vegas experience, The Marquee Nightclub & Dayclub entertainment complex occupies a 22,000-square-foot space with two pools, several bars and a world-class sound system. After the sun sets on Friday and Saturday nights, Marquee Dayclub transforms into a moonlit outdoor lounge for guests 21 and older featuring DJ concerts. Reservations are encouraged for this venue.
While some of Sin City's pools are open year-round, others close up for the winter, when desert temperatures become too frigid for splashing around and sunbathing, or at least scale things back significantly. Cosmopolitan's Chelsea Pool stays open for guest use through the winter months, being heated to around 80°F.
---
For the latest travel news, updates and deals, be sure to subscribe to the daily TravelPulse newsletter here.
Topics From This Article to Explore



https://www.travelpulse.com/news/hotels-and-resorts/come-frolic-at-the-cosmopolitan-of-las-vegas-fabulous-pool-district-this-fall