At a glance
Expert's Rating
Pros
Competitive pricing with discounts for longer subscriptions
User-friendly setup with helpful resources and 24/7 support
Comprehensive feature set
Comprehensive knowledge base, video tutorials, and 24/7 support team
Cons
Dedicated server packages may be expensive for smaller businesses
Only one parked domain for the Core plan
Our Verdict
InMotion Hosting is a web hosting platform that offers affordable pricing, comprehensive features, and user-friendly setup. The features offered across even its basic plans are generally competitive compared to other hosting providers such as HostGator and Bluehost. InMotion Hosting is a good choice if security, uptime, and support are top priority.
Price When Reviewed
Plans from $2.99 to $13.99 / mo
Best Prices Today: InMotion Hosting
InMotion Hosting is a popular web hosting provider that offers a range of hosting solutions for individuals, small businesses, and larger enterprises. It has competitive pricing and a user-friendly setup, which is on par with the industry standard. Having comprehensive features across even its most basic plans are what really gives InMotion's service an edge against competitors like HostGator and Bluehost.
InMotion Hosting: Pricing
InMotion Hosting offers a range of hosting plans at competitive prices, making it an accessible and affordable choice for customers with different budgets and needs. There are a couple of factors at play here, such as which hosting plan you go with, which tier, and how many months you pay for up front.
Depending on which subscription you go with, you can expect a nice discount with the initial signup. This ranges anywhere from 72 to 29 percent off. To get the most bang for your buck, go for the longest subscription to net the biggest discount, but just be sure you're in it for the long haul.
Here's a breakdown of the pricing and subscription tiers for the Shared Hosting package, which is ideal for small businesses or those looking to launch a passion project.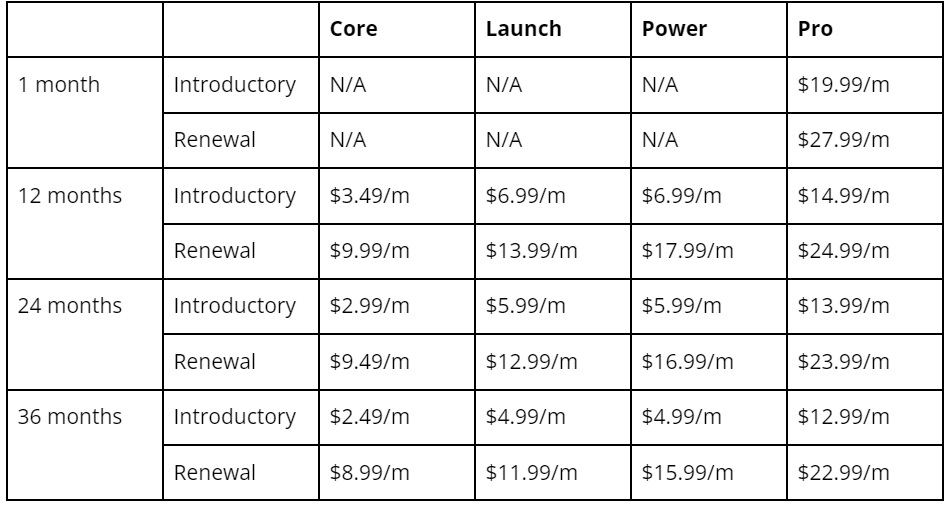 Marshall Gunnell / Foundry
InMotion Hosting also offers a Dedicated Server package. This is geared toward larger businesses that require top-tier support, performance, and optimization. Also, unlike the Shared Hosting plan, Dedicated Server packages come in 1-, 3-, 6-, and 12-month subscriptions.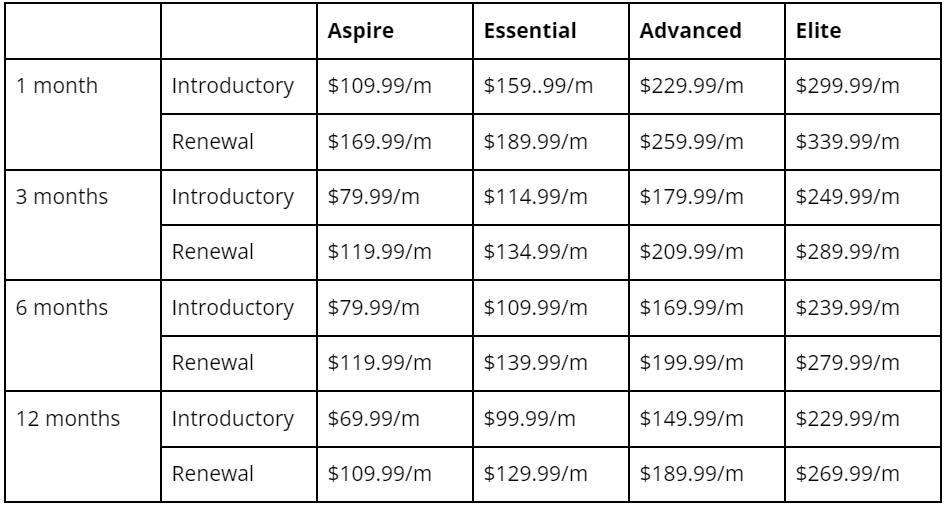 Marshall Gunnell / Foundry
Compared to its competitors, InMotion Hosting's pricing is generally attractive. While both Bluehost and HostGator offer similar pricing and plans, some customers may find InMotion Hosting's pricing to be slightly less expensive for certain plans or features.
InMotion Hosting: Setup
InMotion Hosting makes the initial setup process easy for customers. This is an important factor, especially for those who are new to website hosting and may be unfamiliar with the technical aspects of getting a website online.
The service provides a variety of resources to help customers with their initial setup. On par with other web hosting providers, InMotion offers a user-friendly control panel that makes it easy to manage your hosting account, install apps like WordPress, and access your files and databases. Also on par with others, InMotion offers free website migration services for customers who are transferring a website from another hosting provider. This is a major benefit if you're not tech-savvy and just want to focus on other aspects of your website.
InMotion Hosting provides a comprehensive knowledge base, video tutorials, and access to a 24/7 support team. This is useful if you're unfamiliar with website hosting and want to set everything up yourself but may have questions about how to get started or throughout the process.
InMotion Hosting: Features
InMotion Hosting provides several features across all of its plans that, in most cases, exceed those of its competition. Each plan includes unlimited bandwidth and subdomains. They also come with free SSL certificates, which are critical for securing your website and protecting your users' data.
The Launch, Power, and Pro plans come with unlimited MySQL & PostgreSQL databases. The Core plan comes with 40, compared to Bluehost's 20 of the same plan type.
There are also many other key offerings, such as website storage, email accounts and storage, dedicated IPs, and so on—many of which have a leg up on the competition.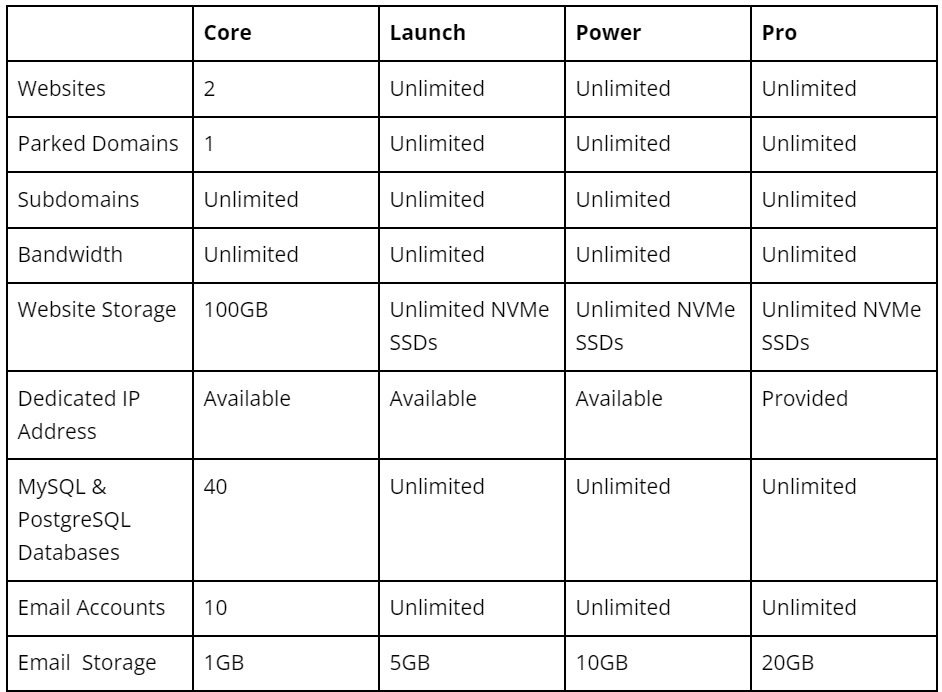 Marshall Gunnell / Foundry
InMotion Hosting also provides support for eCommerce and developer tools, which sets it apart as a more flexible and robust hosting solution.
Overall, InMotion Hosting does really well in the features department. Its free SSL certificates, unlimited bandwidth, multiple data centers, eCommerce features, developer tools, and website builders make it stand out as a powerful web hosting solution.
InMotion Hosting: Backup and security
When it comes to backup and security features, InMotion Hosting is one of the best options available. One of the standout features is its free daily backups. This is a crucial feature for any website owner, as it ensures that their data is safe in the event of a disaster or server failure. The backups are automatic, so you don't have to worry about setting up any complicated backup procedures. Remember, if your data doesn't exist in multiple locations, it doesn't exist at all.
In addition to daily backups, InMotion Hosting offers other security features, including free SSL certificates, malware and virus protection, and DDoS protection. These features are essential for protecting your website from malicious attacks and ensuring that your website is secure.
InMotion Hosting: Reliability
Server downtime means lost revenue and user trust. This makes server reliability extremely important. InMotion Hosting is known for providing excellent uptime and reliable performance. 
InMotion Hosting offers a 99.9 percent uptime guarantee, which is in line with industry standards. It also uses reliable hardware and software, such as SSD drives and the latest versions of PHP and MySQL, to ensure that its servers are fast and reliable.
I used InMotion Hosting for a security and data storage website for over a year, and never personally experienced any downtime. As one would expect, response times slowed as our traffic grew, but that's to be expected with a shared server, as you're sharing resources with other sites.
My experience is pretty well-aligned with customer reviews from various sources, such as TrustPilot and WPBeginner, praising the uptime and performance of their websites, with only the rare reports of significant downtime and performance issues. While most hosting service providers such as Bluehost promise 99.9 percent uptime, it often falls short. You won't need to worry about this with InMotion Hosting.
Overall, if you're looking for a reliable web hosting provider, InMotion Hosting is an excellent choice. With its 99.9 percent uptime guarantee and reliable hardware and software, it provides a solid foundation for your website's success.
InMotion Hosting: Customer Support
InMotion Hosting also has glowing reviews from many users online for providing high-quality, responsive support. This type of quality support is extremely important, as you may need help with technical issues or have questions about your hosting account at any time.
InMotion Hosting offers 24/7 support via phone, live chat, and email. Its support team is based in the United States, and many customers praise the quality of their support interactions.
One of the standout aspects of InMotion's support is the commitment to fast response times. The service aims to respond to support requests within 15 minutes, and it's always achieved this in my experience. This is especially important if you're experiencing a critical issue with your website that needs immediate attention. If this is due to user error on your part, you'll be guided through the steps to fix it.
And as mentioned earlier, InMotion Hosting provides a comprehensive knowledge base, community forums, and video tutorials to help customers troubleshoot common issues and learn more about their hosting account.
Should you use InMotion Hosting?
InMotion Hosting is an excellent choice for website hosting with a range of plans, competitive pricing, and excellent features. Its pricing structure is flexible, with different tiers available depending on the size of the website and the needs of the customer. 
It also offers a variety of helpful resources, including a user-friendly control panel, video tutorials, and 24/7 customer support. The features provided by InMotion Hosting, such as unlimited bandwidth, free SSL certificates, and unlimited MySQL and PostgreSQL databases, make it an attractive option for those who want to get the most out of their website hosting provider. 
Overall, InMotion Hosting is a reliable and affordable choice for businesses and individuals who want to create a professional-looking website without breaking the bank.
https://www.pcworld.com/article/1660348/inmotion-hosting-review.html