It's quite a common problem: You send out a signup confirmation, an order email for your online store or an invoice through your website hosting provider's email server, but your contacts complain that they never received the message. Then you test it yourself and it lands in your spam folder.
But why? 
For starters, most website hosting providers have very strict sending limits in place. Companies such as 1&1 or GoDaddy radically limit the amount of email traffic permitted on their servers. 1&1 IONOS, for instance, will allow no more than 30 emails in 5 minutes. If you try to send out more, the provider will cut you off, and you won't be able to send anything at all.
During my initial tests using Mail-Tester.com, which looks at various factors that can influence email deliverability, I often got a result like this one:
For that reason, you should look into specialized transactional email services that let you send emails via SMTP relay or an API. Thanks to their optimized servers, your emails have a significantly higher chance of reaching their destination without ending up in spam or, even worse, not being delivered at all.
What are transactional emails?
Transactional or bulk emails are typically used for:
Account-related emails: Welcome and password reset emails
Order confirmations: Purchase and payment-related, invoices
Shipping notifications: Shipping and delivery updates
Event notifications: Upcoming events, appointment reminders.
Customer support: Inquiry follow-ups, survey invitations.
System alerts: System updates, suspicious account activity.
And although it's not the typical use-case, you can also use these services for regular newsletters. Then you would create the newsletter text or code externally and use the email service to send them in bulk.
What is a Transactional Email Service, and how does SMTP work?
Typically, you would create the email in a system, like your CRM software or CMS like WordPress. This is especially important if you are using WordPress plugins such as appointment scheduling tools, membership plugins or newsletter plugins. These plugins typically try to send emails via the standard email gateway, which is your web host's email server (👎).
Transactional email services either connect via API (application programming interface) or SMTP (Simple Mail Transfer Protocol). This is a relatively simple process, as you can see here. You sign up for the email service and fill in the details they provide.
This example shows the MailPoet WordPress plugin (a newsletter service) that I connected to Mailjet (a transactional email service):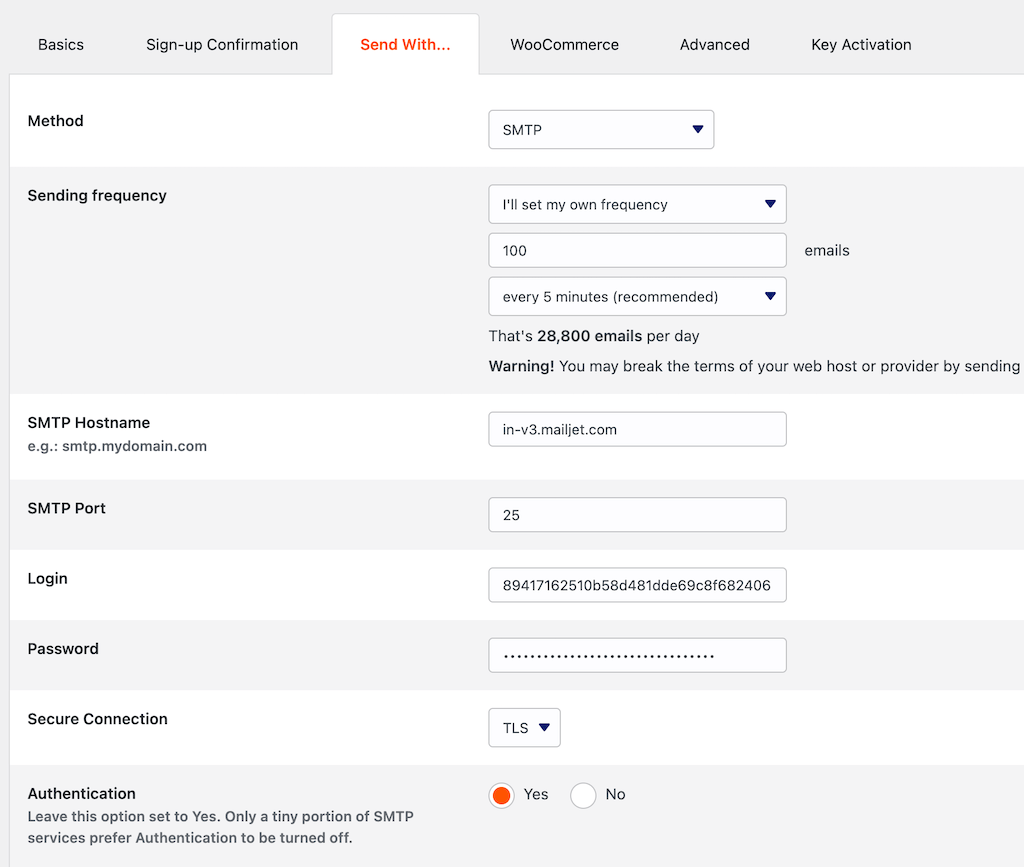 The Different Types of Email Services
Essentially, there are regular email marketing services for mass emails (e.g. GetResponse), transactional email services (e.g. SMTP2GO) and the ones that do both (e.g. Brevo).
To send transactional emails, you have the following options:
Scenario 1: you send both classic newsletters AND transactional emails
In this case you could consider a newsletter service that offers both these services. A clear advantage is the fact that you'll have all your customer data in one database, which you then can use for follow-up campaign or for segmentations. Regular email marketing services also provide a convenient newsletter editor, which you can use to create your HTML newsletter from A to Z.
Some examples are:
Brevo (Sendinblue) (40,000 emails for $25 / month)
Mailjet (50,000 emails for $35 / month)
Elastic Email (50,000 emails for $15 / month)
The only downside is that email marketing services that are focused on transactional emails usually offer better deliverability or prices. To benefit from those, you can look at option 2.
Scenario 2: you only send transactional emails
There is a whole range of specialized transactional email providers that offer very attractive prices. Feature-wise there is not too much difference – the only really important distinction is their success rate in delivering your emails, which we'll look at in a moment.
SMTP2GO (40,000 emails for $15/month)
Postmark (50,000 emails for $55 / month)
MailerSend (50,000 emails for $30 / month)
Sendgrid (50,000 emails for $19.95 / month)
What to Look Out for When Choosing a Transactional Email Service?
Unlike a newsletter service that comes with a newsletter editor, templates and other fancy features, the two basic things you need most from a transaction email service are excellent deliverability and affordable prices that are flexible (meaning that there are no huge price jumps once you cross a certain threshold).
You can see these services are a utility, very similar to your Internet provider, where you want reliable, fast Internet at a fair price.
So unless you are looking for a tool that offers both newsletter creation and transactional emails, you really just need to look at the price and the deliverability rate. Obviously, support shouldn't be too bad either.
Unlike similar review websites, we have done some real-world email deliverability testing with the most important transactional email services. Read on to learn more.
13 Best Transactional Email Service Providers
Here's an overview of the features and pricing of these sending services that offer SMTP relay and transactional API connections:
SERVICE
PRICING (per month)
DELIVERABILITY
COMMENTS
SMTP2GO
(Try for free)
1k emails: free
10k emails: $10
50k emails: $25
100k emails: $75
(discounts for annual plans)
Round 1: 95%
Round 2: 94%
Round 3: 97%
Round 4: 96%
Average: 95.5%

Free plan
Best value for money
Excellent deliverability
Great live chat support

Free plan allows just 25 emails per hour (but support can increase this limit)

Postmark
(Try for free)
100 emails: $0
10k emails: $15
50k emails: $55
100k emails: $115
Round 1: 97%
Round 2: 95%
Round 3: 96%
Round 4: 87%
Average: 93.8%

Best-in-class deliverability

MailerSend
(Try for free)
3k: emails: $0
50k: emails: $30
100k emails: $60
Round 1: 92%
Round 2: 75%
Round 3: 86%
Round 4: 94%
Average: 86.8%

Generous free plan
Low prices
Fast account approval

Deliverability seems inconsistent

 

Mailjet
(Try for free)
6k emails: $0 (daily limit: 200)
15k emails: $15
50k emails: $35
100k email: $95
(offers discounts for annual plans)
Round 1: 84%
Round 2: 92%
Round 3: 72%
Round 4: 92%
Average: 85.0%

Free plan
Very good deliverability
Includes a newsletter editor and templates (at the same price)

Setup is slightly more complicated (nothing too crazy)

 

Sendgrid
(Try for free)
100 emails (daily): $0
50k emails: $19.95
100k emails: $34.95
Round 1: 82%
Round 2: 86%
Round 3: 87%
Round 4: 73%
Average: 82.0%

Free plan
Extremely low prices

 

Brevo (Sendinblue)
(Try for free)
300 emails (daily): $0
20k emails: $15
40k emails: $25
100k emails: $65
(offers discounts for annual plans)
Round 1: 84%
Round 2: 72%
Round 3: 78%
Round 4: 85%
Average: 79.8%

Complete email marketing solution
Free plan

Deliverability below average
Pricing tiers aren't very flexible

 

Mailtrap
(Try for free)
1k emails: $0
10k emails: $10
50k emails: $24
100k emails: $30
Round 1: 66%
Round 2: 91%
Round 3: 64%
Round 4: 87%
Average: 77.0%

Deliverability rate inconsistent

 

Elastic Email
(Try for free)
100 emails/day: $0
10k emails: $9
50k emails: $15
100k emails: $25
Round 1: 60%
Round 2: 41%
Round 3: 79%
Round 4: 58%
Average: 59.5%

Free plan
Extremely low prices
Great live chat support

Zepto (by Zoho)
(Try for free)
10k emails: $2.50
50k emails: $12.50
100k emails: $25
Not tested
(We weren't approved)

Complicated interface
Long, non-transparent approval process

Mailgun
(Try for free)
50k emails: $35
100k emails: $75
Not tested

Free trial (5000 emails for one month)

Prices are not the cheapest

Amazon SES
10k emails: $1
50k emails: $5
100k emails: $10
(extra cost for attachments)
Not tested

Amazon EC2 users get 62k monthly emails for free
Extremely cheap prices

By far most complicated setup

Mailchimp Transactional Email
10k emails: $20
50k emails: $40
100k emails: $80
(+ the costs of a regular Mailchimp account)
Not tested

Expensive
Confusing pricing

SMTP.com
50k emails: $25
100k emails: $80
Not tested

100k plan includes dedicated IP address

No free plan or free trial
Not ideal for smaller senders
A note about pricing:
Most of these email services offer increased allowances if you go over the maximum number of emails of your selected tier. They usually charge per 1,000 emails extra.
Here's how we tested deliverability:
Compared to our regular deliverability tests of the most important email marketing services where we run five test rounds, we ran a limited test for the transactional email services. We sent two test rounds with Glockapps, a deliverability testing service that checks the most popular email providers worldwide (incl. Gmail, Outlook, Yahoo, AOL, GoDaddy, Zoho etc.).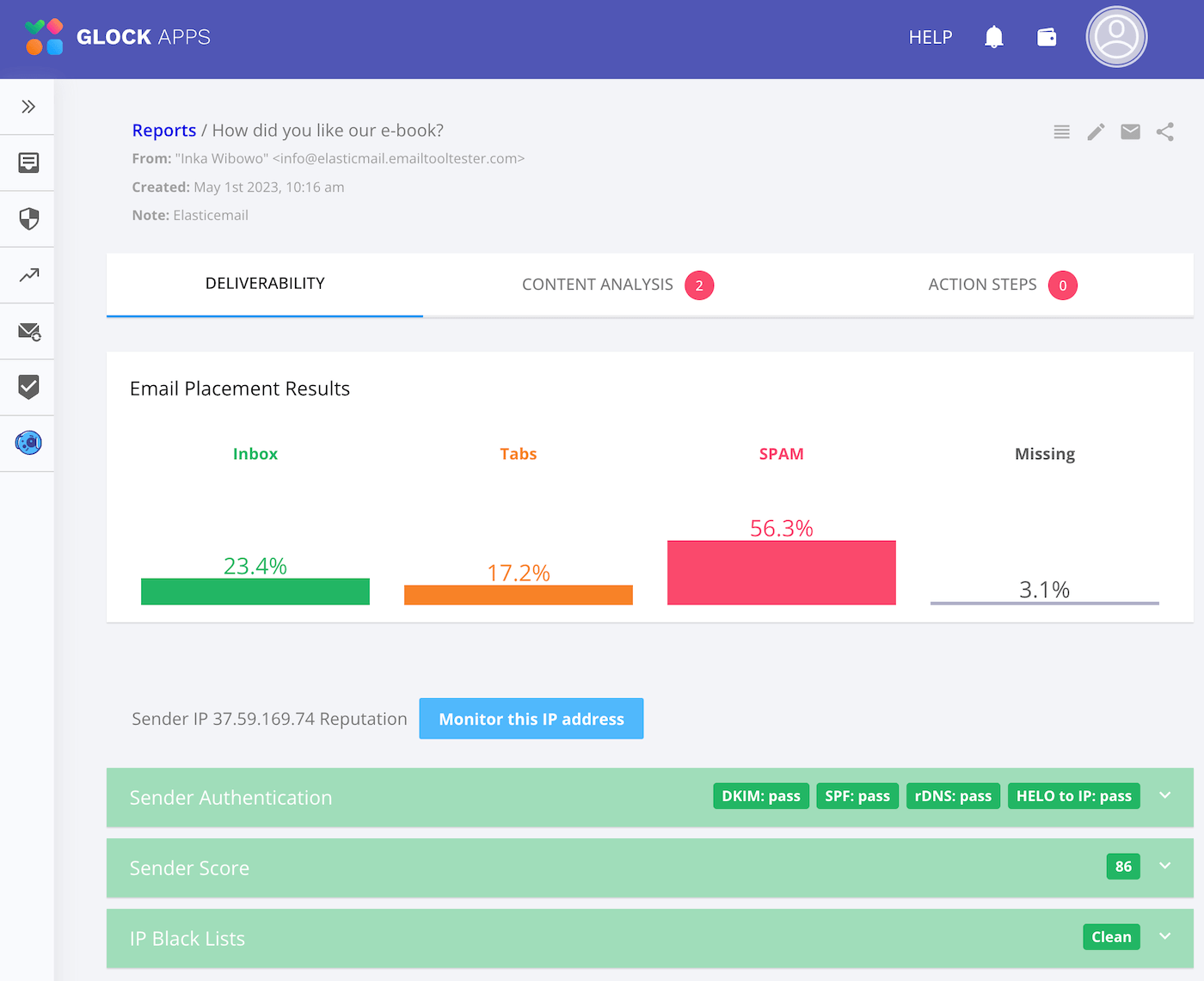 Best Transactional Email Services in Detail
SMTP2GO – Best Value for Money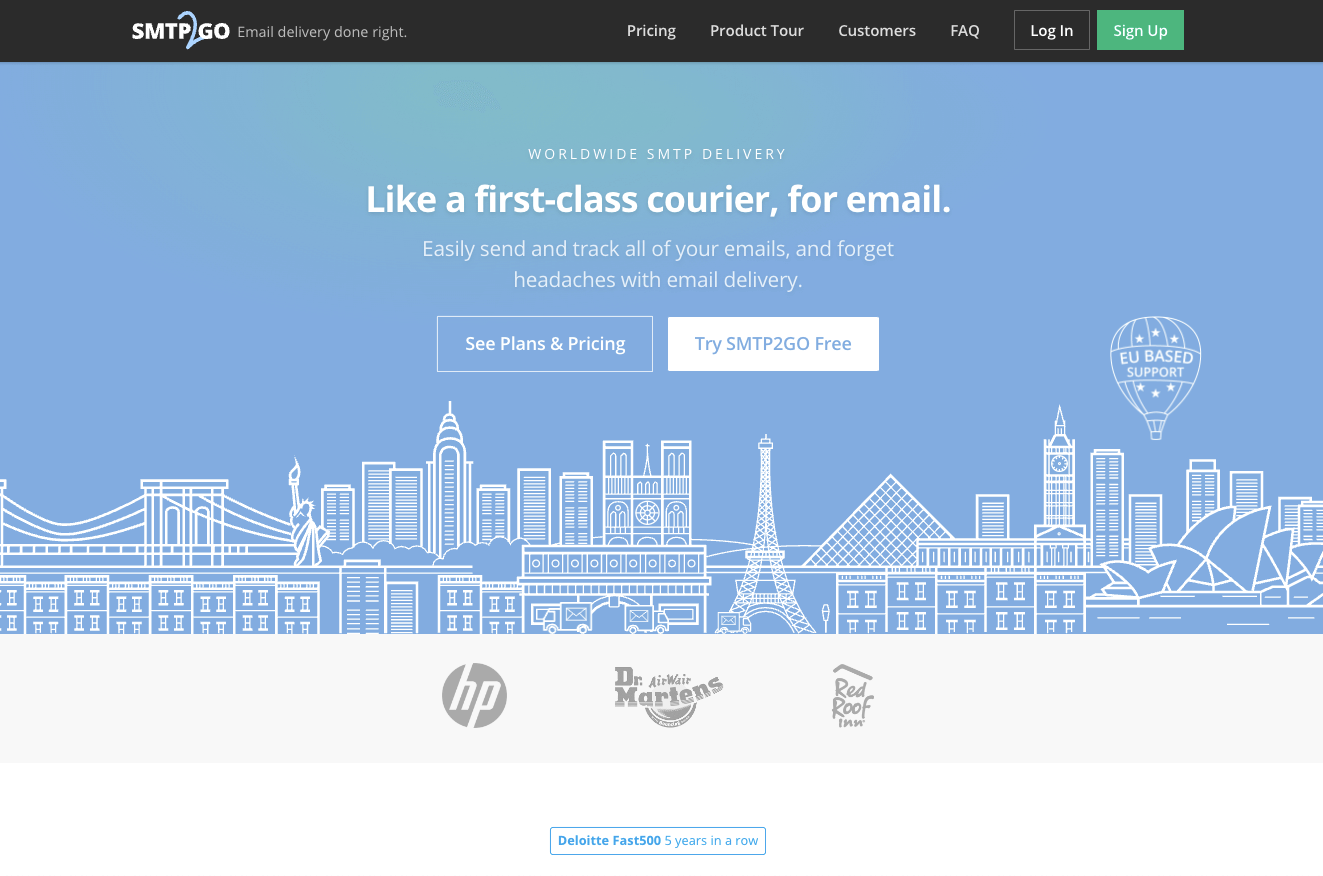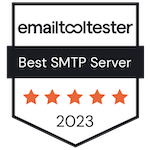 We awarded SMTP2GO our Best SMTP Server badge for 2023!
At first glance, SMTP2GO's website looks almost a little bit outdated. But it would be foolish to write the company from New Zealand off. For one, there's a free plan that lets you send 1,000 emails per month at no cost. This is also the plan we used for our deliverability tests. Amazingly, it achieved the second-best deliverability rate among all services tested.
SMTP2GO Pros
Best value for money: we managed to achieve a fantastic deliverability rate of 95.5%. Given the low cost of this email service, it's our top recommendation!
Free plan: send up to 1,000 emails every month for free
Good support: I received quick and easy live chat support
EU-based hosting available: this is handy if you are required to meet the GDPR standards
SMTP2GO Cons
Limits on the free plan: you can only send 25 emails per hour, however, if you contact support they can lift this limit
Postmark – Best Deliverability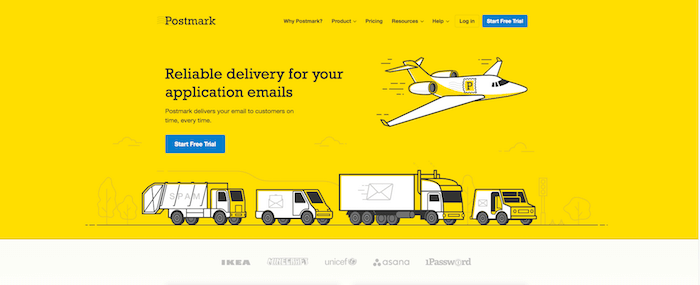 Postmark is part of ActiveCampaign, our top recommendation among the email marketing services we tested. Knowing the quality of ActiveCampaign, we expected Postmark to be a polished transactional email service. And the Chicago-based company didn't disappoint. They achieved a remarkable delivery rate of 93.8%! One of the highest we have ever seen.
If you just want to get all of your emails delivered and are prepared to pay a little extra, this is your top transactional email software! For fewer than 100 emails every month, it's even free.
Postmark Pros
Best deliverability rate: No other email service achieved such a high deliverability rate
Integrations with ActiveCampaign: you can connect Postmark to your automations
Postmark Cons
High prices: Postmark charges the highest prices among the services we tested
Data hosting only in the US: makes it more difficult to comply with the European GDPR regulation. Mostly only a disadvantage for companies based within the EU.
MailerSend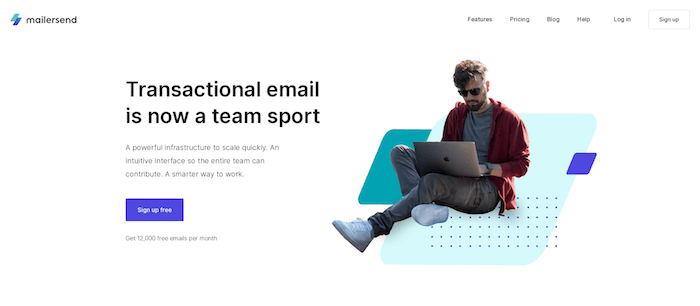 MailerSend is the transaction email service from MailerLite, a newsletter service we rate very highly. If you've used MailerLite, then you'll know it's a really easy-to-use tool with a modern interface and fast email builder – MailerSend is no different.
The free plan lets you send 3,000 emails /month, and if you send more than that the cost of additional emails is $1.00 per 1,000 emails – that's not bad at all! Plus, there's no daily limit, unlike with a number of other services on this list.
MailerSend Pros
Generous free plan: 3,000 emails per month for free! The allowance used to be 12k, but has now been reduced.
Low prices: their paid plans are also some of the cheapest
Solid deliverability: With the exception of one test round, MailerSend had great deliverability rates
Fast approval process: compared to most other tools we tested, their approval was the fastest
MailerSend Cons
Mailjet – Not only for transactional emails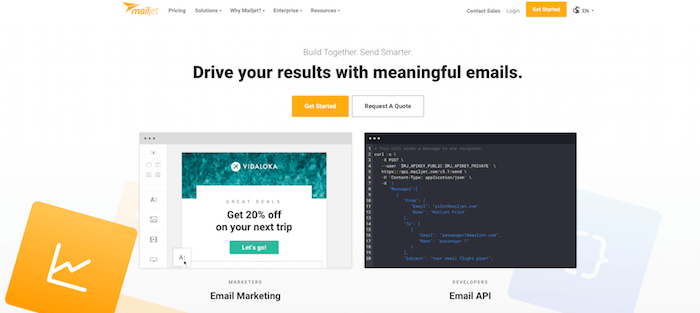 This French company, is well known to us. Mainly for their newsletter editor that we've reviewed in detail here. But they actually have their origins in transactional emails. So, what's the deal, exactly?
Mailjet is one of the more affordable newsletter software providers on the market, offering users 15,000 emails for just $15. Aside from transactional emails, you'll also get a drag and drop email editor, simple automation, SMS marketing and A/B testing. In our email deliverability test, they scored the 3rd best result. Mailjet also hosts your customer's data GDPR-friendly in EU countries.
Mailjet Pros
Free plan: a fairly generous 6,000 emails per month with a daily limit of 200
Very good deliverability: The average score in our two test rounds was 85%.
Newsletter editor included: You can use their template editor to create newsletters – at no surcharge!
Mailjet Cons
Complicated setup: compared to all the other services I tested, I found the setup more complicated. Support was able to help me, though.
Sendgrid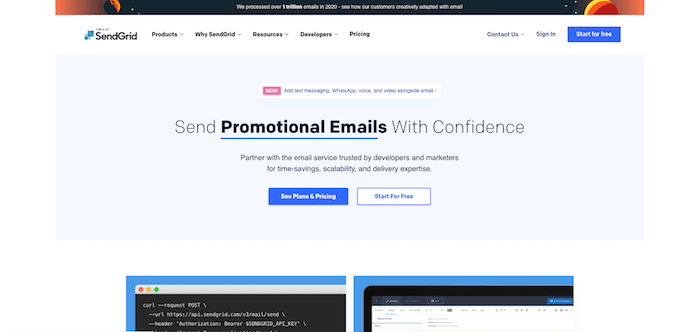 SendGrid is a mass email service for sending marketing emails as well as transactional emails. With a limit of 100 emails/day, Sendgrid's free plan isn't quite as generous as the other providers'. However, its paid plan starts at a reasonable $19.95/month for 50,000 emails.
This bulk email sender comes with delivery optimization tools, a dynamic template editor and analytics. Unfortunately, you won't have access to email validation unless you shell out $90/month for its Pro plan.
SendGrid Pros
Very low prices: especially if you have a large contact list
Decent deliverability: given their low prices, SendGrid offers great value
SendGrid Cons
50k emails minimum: they don't have any lower plans
Brevo (formerly Sendinblue)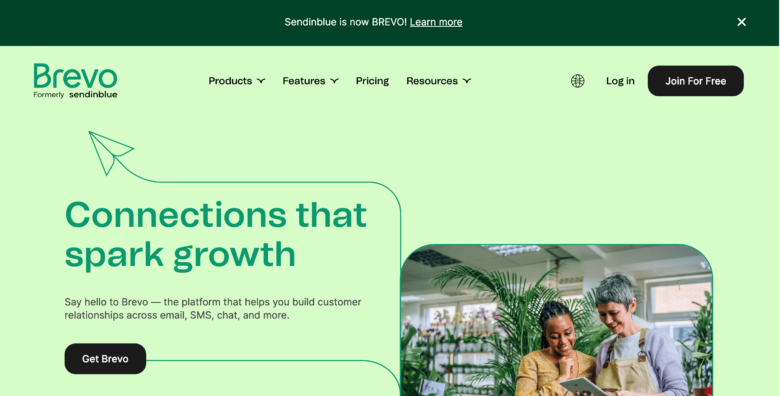 Paris-based Brevo, which used to be called Sendinblue, covers a host of services: marketing automation, email campaigns, transactional emails, SMS messages, chat, CRM, Facebook ads and more. We rate it pretty highly as an email newsletter service due to its reasonable prices and comprehensive offering.
It has a nicely featured free plan, which includes marketing automation, phone support (for the first 60 days) and up to 300 emails per day.
Brevo Pros
Complete marketing suite: it's a fully featured newsletter service that even has a CRM
Free plan: send up to 9,000 emails per month at no cost
Brevo Cons
Deliverability rate: their results were weaker than the average – the poor score in the second round was mainly related to problems with Hotmail/Outlook.
Pricing not very flexible: while other services allow you to purchase emails in increments of 1,000, Brevo bumps you up into the next highest pricing tier.
Mailtrap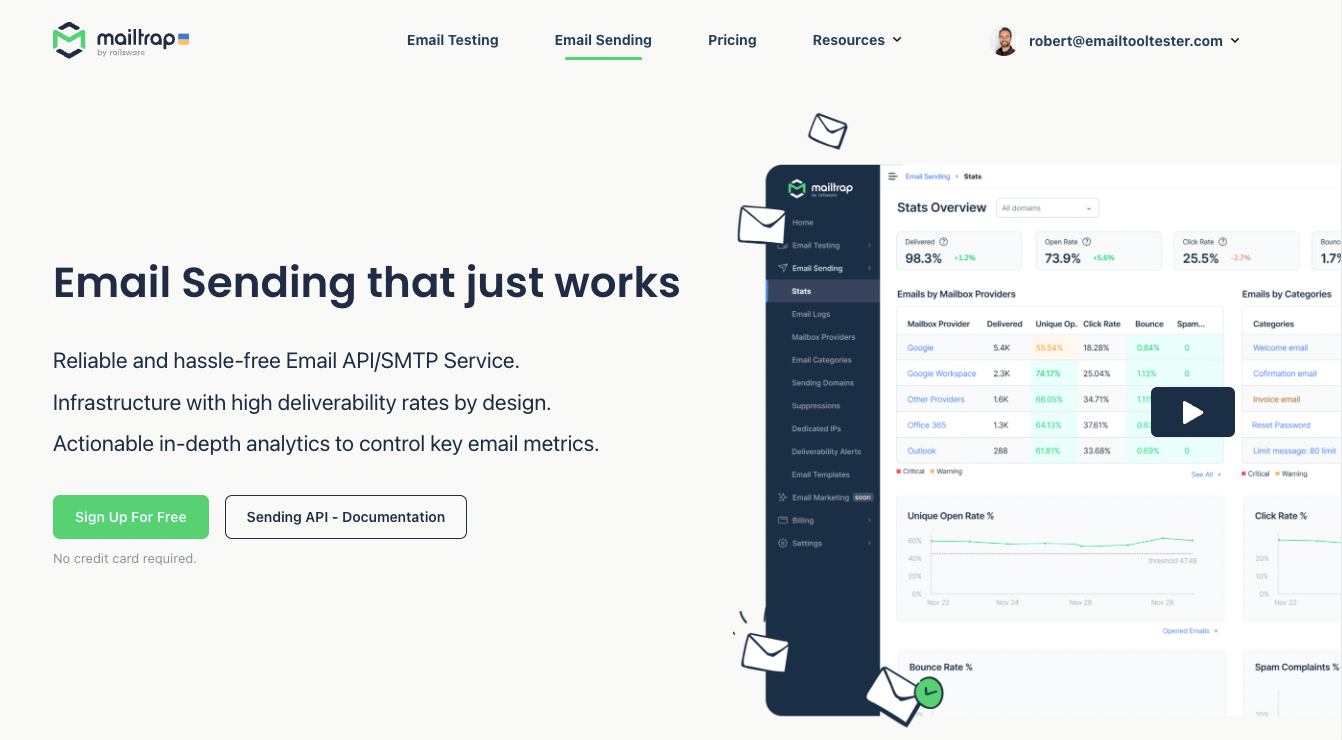 This young company that has its origins in Ukraine and started out as an email testing service. It allows you to send emails safely from your staging server without spamming your recipients. Hence, the unusual name Mailtrap.
The SMPT service includes 1,000 emails per month for free. But their paid plans are very affordable too.
Mailtrap Pros
Free plan: 1,000 emails per month for free
Very affordable: their prices are extremely low (starting at $10/month)
Mailtrap Cons
Deliverability inconsistent: we had very mixed results, with a poor first and third round of only 66 and 64% (where Gmail sent our emails to spam) and a surprisingly strong second and fourth round (91%/87%).
Elastic Email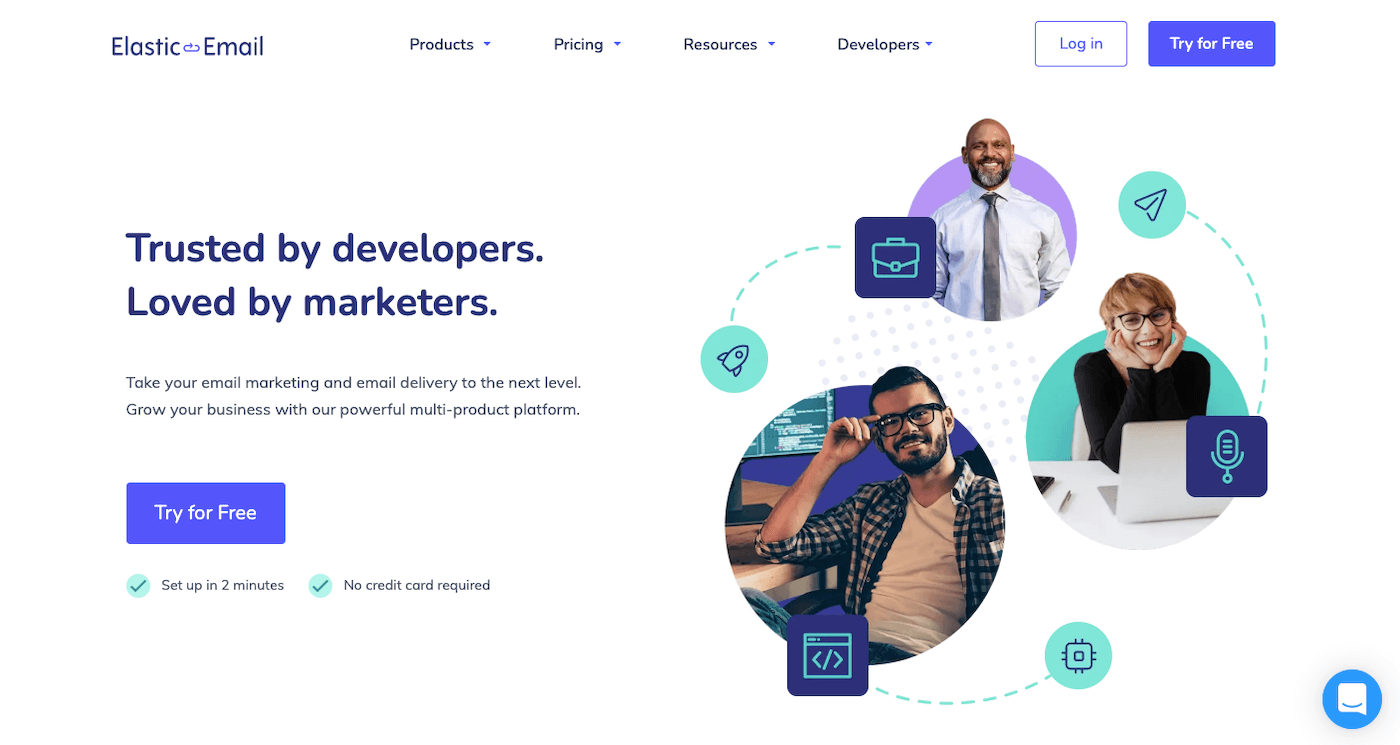 Next to their Email API product, which is used to send transactional emails, Elastic Email also offers a full email marketing software that includes a newsletter editor and templates. The Polish company has a free plan available for those who send less than 100 emails/day.
Elastic Email Pros
Cheap prices: yes, their prices are low. We aren't sure about the value, though.
Live chat support: thankfully, I had a very patient support staff who helped with the setup
Elastic Email Cons
Poor deliverability: they had the lowest scores of all providers – Outlook, Yahoo and AOL sent our messages to spam. When I talked to support about it, they explained to me that free users only get a shared IP address, which seems to be responsible for the poor results due to its sender reputation. But as we see with other services like SMTP2GO, even free plans can achieve top email deliverability rates.
Zepto (by Zoho)
Zoho has made a name, mainly because of its popular CRM. Since they offer other email-related services such as Workplace (work email setup) and Campaigns (email marketing), I was curious if they also offered a solution for transactional email – and they did! The service is called Zepto and doesn't seem widely known.
I actually wanted to add it to our deliverability test, but unfortunately, they never approved my account. No reason given.
Zepto Pros
Lowest prices: yes, I said that many times before. But here prices start from $2.50 for 10k emails
Zepto Cons
Approval process: maybe you have more luck than I did, but I am still waiting for the approval (or any message from Zepto for that matter).
Complicated interface: even if they never approve you, you can already start wasting time trying to figure out their complicated interface
Mailgun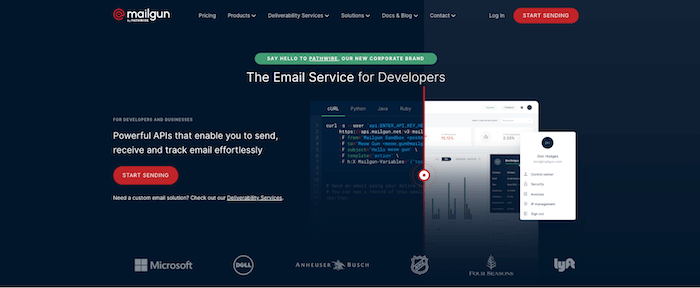 Mailgun is Mailjet's sister service, in fact, parent company Pathwire acquired both Mailgun and Mailjet. Who was subsequently acquired by Sinch… quite hard to keep track of it all. Anyway, Mailgun is directed to developers who want to set up powerful APIs.
They offer a trial account, which gives you 5,000 free emails per month for 1 month. Their paid plans are not the cheapest. We weren't able to include them in our deliverability test, but might add them in the future.
Amazon SES

Amazon SES is a good choice for those using the web service Amazon Elastic Compute Cloud (Amazon EC2), as you get 62,000 emails for free each month. If you're not, there's no free plan, but at $0.10 per 1,000 emails, it's not expensive at all. If you'd like a dedicated IP address, it'll cost you $24.95 per month.
The downside is that everything related to AWS is extremely complicated. I'm generally not scared of trying out new software services, but I think I found my master in AWS. I would only recommend it if you already have some experience with the Amazon toolkit.
Mailchimp Transactional Email (Formerly Mandrill)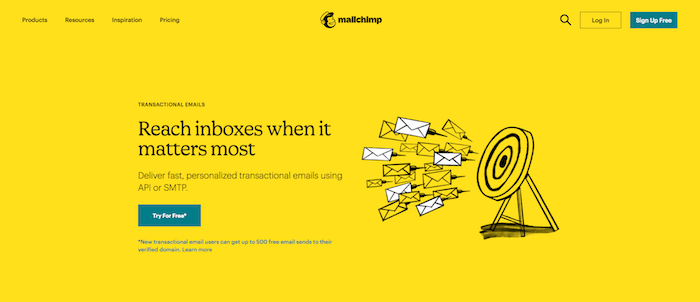 Firstly, in order to use this service, you must hold a Mailchimp account.
Mailchimp Transactional Email is offered only as a paid add-on to a Mailchimp Standard or higher account. However, those on the free plan can activate the Mailchimp Transactional demo, which gives you up to 500 emails for free. Note that this is only available if you're a new user of Mailchimp Transactional.
As a paid add-on, you're looking at paying $20 per 10,000 emails, though the more you buy, the less you'll pay per email. It's one of the most expensive services we have looked at.
SMTP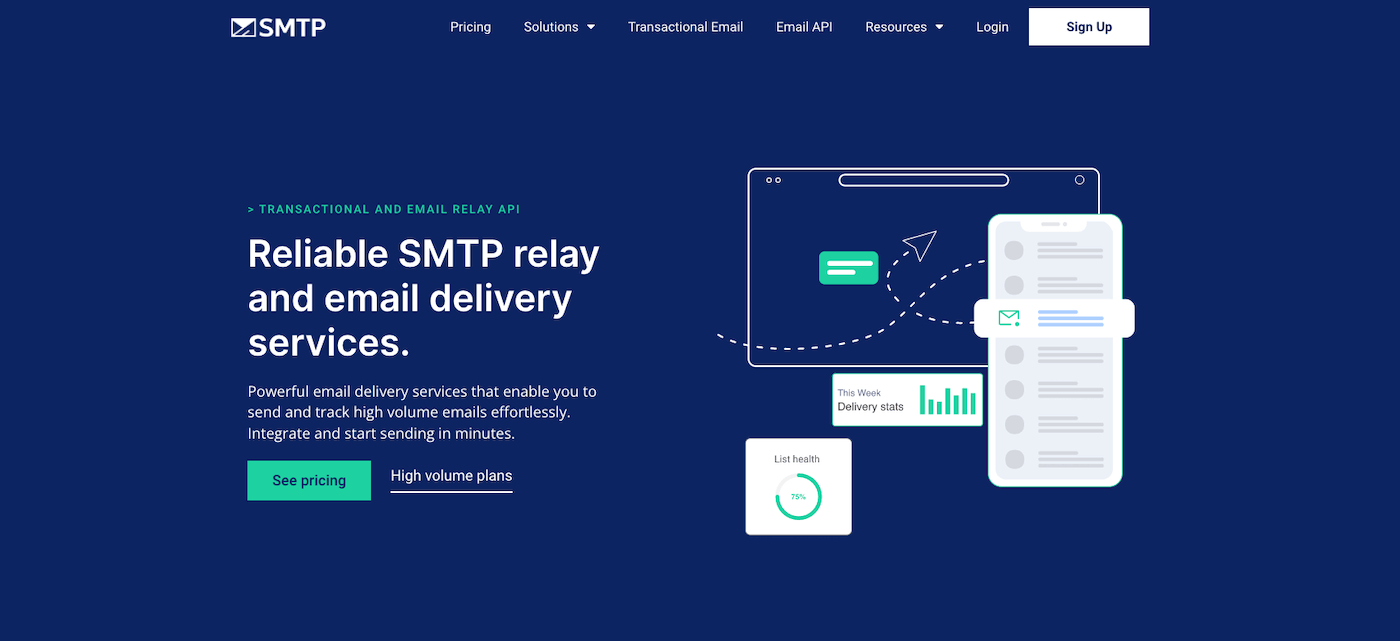 SMTP.com certainly got themselves a nice domain name, making it sound like they are THE standard for SMTP sending.
I didn't include SMTP in our deliverability tests, mainly because they don't offer a free trial and even their refund policy didn't inspire much confidence: there is a 30-day refund policy (good!). However, they charge a 20% administration fee (bad!). What's even worse is that they only refund if you haven't sent a single email from your account.
Plans start from $25/month for 50,000 emails. Try at your own risk.
Best Transaction Email Service: Conclusion
Even though you can theoretically send emails for free by using your own website hosting provider, that's usually not a good idea. Using a specialized email service is a much better choice for sending transactional and bulk emails. The important things to keep in mind are cost and the deliverability rate.
I hope this article is useful to you! Leave me any questions or feedback.
27 Jun 2023 – Two additional deliverability test rounds added
06 Jun 2023 – Small updates and corrections
22 May 2023 – MailerLite increased its prices slightly and reduced the free plan from 12k to 3k emails.
12 May 2023 – Sendinblue is now called Brevo
02 May 2023 – Complete overhaul of the article
01 Sept 2022 – You can now send bulk email newsletters with Postmark
10 May 2022 – Updated Elastic Email
04 May 2022 – Postmark acquired by ActiveCampaign
25 Apr 2022 – Updated MailerSend profile
04 Apr 2022 – Added SMTP 
30 March 2022 – General update
17 Feb 2022 – Updated Sendinblue's prices
20 Sept 2021 – Updated Mailjet's prices
26 May 2021 – Added Elastic Email
16 Feb 2021 – General update
10 Sept 2020 – Updated prices
Our Methodology
This article has been written and researched following our EmailTooltester methodology.
https://www.emailtooltester.com/en/blog/best-transactional-email-service/