Post Views: 272
Satisfactory is one of the popular factory-building games in the market. It is not only fascinating and well-designed but also quite challenging for most players. The game comes with great security features, speed, control, and access to a wide range of machines. It is a must-have for people that need to ensure the highest levels of performance and reliability. Let us discuss some of the best dedicated Satisfactory server hosting available in the market. This will help you to host your own Satisfactory server.
List of Best Satisfactory Server Hosting To Buy – Top Picks
If you want to host a  Satisfactory game server on a Cloud server then you should choose the Kamatera Cloud. They provide a fast VPS with a 30-day trial period to test the server.
What is Satisfactory?
Satisfactory is a factory-building game that runs on Unreal Engine 5. It is very similar to the Factorio server and was developed by Coffee Stain Studios. It is a first-person sandbox game where players can build and manage factories on an alien planet. The goal of the game is to create a self-sustaining factory that produces resources and items that can be used to upgrade the factory. Players are also able to explore the world around them, discovering new resources and unlocking new technologies.
Satisfactory offers a unique experience for gamers who are looking for something different than traditional video games. With its unique blend of exploration, resource gathering, and factory building, Satisfactory provides hours of entertainment for those looking for something new.
System Requirement
Here are the system requirements to play Satisfactory:
Minimum 8 GB RAM and 16 GB of available disk space.
Windows 10 or later 64-bit operating system.
Dedicated graphics card, GTX 770 2GB.
5-3570 3.4 GHz 4 Core processor.
Also Read
Best FiveM Server Hosting Providers
What is Satisfactory Dedicated Server Hosting?
Satisfactory Dedicated Server is a type of server that is dedicated to hosting a single game or application. This type of hosting solution allows for more stable performance, better control over the resources, and improved security. It also provides access to the latest updates and patches for the game or application being hosted. With Satisfactory Dedicated Server Hosting, businesses can provide their users with an improved gaming experience without any downtime.
Here is the list of the best Satisfactory server hosting rated by Reddit users.
1. Zap-Hosting
(Editor's Choice)
Zap-Hosting provides a reliable and Satisfactory server hosting experience for its customers. With their cutting-edge technology. They offer a wide range of features that can help you manage your hosting needs with ease. You can easily rent the server and start playing in minutes. It is cross-platform and compatible with both Steam and Epic Games launchers. From automated backup services to 24/7 customer support, Zap-Hosting has everything you need to ensure your online presence is secure and efficient.
Key Features
 Live Chat support
7-Day money back guarantee
FTP Access
Protection against DDoS attacks
328GB DDR4-RAM host system
SSD server
Automated Backup
InGame console
2. Shockbyte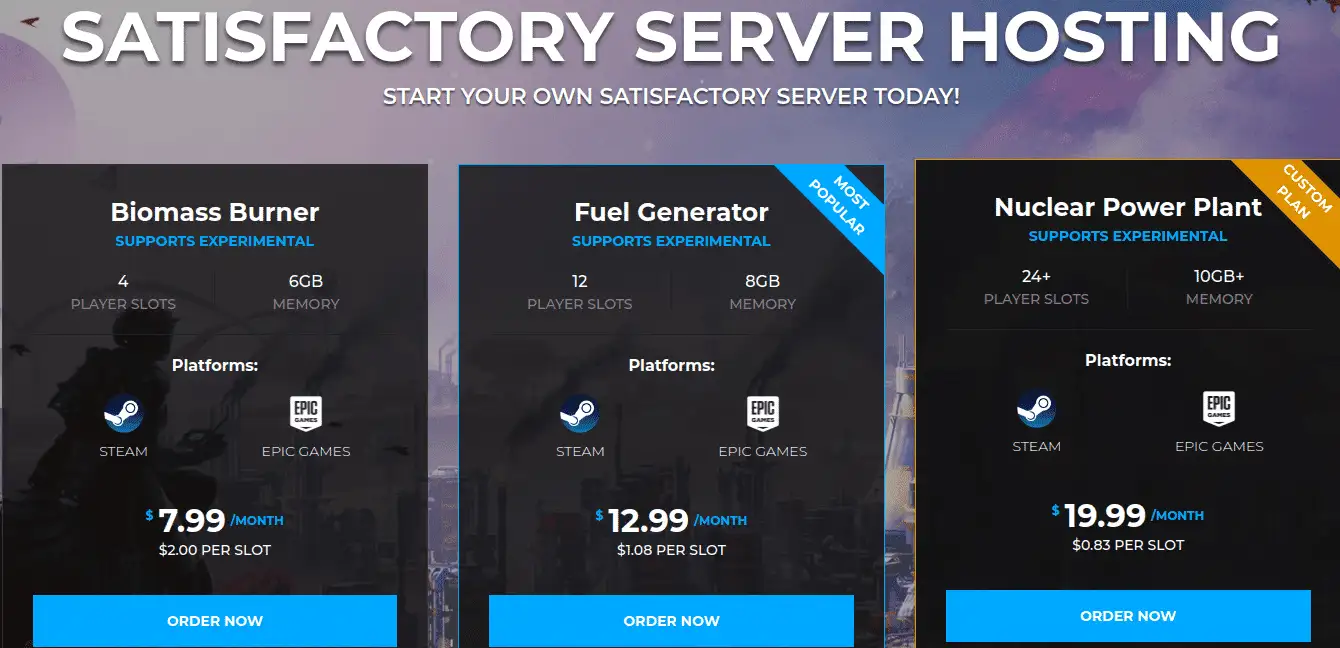 Shockbyte is still in development, but new features are constantly being added to it. With its cutting-edge technology, Shockbyte provides the best-in-class server hosting solutions for Satisfactory players. It has a robust infrastructure and offers various features, such as DDoS Protection, full FTP access, and instant setup.
Key Features
Offers 100% Uptime
Server Console
Free Domain
Free MySQL DB
Full-time Support
Automatic Updates
DDoS Protection
3. HostHavoc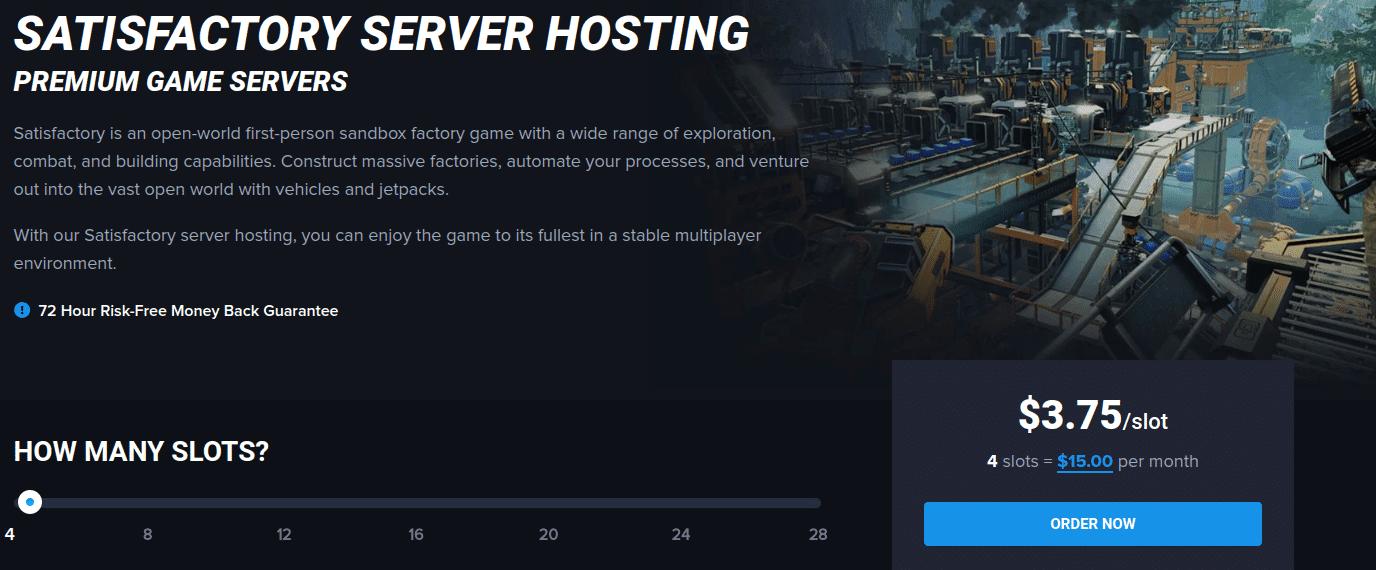 HostHavoc is a leading high-quality dedicated server hosting provider for Satisfactory, the popular 3D building and management simulation game. With HostHavoc, you can enjoy the ultimate gaming experience with minimal latency and maximum performance. The Host Havoc offers unparalleled speed, stability, and security so that you can play without interruption or lag. It also provides technical support so that you can rest assured your gaming experience is always running smoothly.
Key Features
Full-time Technical Support
DDoS Protection
File Manager Access
FTP Access
99.9% Uptime Guarantee
Configuration Editors
4. Scalacube


Scalacube is another popular Dedicated Server Hosting that provides maximum performance and scalability, allowing you to customize your hosting environment to meet your specific needs. It offers outstanding customer support, cutting-edge technology, and top-notch performance.
The cost-effective hosting solution offers a variety of advanced features such as managed services, backup solutions, and more to give you complete control over your server environment. Professional players also gain access to full FTP and third-party tools. With Scalacube Dedicated Server Hosting, you get the best of both worlds – maximum performance and scalability at an affordable price.
Key Features
Quick Setup
Mods Support
DDoS Protection
SSD Drives
24/7 Uptime
Easy User Interface
Supports third-party tools
5. Survival Servers
Survival Server is the perfect solution for gamers who are looking for a reliable and secure hosting experience. Using this server hosting provider, gamers can enjoy the highest performance and stability with no lag or downtime. Their servers come with a wide range of features such as auto-scaling, custom configurations, and full control over your game settings. With Survival Servers, you can rest assured that your gaming experience will be uninterrupted and secure.
Key Features
Instant Setup
DDoS Protection
Third-party tool access
FTP access
Server Map Changing
Automated Server Notifications
Ultra Fast NVMe SSD Drives
Conclusion
Satisfactory is a popular game that has been gaining traction among gamers. It is an open-world, exploration-based factory-building game that allows players to build and manage their own factories.
Gamers can also self-host a Satisfactory video game but there are certain limitations, such as insufficient bandwidth, lags, and frequent downtimes. Hence, we have listed some of the best dedicated game servers that you can even rent to play the game. We have also listed their features that will make it easier for you to compare the server hosting and shortlist the one that suits your requirements and budget.
Satisfactory Dedicated Server Hosting offers an unparalleled gaming experience for gamers. Most of the above-listed Satisfactory dedicated servers are designed with gamers in mind and provide a lag-free gaming experience with minimal downtime. So, if you're looking for a reliable and secure server hosting solution for Satisfactory, look no further and check out our shared list of hosting solutions.
FAQs
1. Does Satisfactory have dedicated servers?
Satisfactory is an online game that allows players to build factories on their own dedicated servers. The game has been designed so that players can have the freedom to build whatever they want without having to worry about other players interfering with their progress. With dedicated servers, Satisfactory provides a secure and reliable gaming experience for its users. Players can customize their server settings such as the number of slots, map size, and more. They also have the option to rent out their server space so others can join in on the fun. Dedicated servers provide an added level of security and stability for those looking for a more immersive gaming experience.
2. How much RAM do I need for a Satisfactory server?
If you're looking to run a Satisfactory server, the amount of RAM you'll need will depend on the size and number of players you plan to host. For example, if you want to host more than 4 players, it is recommended to go for a minimum of 12GB RAM and 16GB RAM for larger saves. Additionally, it's important to consider the type of processor and storage system your server is running on as these can also impact performance.
3. How many people can be a Satisfactory dedicated server?
Companies can choose from a variety of dedicated server options, depending on their budget and specific needs. But, up to four people are technically supported when playing Satisfactory in multiplayer.
4. Does Satisfactory have unlimited resources?
The answer is yes Satisfactory does provide players with an abundance of resources to explore and collect in order to build their factories. In simple terms, Satisfactory does have a seemingly endless amount of resources available, they are infinite and cannot be deleted.
5. How many players are Satisfactory? 
Four players in a multiplayer session. Satisfactory can be played in multiplayer, and supports max  four players, but with no hard player-limit
6. Does Satisfactory multiplayer work with mods?
Yes. However, you have the same mods installed to play with other players. Also, mods have to be multiplayer compatible mentioned in the mod description.
7. is Satisfactory Multiplayer?
Yes. Satisfactory is a multiplayer game.
8. is Satisfactory cross-platform?
Yes
Also Read
https://linuxbuz.com/best-resources/best-satisfactory-dedicated-server-hosting