Choosing the appropriate type of hosting for your business may seem overwhelming. Ultimately, the decision comes down to the kind of business you operate and the purpose you want your website to serve. If you have a smaller website, shared or VPS hosting may suffice. However, you may need a more robust solution if you have a large e-commerce site or experience high traffic. In this post, we'll discuss the best dedicated WordPress hosting options so you can decide which partner is right for you.
What is Dedicated WordPress Hosting?
Dedicated hosting is a web hosting service where the client leases an entire server exclusively. The server is housed in a data center provided by the hosting company. The client has complete control over the server's configuration and settings. Businesses and organizations with high-traffic websites or specialized software requirements often use this option. Additionally, dedicated hosting provides high performance, security, and reliability levels. However, it is more expensive than other hosting options such as shared, VPS, or managed hosting .
The Best Dedicated WordPress Hosting Providers
We've carefully considered several key factors to help you choose the best dedicated WordPress hosting for your needs. These include uptime, server type, level of support, security, scalability, pricing, and reputation. By considering these factors, we've compiled a list of providers that are well-equipped to handle any website, ensuring you get the best service possible. So, without further delay, let's look at our top picks.
1. DreamHost
Our top pick for the best dedicated WordPress hosting is DreamHost. They offer a range of hard drive options, including HDD or SSD, and provide full root access and secure shell access (SSH). Additionally, you can reboot or power cycle your server at any time. With a 100% uptime guarantee and uncapped bandwidth, you can trust that your WordPress site will perform reliably. Furthermore, DreamHost provides distributed denial of service (DDoS) attack protection to ensure the security of your website. Plus, they offer expert 24/7 support to quickly and efficiently resolve any issues.
Key Features for DreamHost:
100% uptime guarantee
24/7 tech support
Full root & secure shell access (SSH)
DDoS protection
DreamHost offers multiple plans for dedicated hosting, catering to different needs. Even their lowest-tier plan, the Standard 4, includes impressive specifications such as a 4-core, 8-thread Intel Xeon processor, 4 GB of RAM, and 1 TB of storage. This makes it an excellent choice for resource-intensive websites or hosting client websites for a fee. Additionally, it's an affordable option at just $149 per month with an annual plan. Therefore, DreamHost's plans provide excellent value for both businesses and individuals.
DreamHost is for you if…
You want ultimate control over server configurations
You want to set up a reseller account on your server
2. LiquidWeb

Moving on to our next recommendation for the best dedicated WordPress hosting, we have LiquidWeb. They offer three data centers, allowing you to select the one nearest to your location. Their hosting features include a content delivery network (CDN) to improve loading times, business-grade SSD storage, and a dedicated IP address. You can choose between managed and unmanaged servers to cater to your level of expertise in server maintenance. LiquidWeb provides centralized hosting management, giving you more control over your hosting environment.
Key Features for LiquidWeb:
Business-grade SSD
Cloudflare CDN
Dedicated secondary hard drive
Interworx, Plex, or cPanel
LiquidWeb allows you to choose between a Windows or Linux server for your WordPress website. Moreover, their hosting plans come with a secondary backup hard drive, protecting your website.
Their base plan includes the following:
A 4-core, 3.5 GHz processor with 16GB of RAM.
A 1TB SSD hard drive.
A 1TB backup disk.
5 TB of bandwidth.
250 GB of Acronis cyber backups.
These features ensure smooth website performance and quick recovery in case of issues. With these powerful specifications and customizable options, LiquidWeb offers a top-notch dedicated WordPress hosting experience.
LiquidWeb is for you if…
You need a Windows-based server environment
A secondary backup drive is essential for peace of mind
3. InterServer

Next on the list is InterServer, which provides a variety of server configurations to meet your specific website needs. They offer AMD and Intel processors and a range of operating systems such as Centos, Ubuntu, Cloud Linux, and Windows. InterServer also provides three user-friendly control panels – cPanel, Plesk, or DirectAdmin – making managing your server's files, software, and tools easy.
Key Features for InterServer:
cPanel, Plesk, or DirectAdmin
Multiple operating systems
AMD or Intel processors
Remote server reboots
Build your server, or BUY IT NOW options
InterServer stands out for its server configuration flexibility, offering pre-packaged and customizable setups to suit your needs. This feature allows you to select the best configuration for your requirements, with the ability to add more features as your business grows. Starting with the AMD Ryzen plan, which provides a 12-core single CPU, 64GB of RAM, and 2TB storage for only $100, you can conveniently modify your existing plan to include 128GB of RAM for an extra $40 per month and 20TB of storage for an additional $50 per month. This scalability makes InterServer an ideal choice for businesses looking to expand their online presence without worrying about outgrowing their hosting service.
InterServer is for you if…
You want complete customization for your dedicated server
You prefer an operating system other than Linux or Windows
4. A2 Hosting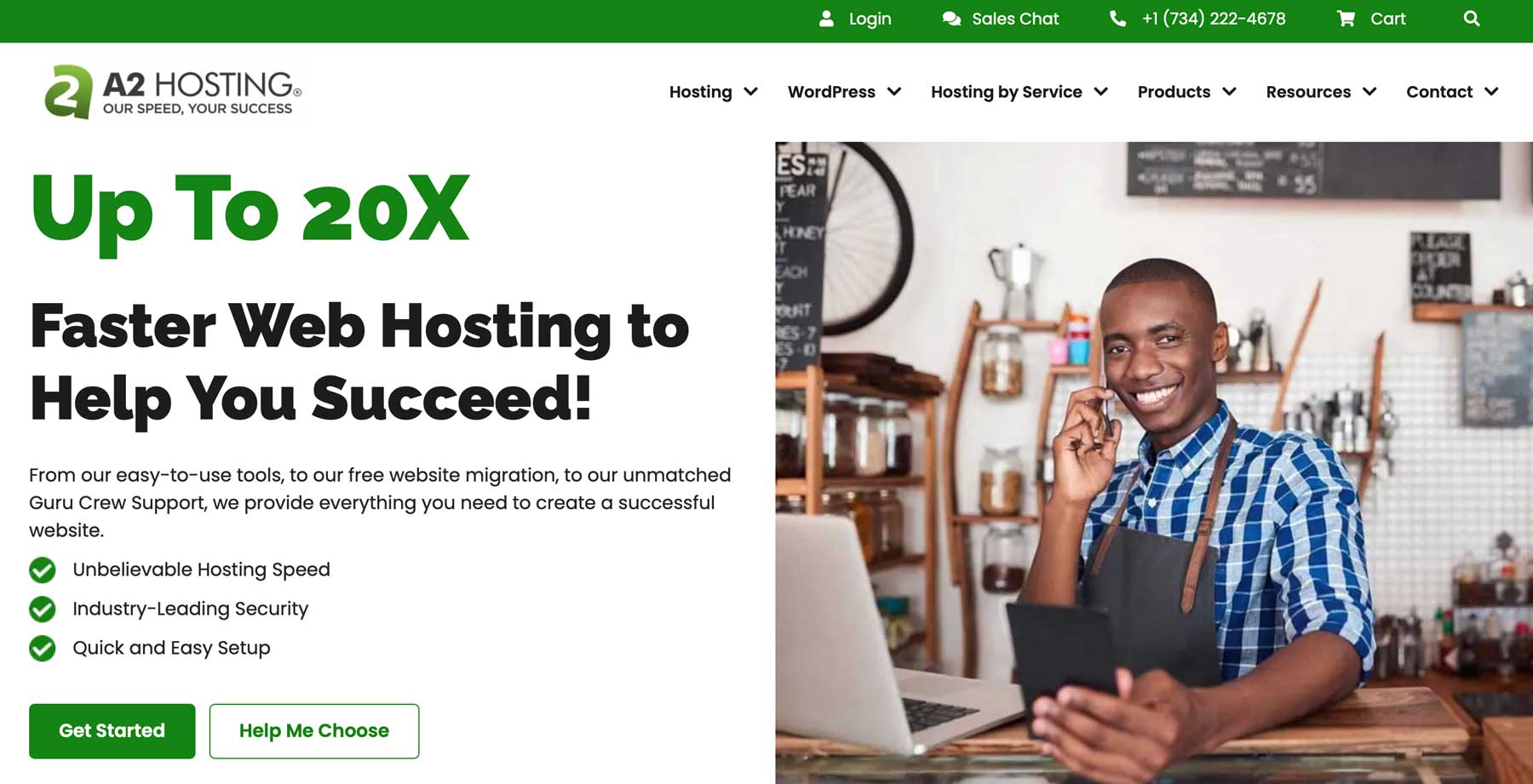 Moving to our next recommendation for the best dedicated WordPress hosting, we have A2 Hosting. They offer a wide range of hosting options, including various configurations for dedicated hosting, with two types of hosting – managed and unmanaged. Managed hosting is an excellent option for those who want to avoid managing critical components of their server, as A2 hosting takes care of all hardware, network, and security configurations. Conversely, unmanaged hosting provides greater control, with command line management, full root access, a choice of operating system, and the Webuzo 1-click software installer.
Key Features for A2 Hosting:
Choice of 14 managed and unmanaged plans
Multiple operating system choices
Full root access
Webuzo 1-click app installer
Free SSL (with managed plans)
Overall, A2 Hosting offers 14 different plans catering to various hosting needs. The lowest-tiered unmanaged plan is priced at $105.99 per month, offering an Intel Xeon E-2224 4.6GHz Turbo CPU, 16GB of RAM, and 2 1TB SSD storage drives, along with a money-back guarantee. However, the most cost-effective managed plan will cost you $155.99 per month and comes with added features such as a free SSL certificate, free site migration, and the CloudLinux OS.
A2 Hosting is for you if…
You're looking for an affordable managed dedicated hosting plan
You need free website migrations and an SSL
5. Ionos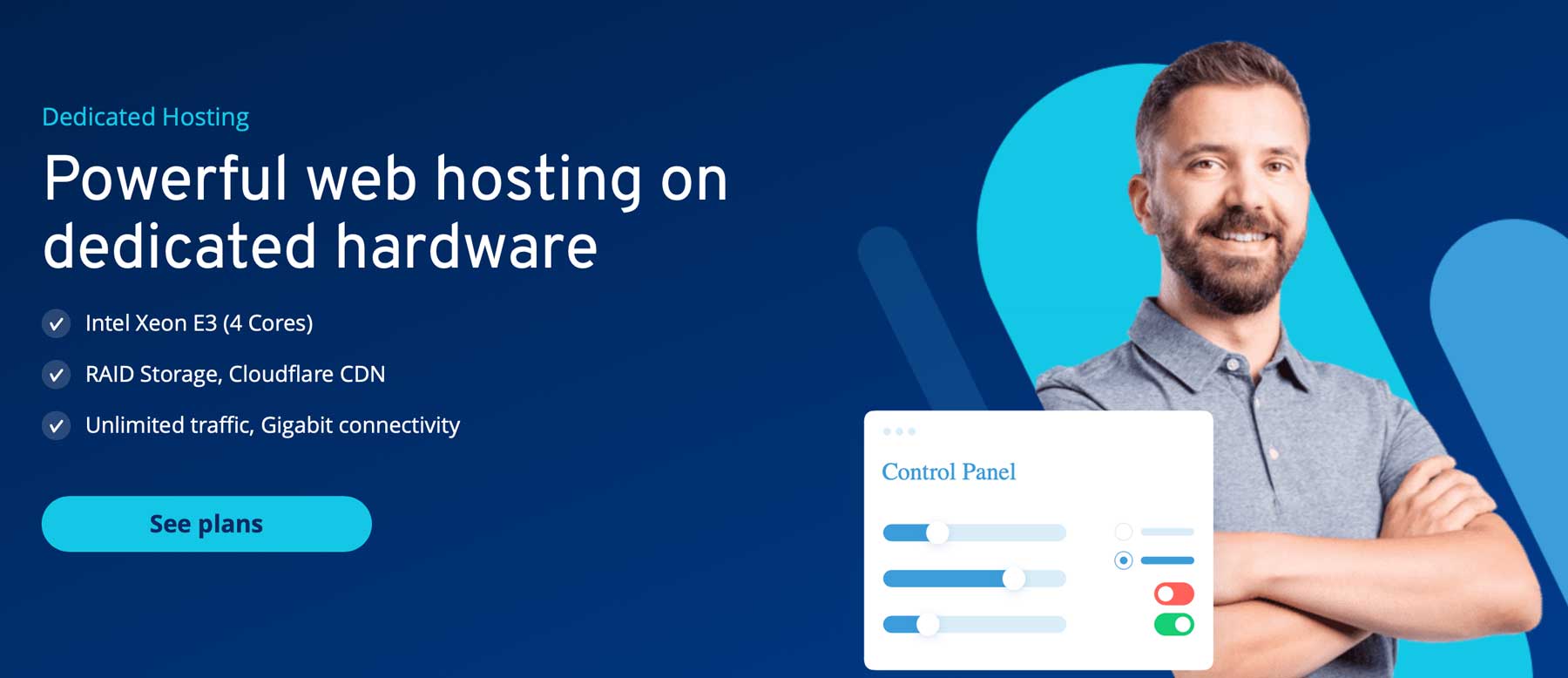 Next, we have Ionos, a budget-friendly option that offers some of the best dedicated WordPress hosting plans. Despite being affordable, Ionos provides excellent value for money, with an Intel Xeon E3 4-core processor, RAID storage, Cloudflare CDN, unlimited traffic, and gigabit connectivity included in their plans. Starting at just $47 per month for the hard disk drive (HDD) configuration or $70 per month for the solid-state drive (SSD) configuration, Ionos offers an excellent dedicated hosting solution.
Key Features for Ionos:
Free domain
Cloudflare CDN
Unlimited traffic
Gigabit connectivity
Free site scan
Furthermore, Ionos provides an onboard security site scan that offers daily checks for malware, security vulnerabilities, and other online threats, automatically notifying you of any problems found. This unique feature ensures your site is secure and protected from attacks. Additionally, choosing Ionos as your hosting provider comes with a free domain for every plan, making it a great value add for a low-cost dedicated hosting provider.
Ionos is for you if…
You're looking for a more budget-friendly option for dedicated hosting
You don't want to have to worry about maintaining your security
6. Green Geeks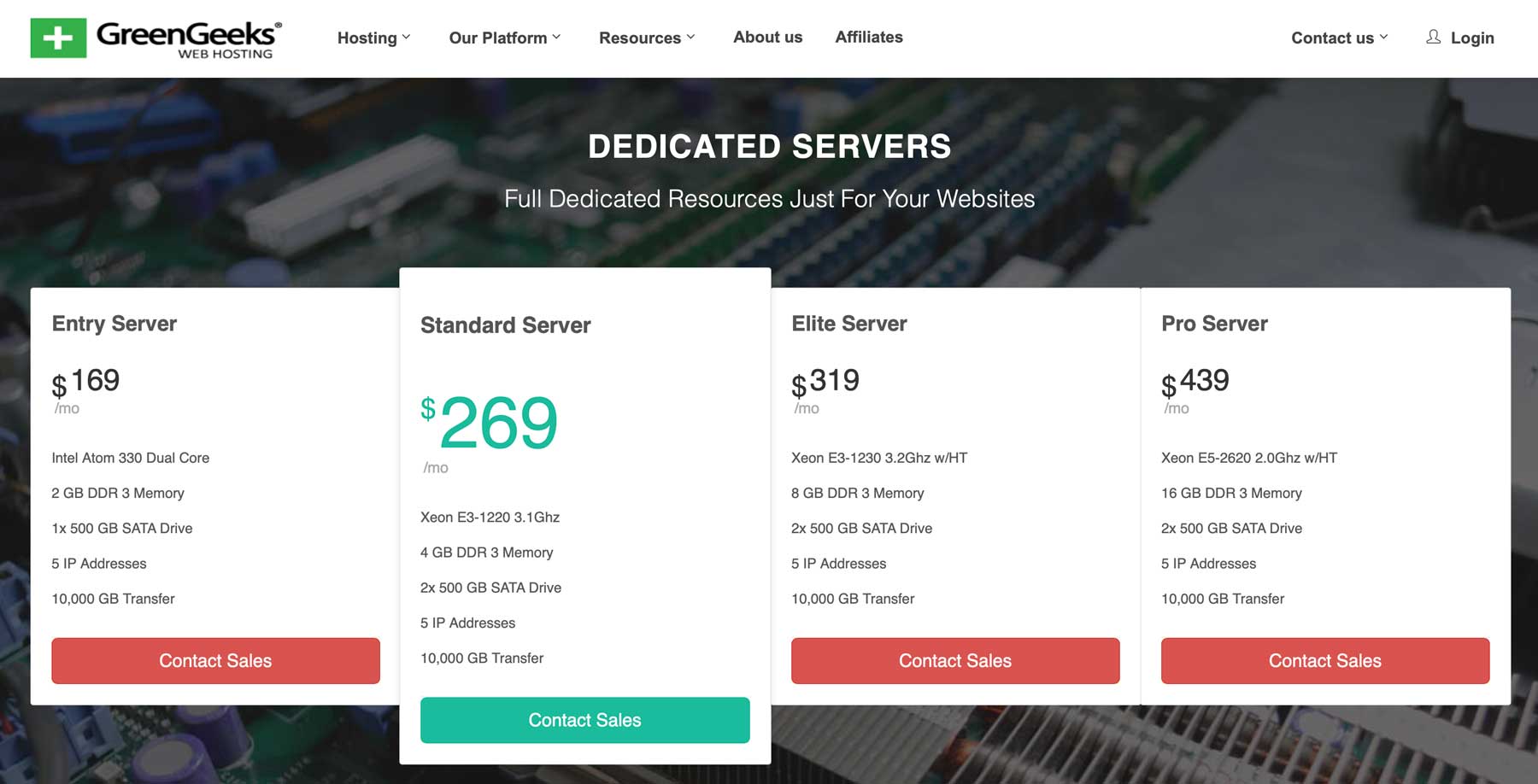 Green Geeks is a dedicated WordPress hosting provider that places a strong emphasis on speed, reliability, security, and capacity. Additionally, they are an eco-friendly hosting provider that runs their servers on 100% renewable energy. Their hosting plans offer advanced security features such as DDoS protection, daily security scans, and 24/7 expert support. Their standard dedicated hosting plans also come with super-fast SSD drives, a 99.9% uptime guarantee, and high-performance Intel CPUs.
Key Features for Green Geeks:
100% renewable energy servers
DDoS protection with daily scans
24/7 expert support
SSD drives
Green Geeks recommends their standard server option for optimal performance, which includes a Xeon E3-1220 3.1Ghz CPU, 4GB RAM, 2 500GB SATA storage drives, 5 IP addresses, and 10,000GB transfer bandwidth. Plus, Green Geeks stands out as the only eco-friendly WordPress hosting provider, offering four plans to choose from and shared and VPS hosting options.
Green Geeks is for you if…
An eco-friendly hosting partner is preferred
You require dedicated IP addresses
➡️ Read Our Complete Green Geeks Hosting Review.
7. Hostwinds
Hostwinds is a dedicated hosting provider that offers several plans to meet various hosting needs. In their dedicated server plans, you can find features like Intel Xeon processors, customizable RAID arrays, multiple operating systems, and full root access. Moreover, Hostwinds provides flexible billing options, including hourly billing, that allows you to pay only for what you need. In addition, they offer a 100% satisfaction guarantee and 24/7 customer support to ensure excellent service.
Key Features for Hostwinds:
Flexible billing options
Multiple operating system options
Daily backups
Free SSL certificate
Hostwinds offers several security features for their dedicated hosting, such as DDoS protection, server monitoring, daily backups, and a free SSL certificate. They also provide free website migration for new customers who wish to transfer their existing site to their dedicated server. Furthermore, Hostwinds allows customers to fully customize their server, including the CPU type, giving them more control over their hosting environment.
Hostwinds is for you if…
You like the idea of complete server customization
You like your hosting provider to manage security and backups
8. InMotion

InMotion is a dedicated WordPress hosting provider that offers a hassle-free server management experience. Their servers are designed with automatic updates and security patches, so you won't have to worry about keeping up with security issues. InMotion has a range of seven different dedicated hosting plans built on the popular cPanel system, with various multi-core Intel CPUs, free launch assist, and a free SSL certificate. They also offer various add-ons for the Softalicious application installer and Remote KVM, which allows you to control your server remotely.
Key Features for InMotion:
Remote server access
Free SSL certificate
Built with cPanel
Automatic updates and security patches
In addition to the features above, InMotion's Launch Assist is a standout offering, allowing for free website migration upon server setup. Moreover, users can choose between a cPanel WebHost Manager (WHM) server or bare metal, which offers self-management capabilities with dedicated root access.
InMotion is for you if…
You have sites that will need to be migrated
You prefer cPanel/WHM to manage your websites
➡️ Read Our Complete InMotion Hosting Review.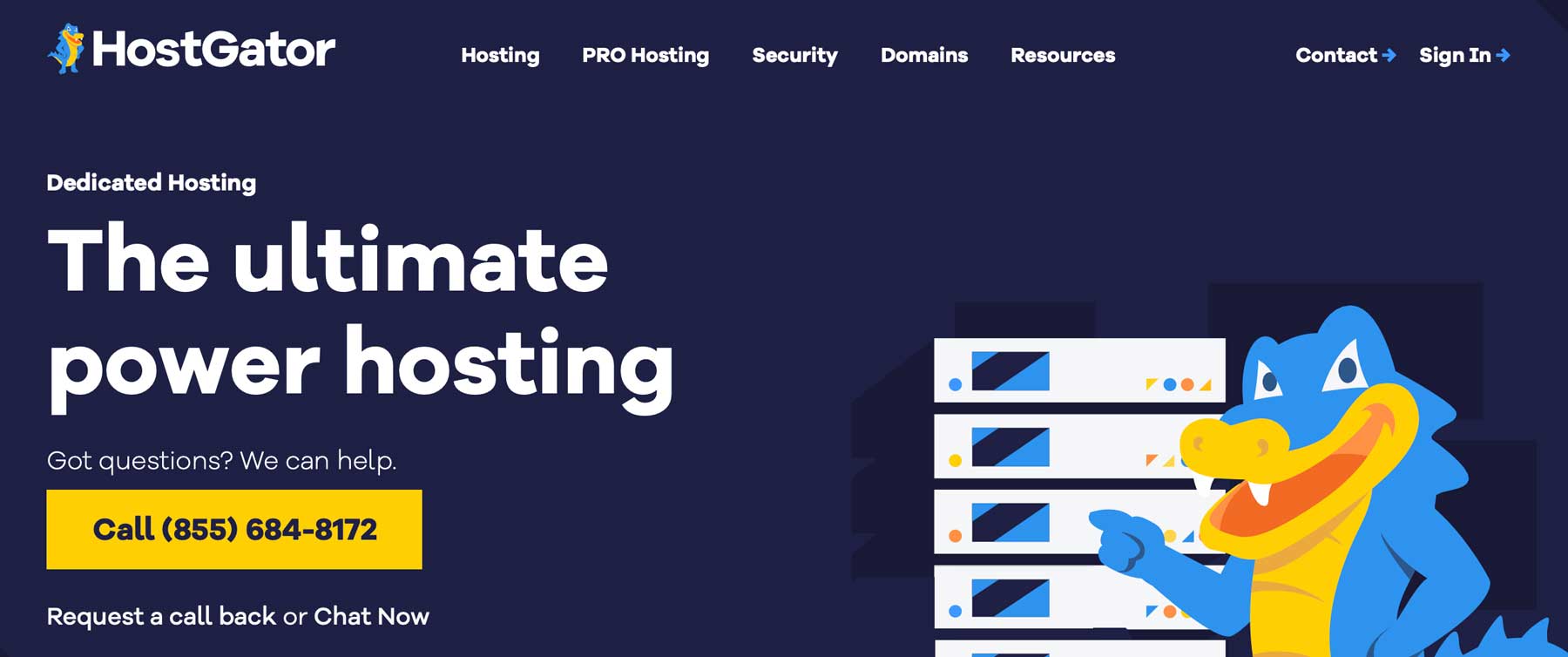 Finally, we have HostGator, another well-known hosting provider offering dedicated hosting plans at a relatively affordable price. Like other providers, they provide a range of tiered plans with varying storage and features. Their entry-level plan includes an Intel Xeon-D CPU with four cores and eight threads, 8GB of RAM, 1TB of hard drive storage, and unmetered bandwidth. This plan is available for $89.98 monthly for a three-year term and includes a free domain for the first year of service for new customers.
Free Domain
Unmetered bandwidth
24/7 support
Full or semi-managed server environment
Linux or Windows server
To get the most speed and power, the Enterprise Plan, priced at $139.99 per month, is the best option from Bluehost. It features an 8-core, 16-thread Intel Xeon-D CPU, 30GB of RAM, and a 1 TB SSD hard drive, making it ideal for handling high traffic. Although Bluehost promotes unmetered bandwidth, customers should know about the fine print. The company specifies that its server won't be affected if customers don't exceed 25% or more of system resources for longer than 90 seconds. However, they may send an email requesting the site's usage to be reduced. This shouldn't be a problem for most smaller sites, but those requiring dedicated hosting may want to keep that in mind.
HostGator is for you if…
You want a well-known hosting provider
You don't have to worry about bandwidth limitations
Comparing our Top 3 Picks for Dedicated WordPress Hosting
DreamHost, LiquidWeb, and InterServer are the best choices for dedicated hosting providers because of their performance, security, and customizable options. DreamHost offers customizable dedicated hosting plans with solid security features, including DDoS protection and server monitoring. LiquidWeb provides top-of-the-line performance with its high-end hardware, optimized configurations, 24/7 support, and a 100% uptime guarantee. InterServer's flexible pricing options and customizable plans make them a popular choice, along with their reliable performance, free server migration, and 24/7 support.
Final Thoughts on the Best Dedicated WordPress Hosting Providers
When searching for the best dedicated WordPress hosting provider, it's essential to consider several factors. These include reliability, server performance and scalability, security, and customer support. By carefully weighing these factors, you can choose the provider that is best suited for your needs. Fortunately, with the many providers we have featured, you are bound to find the right one.
Looking for more WordPress reviews? Check out some of our other reviews for Convesio, GoDaddy, AWS, Google Cloud, and Cloudways.
Disclosure: If you purchase something after clicking links in the post, we may receive a commission. This helps us keep the free content and great resources flowing. Thank you for the support!
https://www.elegantthemes.com/blog/wordpress/best-dedicated-wordpress-hosting