As a business owner, you need a reliable and secure web hosting service to ensure that your online presence runs smoothly. With so many services available out there, it can be overwhelming to choose the best web hosting tool for your business. 
One web hosting service that stands out is Nexcess. Founded in 2000 and based in Southfield, Michigan, USA, Nexcess provides various hosting solutions for businesses of all sizes. It offers a range of hosting services including shared hosting, managed WordPress hosting, cloud hosting, and dedicated server hosting.
Nexcess is also a part of the Liquid Web family and has grown into a well-known and reputable web hosting company with a global presence. Nexcess is known for its reliability, security, and top-notch customer support, as well as its use of cutting-edge technologies like containerization and auto-scaling.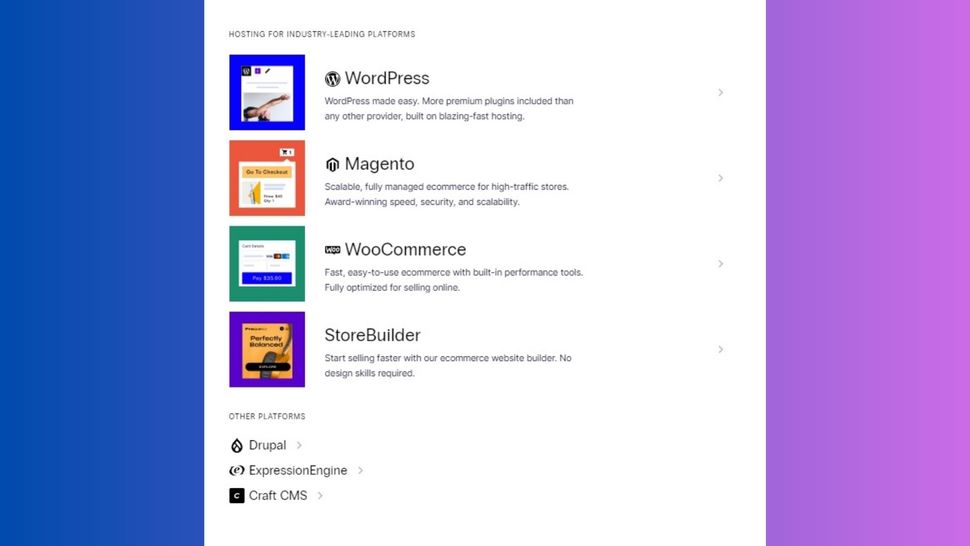 Nexcess features
One of the standout features of the Nexcess service is its autoscaling capabilities. This means that if your website experiences a sudden surge in traffic, Nexcess can automatically increase the resources allocated to your site to ensure it stays up and running smoothly.
Another useful feature is the ability to create development sites. This allows you to test out changes to your website or store before pushing them live. With the development sites feature, you can experiment with new themes, plugins, and other changes without worrying about disrupting your live site. Nexcess also offers a CDN (Content Delivery Network), which can help improve the speed and performance of your site by caching your content and delivering it from a server that's geographically closer to your visitors.
Containers are another key feature of Nexcess that I like. By using containers, Nexcess can isolate your site's resources from other sites on the same server, which can help improve security and prevent resource conflicts. SSL Certificates are included with all Nexcess hosting plans, which can help secure your site and protect visitors' data. 
If you're running an ecommerce site, you'll appreciate Nexcess's PCI compliance features. This ensures that your site meets the payment card industry data security standards, which can help protect your customers' payment information. 
Nexcess also offers DNS management tools, which can help you easily manage your domain's DNS settings. If you're looking to switch hosting providers, you'll be pleased to know that Nexcess offers free migration services. Its team of experts can help you move your site to Nexcess with minimal downtime or disruption.
Nexcess also offers a wide range of hosting options, including Magento, WooCommerce, WordPress, StoreBuilder, Sylius, ExpressionEngine, Craft CMS, Flexible Cloud, and Enterprise Hosting. This means that no matter what platform you're using, there's a hosting plan that's tailored to your needs.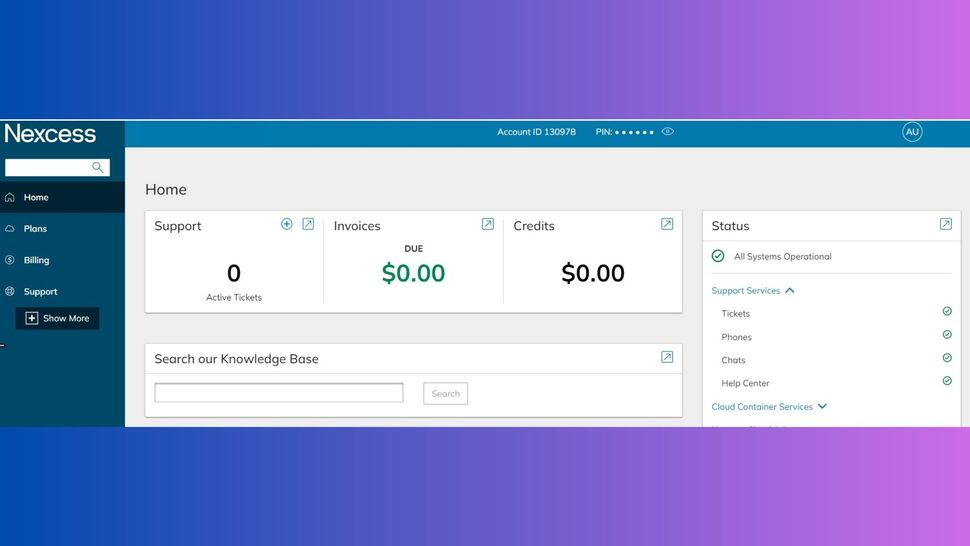 Nexcess performance
The first test I conducted for Nexcess's WordPress site involved the WebPageTest feature, a widely-used speed test tool. I set up a WordPress site and ran the URL via WebPageTest in six different locations worldwide. My site loaded in five seconds, which is somewhat slower than competitors like Bluehost and SiteGround. However, it is still a decent time frame for a website to load entirely.
Next, I used Load Focus, another popular speed test tool, to measure Nexcess's performance. Load Focus simulates real-world scenarios like browsing, surfing, and transactions on your site, to give a more accurate view of its performance. The outcome was impressive, with Nexcess's website loading speed averaging 2.51 seconds. It goes on to show that Nexcess can handle a reasonable influx of traffic. Speed, security, and caching are three vital aspects of an ideal web host. With Nexcess, you can opt for shared hosting, VPS hosting, or dedicated hosting plans, with differing levels of support provided in each. Regardless of what you choose, speed, security, and caching are given priority. It is evident that Nexcess has invested in excellent technology to ensure that they meet customers' needs by providing them with fast, secure, and reliable web hosting services.
Nexcess is knowledgeable of its client's needs, and as such, it offers customized web hosting packages to meet those needs. It uses top-of-the-range hardware alongside content optimization techniques that ensure your website pages load faster.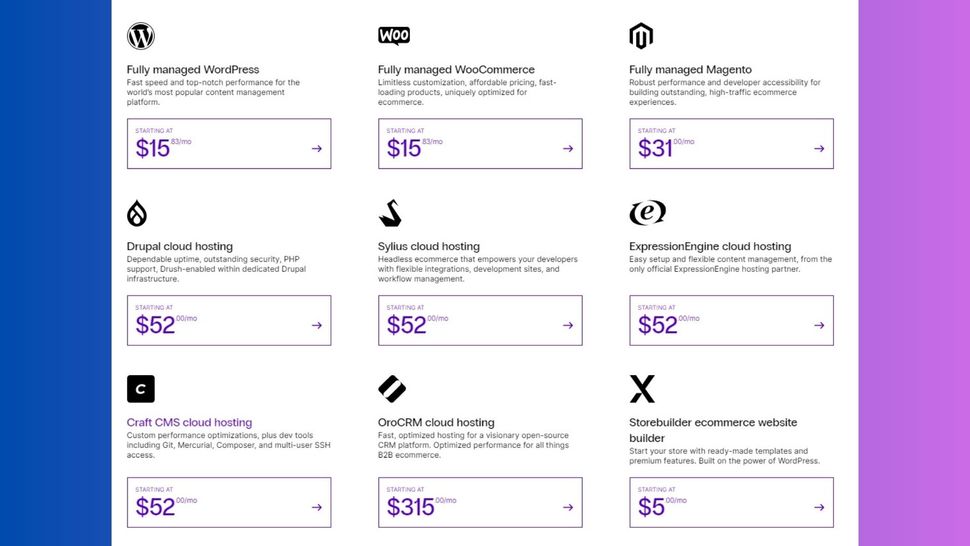 Nexcess pricing
Nexcess offers fully managed hosting for WordPress, WooCommerce, Magento, Drupal, Sylius, ExpressionEngine, Craft CMS, and OroCRM. It also offers a website builder called Storebuilder for ecommerce platforms. 
 Its fully managed WordPress hosting starts at $15.83 per month, and the plan includes the maximum speed with free Object Cache Pro, premium image compression, and a built-in CDN. The plan also includes intelligent plugin update tools like visual compare and performance monitoring, as well as free migrations and a 30-day money-back guarantee. 
There are no overage fees, traffic limits, or metered pageviews, and proactive server monitoring and support from WordPress experts is available 24/7. For fully managed WooCommerce hosting, Nexcess offers a plan starting at $15.83 per month. The plan includes built-in image compression, abandoned cart and page builder plugins, 1-click staging, sales monitoring, and checkout testing. The plan also includes free Object Cache Pro for fast-loading products, extra PHP workers for smooth checkout with a global CDN and DNS service. 
Proactive monitoring and helpful support from WooCommerce experts is available 24/7. Nexcess's fully managed Magento hosting starts at $31.00 per month and includes daily backups, PCI compliance, built-in Elasticsearch for M2.4+, add-on server clusters, and expert 24/7 support. The plan also includes server-side scripting, dedicated IP addresses, and instant autoscaling. 
On-demand performance testing is available to troubleshoot and improve site speed, and the built-in edge CDN offers 22 locations and advanced caching for ultra-fast loading. Support from Magento experts is available 24/7, and the plan includes generous resources and PHP workers for robust performance.
How fast is Nexcess?
With eight data centers spread across the US, Europe, and Asia Pacific, Nexcess carefully selects each location based on security, performance, and strategic positioning.
The company owns three of its data centers, including the US-Central, US-West, and EU-Central regions, which contain over 25,000 servers with redundant cooling, networks, and power to ensure uptime and speed. Additionally, all Nexcess data centers are PCI compliant and have a 24/7 support team to provide extra security and support. Nexcess uses cutting-edge technologies such as MySQL 5.7, SSDs, PHP 7.0/7.1, RAID, and Apache 2.4 to optimize cloud storage and improve website performance. These technologies help reduce memory usage, enhance load balancing, and increase security, resulting in faster website load times.
One of the significant advantages of Nexcess is its 99.9% network uptime guarantee, which is rarely seen in the web hosting industry. Nexcess also offers several features to enhance website speed, such as tier-1 bandwidth connections that minimize latency across the globe and built-in image optimization tools that compress images to ensure fast loading. 
Additionally, the company supports the latest PHP 7 and HTTP/2, further improving site speed and security. In the event of a massive influx of traffic, Nexcess's Auto-scaling add-on automatically allocates more resources to your website for free for 24 hours to avoid any downtime on your WP site, which is one of the main reasons for losing visitors. However, if the increased traffic continues, you may eventually need to upgrade to a more expensive plan with enhanced capabilities. Overall, Nexcess provides superior performance and speed, making it an excellent choice for businesses and individuals looking for reliable web hosting.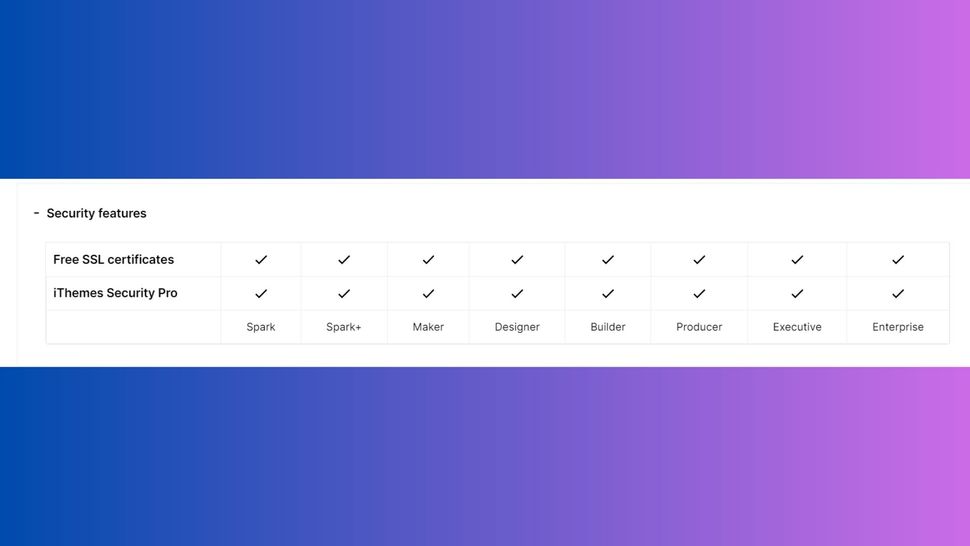 Nexcess security
One of the easiest ways to keep your website secure is to ensure that you are always running the latest version of WordPress and any plugins you have installed. Nexcess takes care of these updates for you, including visual comparison testing to automatically catch any update problems before they happen on your live site. This means you don't have to worry about manually updating your website and can focus on running your business.
Another crucial security feature of Nexcess is the automatic daily backups and on-demand backups. In the event of a security breach or issue with your website, you can easily restore your website to a previous version. This security feature ensures that your website is always recoverable, even in the worst-case scenario.
Nexcess also provides free access to iThemes Security Pro, a powerful security plugin for WordPress. This plugin includes features like two-factor authentication, malware scanning, and brute force protection. With iThemes Security Pro, you can add an extra layer of security to your website and protect it from potential security threats.
An SSL certificate is a must-have for any website that collects sensitive information, such as credit card details or personal information. Nexcess provides free SSL certificates, ensuring your website is secure and adding an extra layer of trust for your customers. Testing your website updates, changes, or new features can be a time-consuming process. However, with Nexcess, this process is made easy with the one-click staging site security feature. This feature allows you to create a clone of your live site where you can test new changes before deploying them to your live site. This ensures that you don't disrupt your live site and can quickly fix any issues that arise.
Nexcess also offers malware monitoring as part of its security features. This service constantly scans your website to detect any security threats, and if any are found, Nexcess's team will act quickly to remove the threat and restore your website's security.
Customer support 
Nexcess has three major customer support centers located in America, Australia, and the United Kingdom. Each support center has its hotline number for you to reach out to Nexcess customer support. In the Americas, you can reach Nexcess via +1-866-639-2377, while in Australia, you can use the toll-free +1-800-765-472 or international line 1-313-279-0722 to contact Nexcess. In the United Kingdom, use +0-808-196-5715. You can reach out for help 24/7, and someone is always there to help when you need it.
Aside from its customer service line, Nexcess also provides customers with a plethora of resources. One can access the help, knowledge base, blog, store builders podcast, WooCommerce resources, case studies, web tools, and system status. These tools have useful information and resources for troubleshooting and fixing any problem with your website. In addition to the resources, Nexcess also provides chat support for those who need quick replies to their website queries. 
You can chat with them at any given hour if you have concerns that you want to be resolved without a phone call. Nexcess additionally has social media accounts such as Facebook, Twitter, LinkedIn, and YouTube where you can follow or like to stay updated about news, and promotions. Sometimes, you might want to go beyond the chat or the phone to meet up with Nexcess staff to get a better understanding of how your website is hosted.  You can visit Nexcess's physical address for more information. The corporate office is located in Southfield Data Center [MEL01], 21700 Melrose Avenue, Southfield, MI 48075, the United States. 
Final verdict: Is Nexcess right for you?
If you value excellent uptime and speed, superior security features, and around-the-clock support, Nexcess may be a good fit for you. Also, if you're looking for a hosting provider that offers lots of freebies and transparent pricing, Nexcess could be worth considering. 
The 30-day money-back guarantee is also a positive feature that could give you peace of mind. On the other hand, if you're on a tight budget, you may find Nexcess to be a bit pricey compared to other hosting providers. 
Additionally, if you're new to website hosting and require a beginner-friendly interface, Nexcess may not be the best option. Lastly, if you need a dedicated IP address, this is not available with Nexcess.
---
Nexcess FAQs
What payment type does Nexcess accept?
Nexcess accepts payments through major credit cards, including Visa, Mastercard, American Express, and Discover. They also accept payments via PayPal. 
Does Nexcess offer refunds?
Yes, Nexcess offers a 30-day money-back guarantee for its hosting plans. This means that if you are not satisfied with the service within the first 30 days, you can request a full refund. 
Where are Nexcess' data centers?
Nexcess has multiple data centers located in different regions around the world. Some of its data centers are located in the US, Europe, and Asia Pacific. 
What are Nexcess' nameservers?
Nexcess' nameservers are ns1.nexcess.net and ns2.nexcess.net. These nameservers are used to point your domain name to Nexcess servers.
How do I cancel a Nexcess product?
To cancel a Nexcess product, you need to log in to your account dashboard and submit a cancellation request. You can also contact the support team via phone, chat, or email to initiate the cancellation process. 
https://www.techradar.com/reviews/nexcess