At G2E 2023, we spoke with leaders at each of the most prominent game technology companies about their latest launches and innovations. Here is what they had to say…
John Hemberger, SVP of Table Products
Adam Whitehurst, SVP – Slot Revenue
AGS
playags.com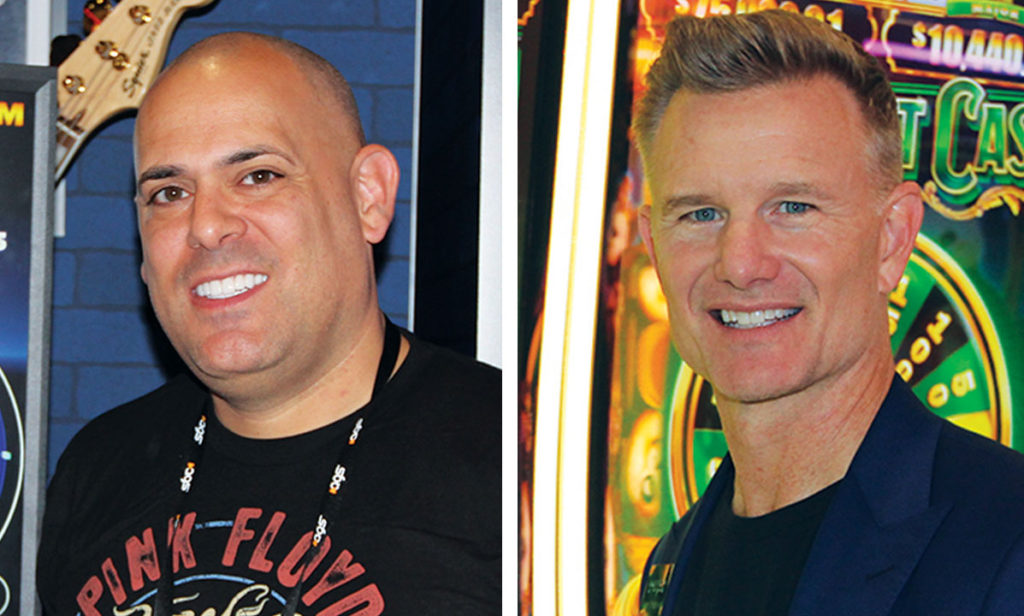 John Hemberger: There has been a lot of energy around our two award-winning progressive platforms. We've added some new features and started to really cross the two over into one platform, giving players a more comprehensive experience. Players still get a wheel, but they also get card-based winning combinations available to them as well. That is something that has been well very received and is going to really resonate with players once it gets into the market.
Adam Whitehurst: At AGS, we are most excited about the evolution of our platform and roadmap. We've expanded known themes and brands, like Rakin' Bacon, where we have many different brand extensions, as well as iterated on tried-and-true play mechanics. We've taken a different approach to innovation and have interesting and exciting things to come merging brick-and-mortar and online gaming.
Ron Harris, CEO
Aries Technology
ariesnow.com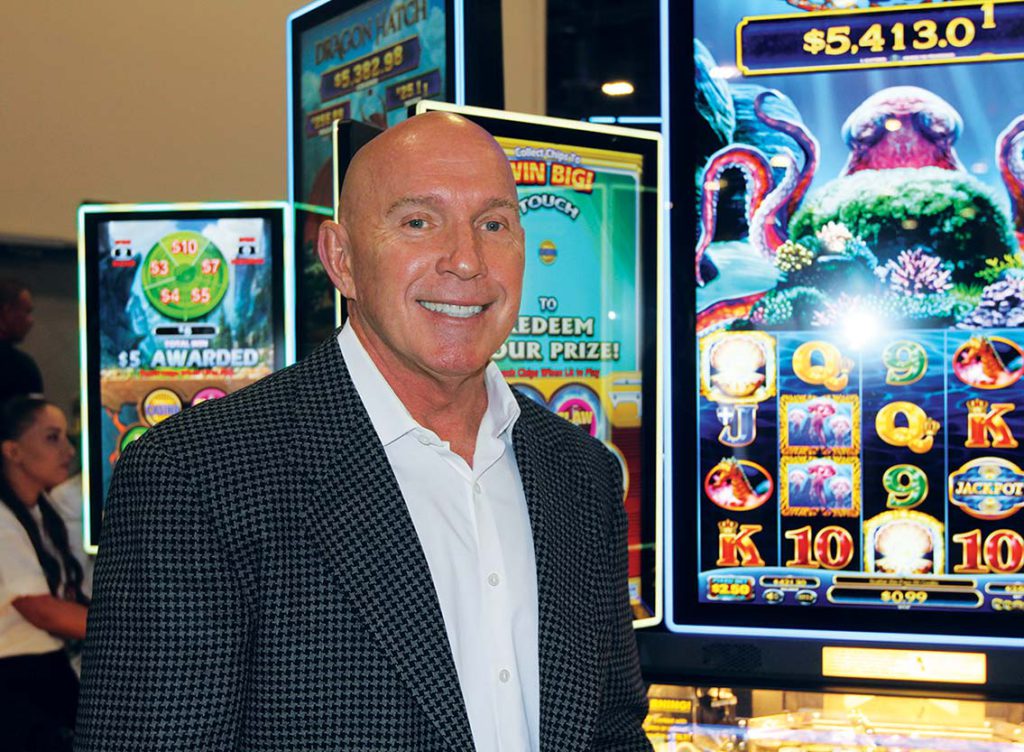 At Aries, we are about the convergence of a standard slot style game with an amusement game, and the mechanical moving aspect of it. Our average seat time has gone to over an hour on these devices. People want to see things move, hear the coins fall and follow their pay table in real time. It's a strategic game, and operators are going to need to have this kind of product on their floors. We have players who will not get up from their seats.
Kurt Gissane, SVP of Sales
Aristocrat Gaming
aristocratgaming.com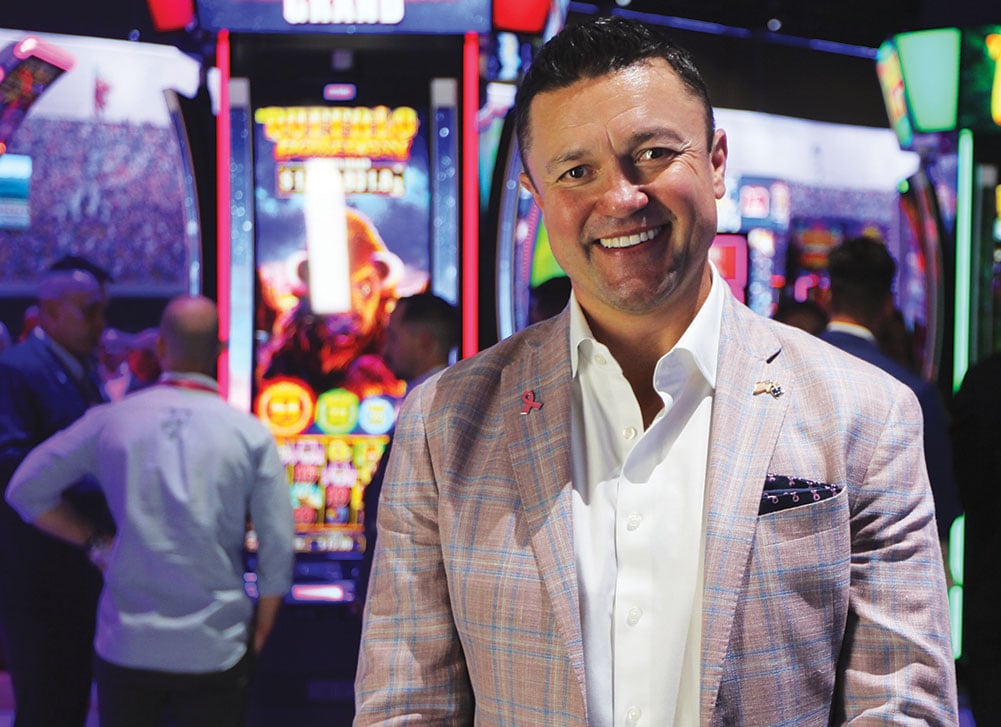 NFL Slots has been a big attraction at the show. We were able to recently launch Super Bowl Jackpots, and it has been exceeding our expectations, which is awesome. Out of these six NFL games here, three of them are Class III and three of them will be launching into Class II. So, we've got a great showing for our Class II segment as well.
We have a tremendous portfolio on both our premium lease and our game sales. We love the King Max cabinet and our customers do too. We have a good balance between our premium lease and our game sale portfolio with great brands across everything. We are super excited. We've really listened to our customers, ­who have been saying they need more sight- lines because every machine these days is so tall. Because of that, we've launched the MarsX Fit, which has had a tremendous reception as a lot of customers want to bring back more sightlines to their casino floors.
Tim Minard, CEO
Eclipse Gaming
eclipsegamingsystems.com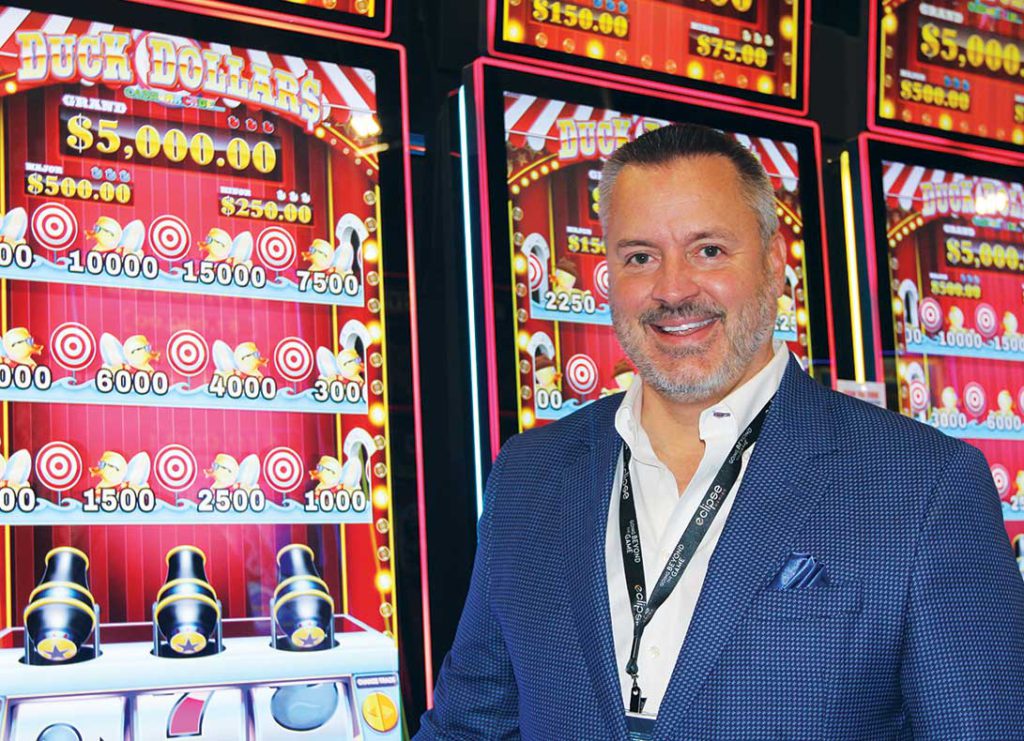 I'm excited that instead of "cash on reels," we've got "ducks on reels." Duck Dollars is one of our new Cash Arcade titles that takes players back to the nostalgic county fair. It comes off of our previous coin pushers – The Big Shake Neon and The Big Shake Carnival, which had a great year of success. I'm also excited about taking some of our old games – the most popular of the last 10 years – and refreshing them.
Our recent partnership with Interblock takes the world-class table games they have pioneered with great success and puts our platform that's been around for 14 years on the back end. We are working together to provide tribal Class II customers a great table game experience.
I'm excited about our company that continues to execute and give back to society along the way.
Courtney Brack, VP of Gaming Operations
Darren D. A. Simmons, EVP and FinTech Business Leader
Everi  
everi.com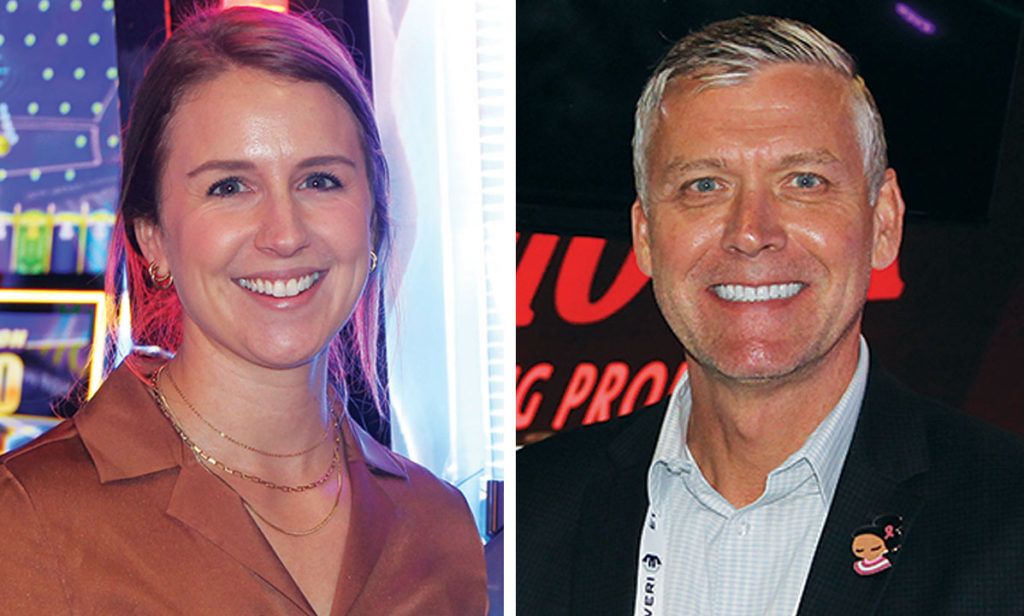 Courtney Brack: This is the year about new hardware for us. It's been a while since we brought this many new hardware projects to the field. We have four new premium products, as well as two for sale. Everything is available very near term. It's all about content and hardware, and we have a lot of premium refresh in our 2024 lineup. We're really excited.
Darren D. A. Simmons: You're seeing a greater connection between our products and services, which creates greater value for our customers and their patrons. One of the exciting things that you're seeing is how both the games and FinTech business are really coming together with Vi, our on-property real money mobile gaming platform that has our remote game server, iGaming content, payments and loyalty all built into one. Our products and services are becoming more integrated and creating value for our customers.
Mike Dreitzer, CEO
Scott Reams, Director of Product Marketing
Gaming Arts
gamingarts.com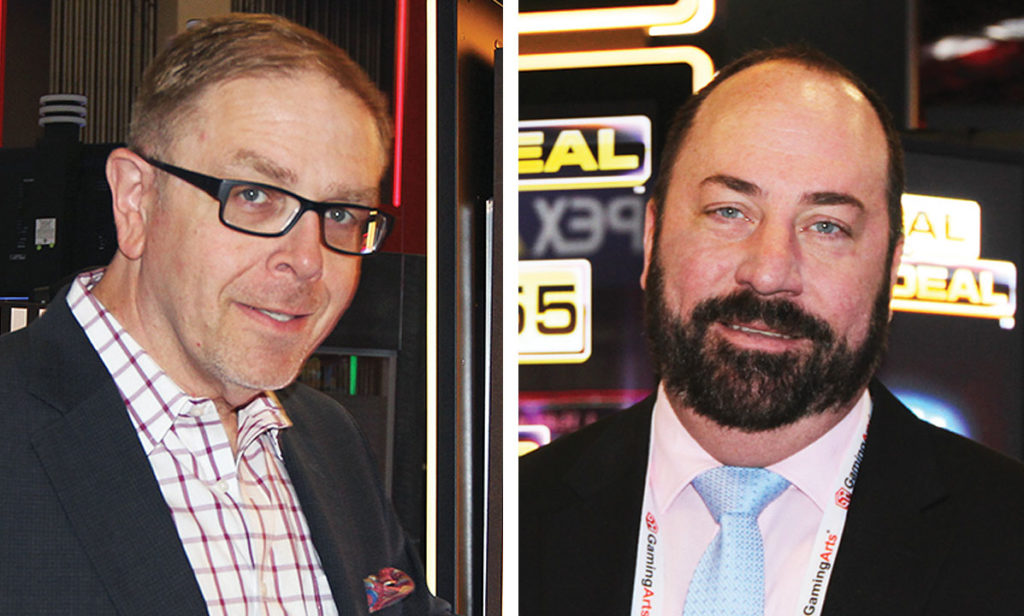 Mike Dreitzer: It's been a wonderful G2E for us. It's always great to see our partners, customers, and friends every year as we convene for the show. We've had an excellent response to our product lines, which we are always happy to hear, and we look forward to using this as the basis for momentum into next year. As you may have heard, we announced a cooperation moving forward with Merkur Gaming, and we are very excited about that. The winner of that is our customer because we'll be able to offer, over time, a much deeper product line, both from the standpoint of games and cabinets, as well as overall products, technologies and service. We look forward to building our presence across the U.S. now in cooperation with Merkur. The future is very bright for us.
Scott Reams: Deal or No Deal is going to be our flagship premium product. We have a partnership with Brian Christopher, which was our first foray into premium, but this is our first large scale premium deal. Deal or No Deal will be out in late November, and we are extremely excited for that. It includes a 'buy a feature' option where players can jump right into the briefcase bonus and get to the good stuff.
Building on the success of Kung Fu Empress, we have Kung Fu Empress Dragon coming out early next year. We also have Jungle Rising on our dual screen coming out, which is a three pot, collection-style game with perceived persistence. We have quite a few games coming out in the next few months and early next year that we are very excited about.
Phil O'Shaughnessy, Vice President Global Communications, Events and Sustainability
IGT
igt.com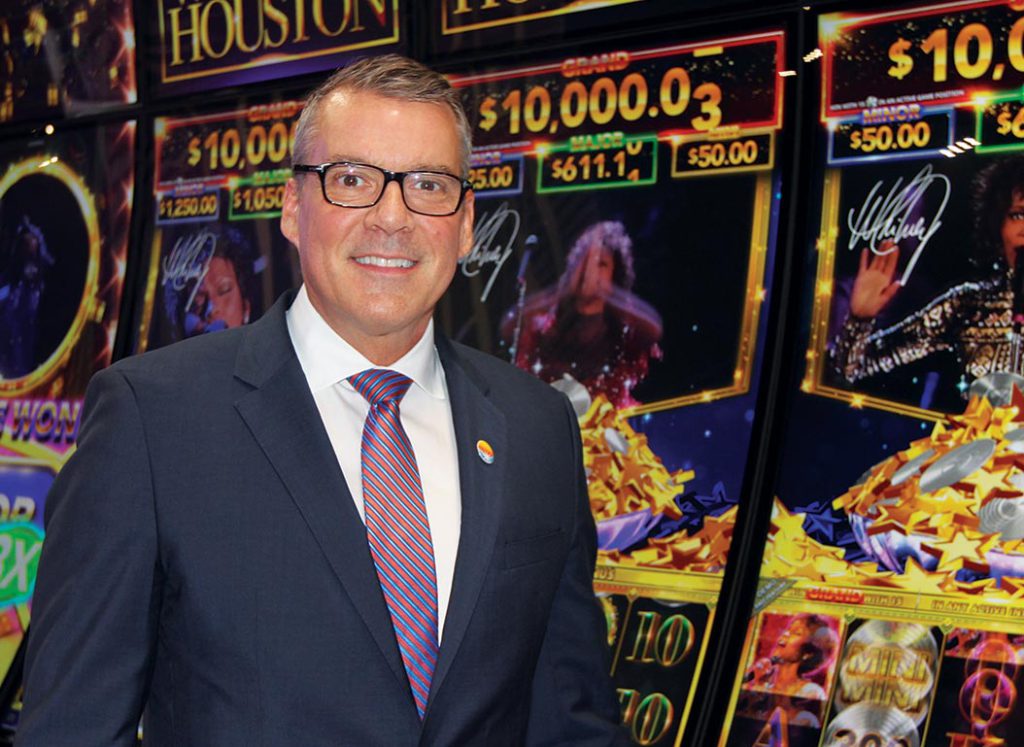 The launch of Whitney Houston on our brand-new, breathtaking Skyrise 55 cabinet, has drawn huge crowds throughout the show. The game features iconic elements, such as Grammy awards, stars and albums that really make the game have that authentic Whitney Houston feel, and of course, the music from her catalog is integrated into the game. We have a shared top screen in a four bank that really creates a great social experience for players. And the beauty of it is, this is a wide area progressive, so we have a $500,000 jackpot now on Whitney Houston. One of the great things about this is we've built it on the Prosperity Link game mechanic, which players have proven to love. We have more than 3,500 Prosperity Link units in the field. With that, we are positioning ourselves for success.
Since we've been making licensed themes for more than 25 years, we don't just put a brand on a slot machine and know it's going to do great. What we've done is the research that tells us that the Whitney Houston demographic mirrors very, very closely to the slot player demographic. We feel like when we place this on a casino floor, we've got that beautiful blend of both art and science that will create a proven winner.
The other adaptation of the brand-new Skyrise 55 cabinet here at G2E is an adaptation of Prosperity Link itself, our celebrated multi-level progressive. It's a beautiful game called Prosperity Link Blessings. That is the other rendition. But I should mention, one of the things we're doing to build on the success of Prosperity Link itself is we've introduced two new themes. Now there are six separate themes. You can imagine the banking opportunities for operators – it's going to be really compelling and we're getting a lot of demand for Prosperity Link. And of course, that has inspired Mystery of the Lamp. We now have 500 units of that on floors. Also, the PeakCurve 49 cabinet is currently the number one portrait cabinet and doing exceptionally well. We've really established an excellent stronghold in multi-level progressives, which is an area that candidly, we sought to improve a couple of years ago. And I think we've really done a great job with it.
The Skyrise 55 cabinet games will be available in Q2 of 2024.
Mathieu McDonald, VP Corporate Development
Jackpot Digital
jackpotdigital.com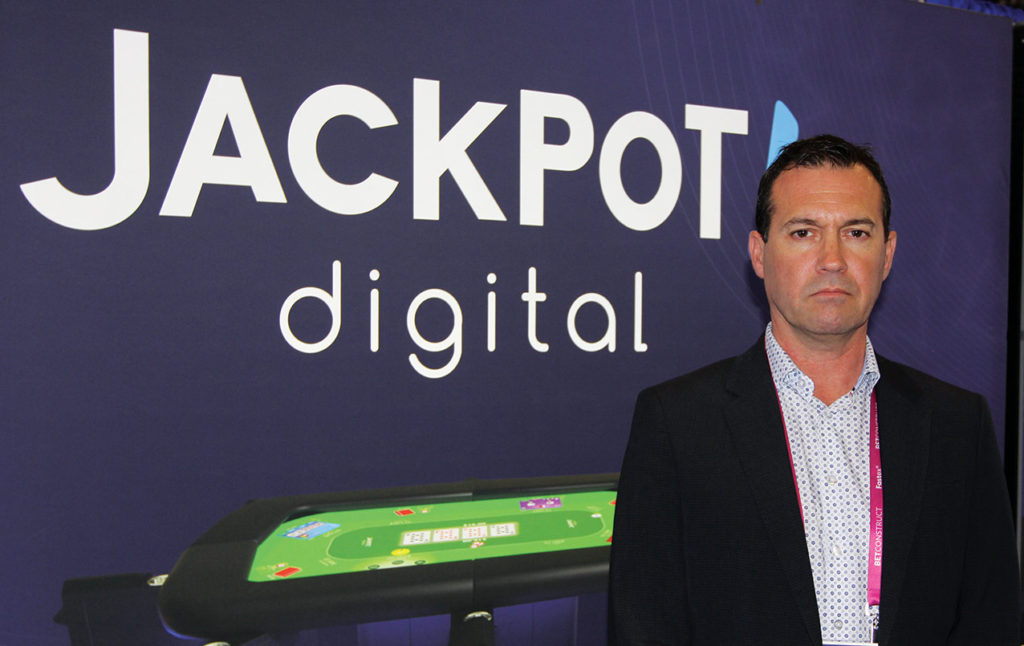 Our next generation dealerless poker table, Jackpot Blitz, has just received its GLI certification. That is a huge step for our company and a major milestone. We built up a backlog of orders with early adopters, but since that time, now that we have a GLI certification, there are a lot of casinos that are ready to take on the product. Every show over the last couple of years for us has just kept growing and snowballing. We had early adopters and now what we see is a much broader segment of the market ready to adopt Jackpot Blitz.
Tashina Lazcano, Director of Marketing & Communications
Konami Gaming
konamigaming.com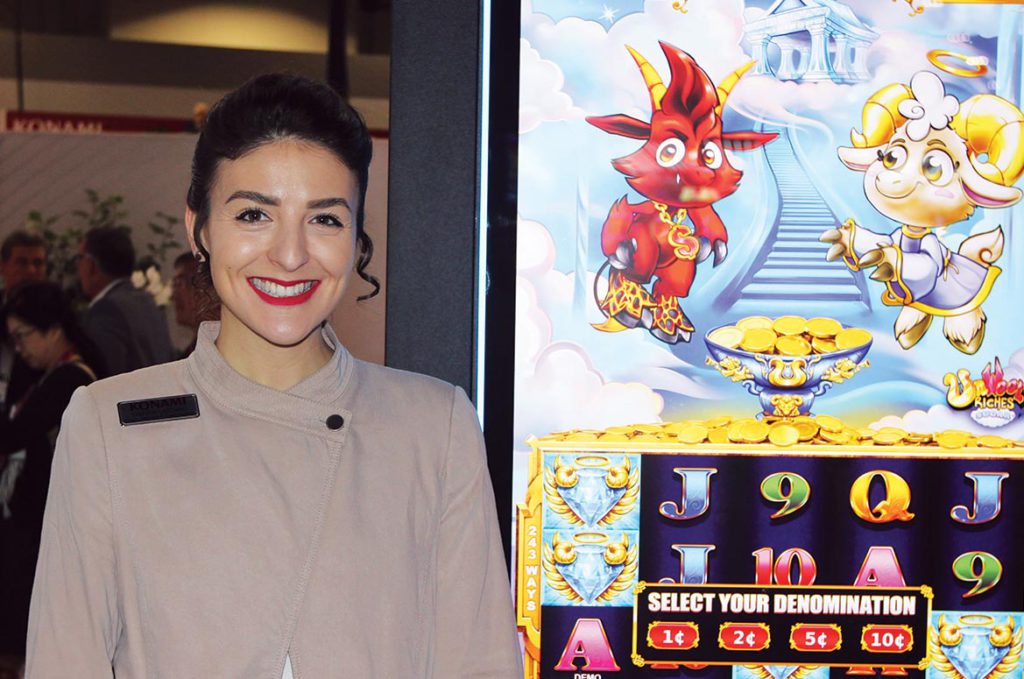 We have a ton of new and innovative products and have really pushed the envelope to bring some exciting new games here to the G2E show floor. Some of the products folks are really crowding around include Unwooly Riches, based on the success of our Stuffed Coins series with that center wild symbol through which players can discover a ton of different features. It has this fun cartoon element with this rivalry between a devilish goat character and angelic sheep character who are battling it out between light and dark forces to give the player the best win. That's a very fun game that we're looking forward to in 2024.
Another game that we're looking forward to is our Lucky Honeycomb Fortune series, coming out very soon. It's based on Dragon's Law Fortune, which has appeared in the industry's top 25 indexing core games overall. We have taken that and brought it to our Lucky Honeycomb IP, which first debuted on the Podium cabinet.
On the system side, we have Synkros Progressive Management. It allows Synkros customers to bring in linked progressives to a bank of games and to the entire casino floor. They can really customize that linked progressive and make different progressive tiers according to people's card level, which is a huge advantage.
We also have an iGaming area here on the show floor, where we are talking about our latest releases that are being made available online, both for wager as well as online social. We have our own remote gaming server through which we can integrate with all the most popular internet gaming servers available today to make our games available to your players online.
Brett Colbert, Director, Product Management – Gaming Operations
Light & Wonder
lnw.com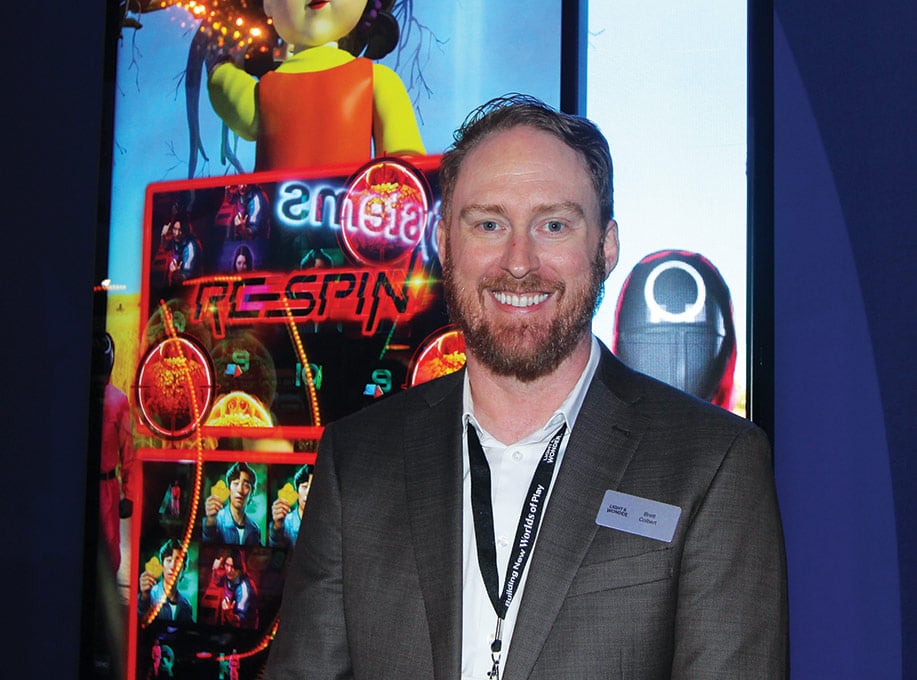 Our biggest debut right now is the Horizon, a jumbo style cabinet. We've done very well in the space with the V75 for many years. The Horizon cabinet features a 4K, 75-inch ultra-high-definition display. More importantly, it includes a micro-LED display that is part of the hardware and features 600,000 micro-LEDs that interact with the game. It is really cool when you go into a bonus. It also features a large transparent button deck with a 24-inch LCD touchscreen display and dual bash buttons. It's a beautiful looking cabinet.
One of our biggest new game launches is Squid Game, based on the number one streamed show on Netflix. With billions of hours streamed around the world, we are bringing it to our Horizon and Cosmic cabinets. This is our first Netflix licensed game, and Studio X, who designed Frankenstein, is making it. Even if players aren't familiar with the TV show, the graphics, the sound, the interaction, and the bonuses are
simply incredible.
We also have a new game coming out of Australia called Dragon Train for the Kascada Dual Screen. It's a true hold and spin style mechanic and features great Asian-style artwork. The big selling point for this is we've added a secondary hold and spin. When players land the Dragon Train symbol, they are guaranteed to have a secondary event. The secondary event happens one in six hold and spins, and it's a great way to win another progressive. We've also added a third jackpot, a $1,000 progressive reset. We think that value is what gamblers are targeting. Another way of winning on hold and spin is if you get the blackout eight of a kind. A low-denom configuration is coming out first, and a month or two later, we hope to be coming out with the high-denom version.
Our Cosmic cabinet is front and center, and we also have a new cabinet on the mechanical stepper side with our Landmark 7,000 Transparent. The Landmark 7000 Stepper came out in the middle of last year, and we've done very well in that high-denom space. Now, we're coming out with a low- denom option in the Landmark 7,000 Transparent. It features a beautiful LCD transparent overlay on top of the reels, and a great LCD touchscreen. We are launching with five new games and four families. We think the low-denom segment is underutilized and we have some really great content coming from that.
Last but not least, we are coming out with a new mechanical stepper wide area progressive (WAP) series. Monopoly Cash Wheel is a great umbrella brand, and our base games will be the launch titles that we had on the Landmark 7,000 – tried and true titles – five-line and nine-line options, with a dollar denom. As time goes on, we are going to be introducing more and more base games to support those larger footprints.
Rick Meitzler, President & CEO
Novomatic Americas
novomaticamericas.com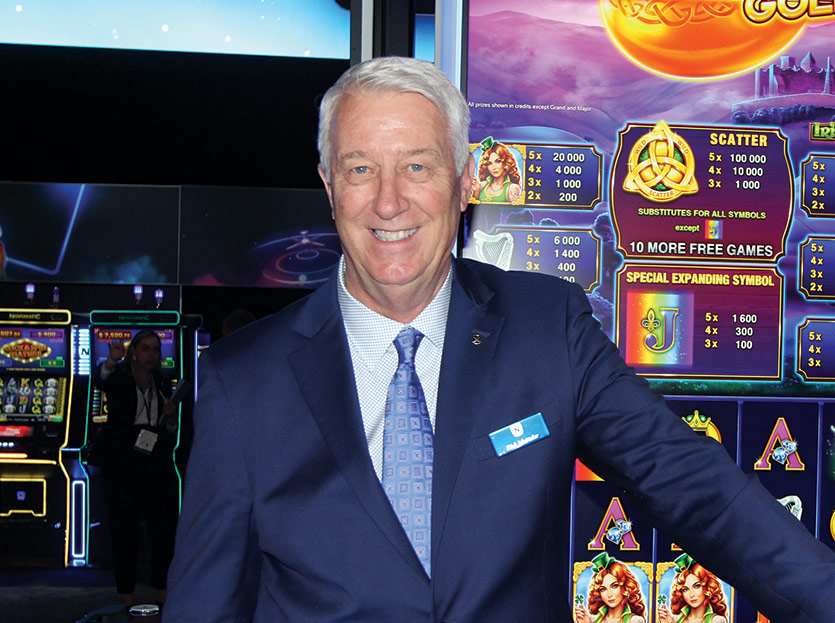 This has been a busy year for us. We signed a partnership where we are now the distributor for Apex Pro Gaming across North America. KGM is our distributor on the East Coast, R2 Gaming in Canada, and we signed a partnership with PariMAX for HHR. We are starting to grow this company more like the European side. We are getting into more markets to expand our footprint as we move forward and I'm excited about all the new products we have.
We also bought a new building in Chicago and will be doing manufacturing there starting in 2025. In the next 12 months, we'll be building a team to be able to manufacture the games from there, which will allow for much shorter lead times.
We are entering more markets, building a team, and continuing to grow. As you can see by the booth, there is a big emphasis from our parent company to really be successful in the U.S.
Derik Mooberry, CEO
Zitro USA
zitrogames.com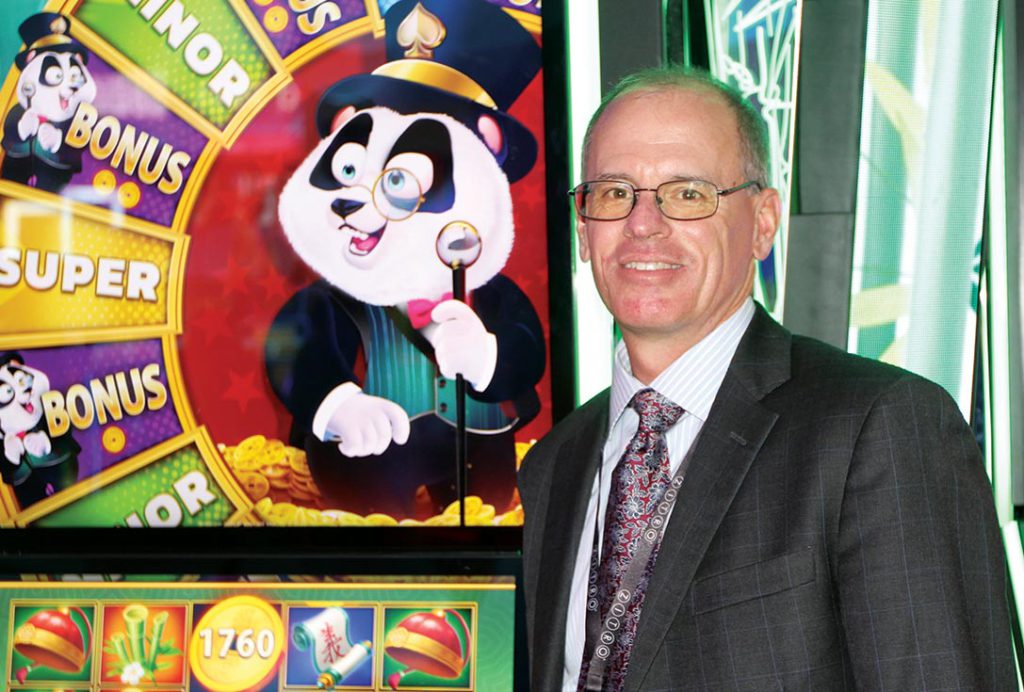 We are super excited about G2E 2023. This is our biggest and best Zitro booth yet by far. The feedback has been tremendous. The participation and the attendee volume has been at levels that seem like records for G2E.
Here in the U.S., we've seen tremendous growth. When you came to the booth last year, we were in three states. Here today, we are now live in 13. In basically a year's time, we've added 10 new states to our portfolio. We had roughly 20 casinos with games last year, and we installed our 70th casino the other day. It's a testament to the products and service levels we are providing – customers want to see vendors like us succeed. As we achieve our licenses and gain additional opportunities into new markets, the future looks bright for us.
We are highlighting our Glare cabinet line, which has received great reviews. There are three highlight games that have really stood out over the last three days. First, is the unveiling of our Billy the Pig game, which is brand-new and has never been seen before until this show. We've received tremendous feedback about it. Fu Frog, also at the very front of our booth, has eye-catching graphics. And then Lun Pan Du, which is really a new style of game for Zitro. It brings an American-style wheel to the game, a cute panda, and a lot of fun graphics and bonus mechanics along with it.
When customers are coming to the booth this year, they're seeing a new and different Zitro, and I think they like what they're seeing.
https://www.indiangaming.com/convention-coverage-g2e-game-technology-showcase/