Post Views: 103
Forest-2, popularly known as "Sons of the Forest," made history on the day of its early access release. 
It sold over 2 million+ copies within 24 hours & became the 'best-selling game on its very first day of streaming.
If you're here, chances are you're a brave adventurer who's eager to dive deep into the unexplored jungles, the one who's ready to face heart-pounding challenges & spine-chilling horror in the "Sons of the Forest."
My friend, keep reading this article to dive deep into every little detail of this much-awaited adventure-horror mystery, "Sons of the Forest."
What is the Sons of the Forest?
The Sons of the Forest game is a sequel to "The Forest" game that came in 2018 & became instantly popular among players worldwide. 
Sons of the Forest got released through early access this year on 3rd February 2023 after a waiting period of 4 long years.
It's an adventure-survival video game.
The Sons of the Forest:
Developed by – Endnight Games
Published by – Newnight
Directed by – Ben Falcone & Rod Green
Engine – Unity
Mode – Single-player & Multi-player [Up to 8-slots]
Platform – MS Windows
Genres – Survival, Horror, Adventure, Shooter & Fighting Game
The Gaming Environment of the Sons of the Forest
The Sons of the Forest takes you to a mysterious dense forest that is full of surprises, dangers and challenges.
In this game, you will be the protagonist who's ended up landing on a mysterious island.
Your mission will be to find resources, craft weapons, and build shelters to survive against mutated creatures and hostile entities in the wilds using your cleverness and quick thinking.
Don't worry you will not be alone. You will have a companion to support you.
Friendly NPCs, especially the one named, "Kelvin" will help you throughout the game.
Regarding the environment, the 3D graphics of the game is designed in such an intelligent way that you will feel like landing in a real forest.
Why do you need the Best Server Hosting for Sons of the Forest?
There are unlimited benefits to having the best Sons of the Forest gaming server. By choosing the best server for Forest-2, you will get-
Low to no lagging experience.
100% security.
24/7 technical support & guidance.
Enhanced gaming experience.
Custom-panel gaming environment and settings.
Greater control over player access and rules.
High data integrity.
Stability and minimized disruptions.
Optimal performance.
Maintenance updates & automatic backups.
The best server hosting brings these advantages, ensuring a seamless and enjoyable adventure for you & your friends.
What is the minimum technical requirement for the Best Sons of the Forest Server Hosting?
The essential requirement for playing the Sons of the Forest are as follows:
Operating System: 64-bit Windows 10
Processor: Intel Core i5-8400 or AMD Ryzen 3 3300x
Memory: 12 GB RAM
Graphics: NVIDIA GeForce GTX 1060 3GB or AMD Radeon RX 570 4GB
DirectX: Version 11
Storage: 20 GB available space
SSD to avoid lengthy loading & smooth gameplay experience
Is there any Dedicated server for the Sons of the Forest Game?
Yes, the Sons of the Forest game allow the setting of a dedicated server. 
Though it didn't have this facility earlier, the recent update 07 added this feature to the game. 
You only need the best server to host your Sons of the Forest game & once you've chosen, you have total control over everything. 
And everything means everything from who you allow playing, setting up your friends as administrators, maximum numbers of players, keeping & not keeping someone in the game & all the other controls. 
The 6 Best Sons of the Forest Server Hosting for the Finest Gaming Experience
Let's explore the list of the best Sons of the Forest server hosting with its features and pricing plans.
1. Dat Hosting ( Best Option )
Are you just starting with gaming? Do you have less technical knowledge? Do you like a simple interface? Then Dat hosting is made for you. 
This hosting service comes with a simple & user-friendly interface to make your Sons of the Forest gaming experience effortless. 
The Unique Features of Dat Hosting
The Dat hosting Sons of the Forest server provides you with –
Top-of-the-line networks & fast CPU for a smooth experience.
A Powerful & reliable DDoS protection.
Enterprise-level service with a capacity of up to 2 TBPS.
A Custom-built control panel & file manager.
Promising daily backups & install updates within 15 minutes.
A 7 days money-back guarantee.
Up to 10% off on quarterly & a 20% discount on the yearly package. 
Pricing Plan
Plans start at €12.90/Month for an 8-player slots server with unlimited usage.
2. Zap Hosting (Cheapest Option)
Do you want an additional game option for free with the Sons of the Forest hosting?
Then go for Zap hosting.
With a unique mobile-optimized web panel to manage your server where you're, you get a "game-switch" option too. This option allows you to not only install other games for free but switch between them easily.
Unique Features of Zap Hosting
The Zap hosting Sons of the Forest server provides-
High-performing hardware, such as the Intel E5-2650 v4 (328 GB RAM).
Free DDoS protection in each of its games.
A Live 24/7 chat option & support.
Free FTP access which allows easy data transfer between your computer & server.
Automatic server set-up.
SSD server for lightening fast performance of the Sons of the Forest.
Up to 50% discount voucher for new users.
Pricing Plan
The starting price for Zap hosting is $7.69/month for the 8-player slot & 2 GB RAM. If you need extra RAM, you can get it by paying 82.94 extra. 
3. Shockbyte (Editor's Choice)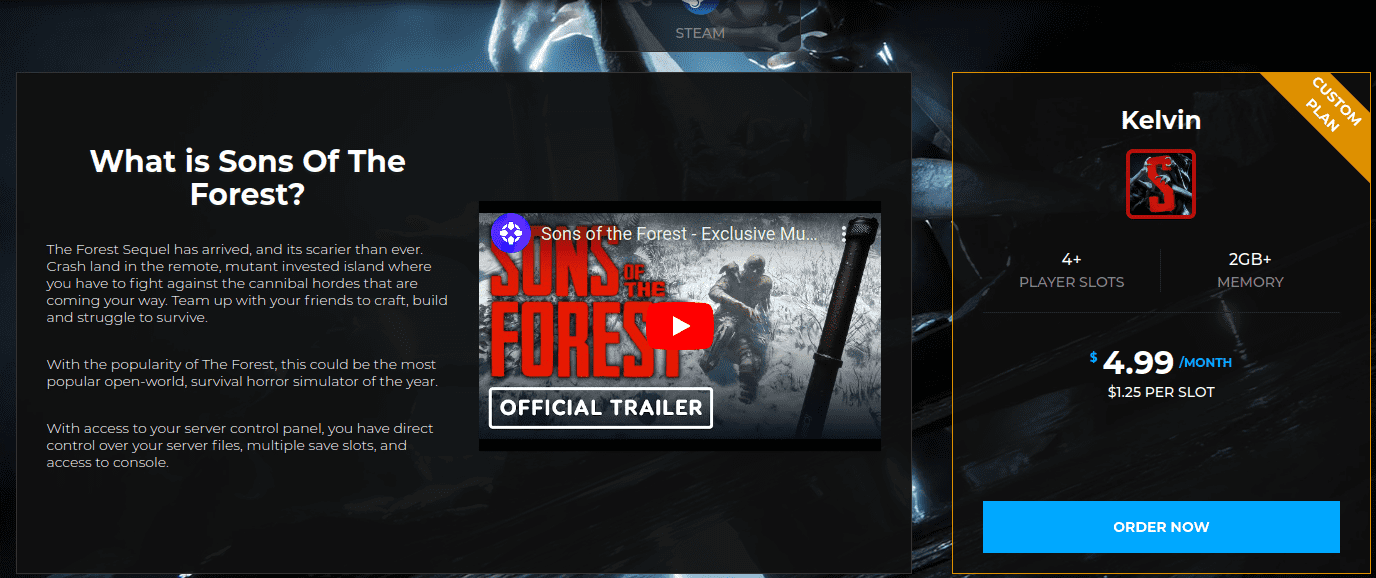 Shockbyte has been a well-known name in the world of gaming since 2013. Till now, it has hosted more than half a million servers.
Regarding the Sons of the Forest gaming server, Shockbyte claims that they have used more powerful hardware than their competitors for a more stable & smooth experience.
Unique Features of Shockbyte
The Shockbyte Sons of the Forest server provides its customer with-
100% uptime guarantee.
Global locations.
Low-latency.
DDoS protection with no additional cost.
24*7 support.
Automatic backups & updates.
Full FTP access.
Instant set-up & free sub-domain.
A 72 hours money-back guarantee, if you are dissatisfied.
Pricing Plan
The standard pricing plan for Shockbyte starts only at $4.99/Month. Do not forget to check for discounts. They are offering up to 50% discount to new users.
4. Sparked Host
With hosting all around the world, Sparked Host offers you budget-friendly server hosting for the Sons of the Forest.
What's unique & best is its diverse pricing system. There's an option for you to choose less than 8-player slots in the Sons of the Forest game. 
Let's look at some more unique features of this server hosting in detail. 
Unique Features of Sparked Host
Enterprise hardware to ensure your server is up-to-date.
Free DDoS protection in all the products.
Service in 9 different locations in the world, including India.
Budget-friendly pricing options for all groups, whether small or big.
A 24*7 active team to support you.
Instant set-up after payment in all their service.
Up to 35% discount for the 1st Month.
A 48 hours money-back guarantee at selected plans.
Pricing Plan
The sparked host offers three different pricing plans.
Bone – $8/Month with 8 GB RAM and 50 GB SSD storage
Creepy – $20/Month with 10 GB RAM & 100 NVME storage
Tech – $24/Month with 12 GB RAM & 100 NVME storage
5. HostHavoc
Whether you're a novice or an expert player who wants to explore the ultimate survivor horror, "Sons of the Forest," the HostHavoc server hosting is for you.
For a more immersive & cooperative gameplaying experience for you & your friends, Hosthavoc has specially designed an 8-player slot. Let's see what they have to offer you in more detail.
The Unique Feature of HostHavoc
The HostHavoc Sons of the Forest server provides you with a –
A powerful control panel powered by TCADMIN V2.
Very active technical support team 24*7. Their response time is just 15 minutes!
99.9% network uptime guarantee.
Up to 10 international data centers, including Newyork, London, Los Angeles, Chicago, Sydney, etc.
2-step authentication through Google authenticator.
File management with FTP access.
3-day full refund guarantee, if you're dissatisfied with their services.
Custom-tailored game templates & easy to use utilities for new players.
A free DDoS protection against UDP floods to source engine query attacks.
Pricing Plan
They only offer one pricing plan, which starts at $15/month for the 8-slot player.
6. PingPerfect
Are you a game enthusiast looking for an all-in-one gaming server for The Forest 2 – Sons of the Forest? 
As its name suggests, PingPerfect is just perfect. It has everything a gamer looks for. Let's jump directly to their vast features.
The Unique Features of PingPerfect
The PingPerfect's Son of the Forest server offers –
An automatic system with an instant installation just after purchasing their server.
Forest Server with high-specification hardware that uses the latest CPU & storage solutions.
Access to FTP files & browser protocols for a real-time transfer of information.
An in-house backup system that protects you from interruptions & losing a single data.
A Dedicated support team that is waiting to solve your query 24/7.
A game-switching option that shifts from Sons of the Forest to another game.
Free web hosting! You get an additional 1 GB of free web space with the Sons of the Forest game server. Just raise a ticket to activate this.
Free debranding servers that come with all their hosting.
DDoS protection from unknown threats.
Pricing Plan
The plan for this server will cost you $14.8/Month. And there's also an option for a 48-hour [2 days] money-back guarantee if you're unhappy with the service. 
How to Set Up a Dedicated Sons of the Forest Server?
The developer Endnight has provided instructions on how to set up a dedicated server for the Sons of the Forest game. Let me tell you, it does require a little technical knowledge.
Just go through the link below & follow the guide.
How to Setup a Dedicated Sons of the Forest Server?
Final Thoughts: Best Sons of the Forest Server Hosting
Like the Sons of the Forest hosting game, choosing the best server hosting is an adventurous & thrilling quest too.
With thousands of information lying on the web everywhere, I would suggest you make a list & prioritize your needs. 
I have mentioned the best servers in the market that are not only budget-friendly but have a successful record of unwavering stability, lightning-fast speed, smooth gameplay, high-performing hardware, security & supportive gaming experience. You can choose one among them.
https://linuxbuz.com/best-resources/best-sons-of-the-forest-server-hosting