Whether you want to start your own blog or build a website for your business, shared hosting is the most affordable hosting choice available.
You can host your own website for as little as $1 a month
, and even enjoy extra perks like a website builder or a one-click app installer.
However, shared hosting isn't always a perfect solution. Your website speed and performance can be affected if another site on the shared server gets a sudden traffic spike. Not only that, but another site's security breach can spread over to your part of the server, and we don't even have to tell you what kind of problems that could cause.
For these reasons,
you want to be sure to sign up with the right host
. One that's going to take your business seriously, not just cram your site onto a run-down, overpopulated server.
We've tested dozens of shared hosting providers, and now we're here to help you choose the best one for your specific needs.
Shared Hosting Providers: Our Top Picks
WP Engine – Professional managed WordPress hosting plans
Hostinger – Amazing packages for amazing prices
InMotion Hosting – Advanced features for pro users
iPage – Unlimited hosting at a low price
FastComet – A performance powerhouse with excellent security
What We Look For in the Best Shared Hosting Providers
Shared hosting providers can differ a lot – both in terms of price and what they offer. We've tested shared hosting companies based on these essentials:
Value for money: Just because a host offers the cheapest deal, doesn't mean it's the best in terms of value. Instead of price, we've looked at what you actually get for your money.
Included features: While some hosts expect you to make do with the bare necessities, others offer valuable features, like website builders, email addresses, and one-click app installers.
Customer support: All hosting companies offer some kind of support, but you really can't beat 24/7 support. It's even better when you get multiple support channels to choose from.
Security: Protecting your website from cyber attacks, DDoS, and malware is essential, so we've looked for providers that value security as much as we do.
Need more than just a plain old shared hosting provider? Meet WP Engine. If WordPress is the name of your game, you'll love the managed WordPress hosting plans and their great range of special features.
Features
WP Engine's managed WordPress hosting plans include the Genesis Framework for WordPress (worth around $60) and over 35 StudioPress Themes (valued at over $2,000). With these tools at your fingertips, you can build a beautiful website in a matter of minutes.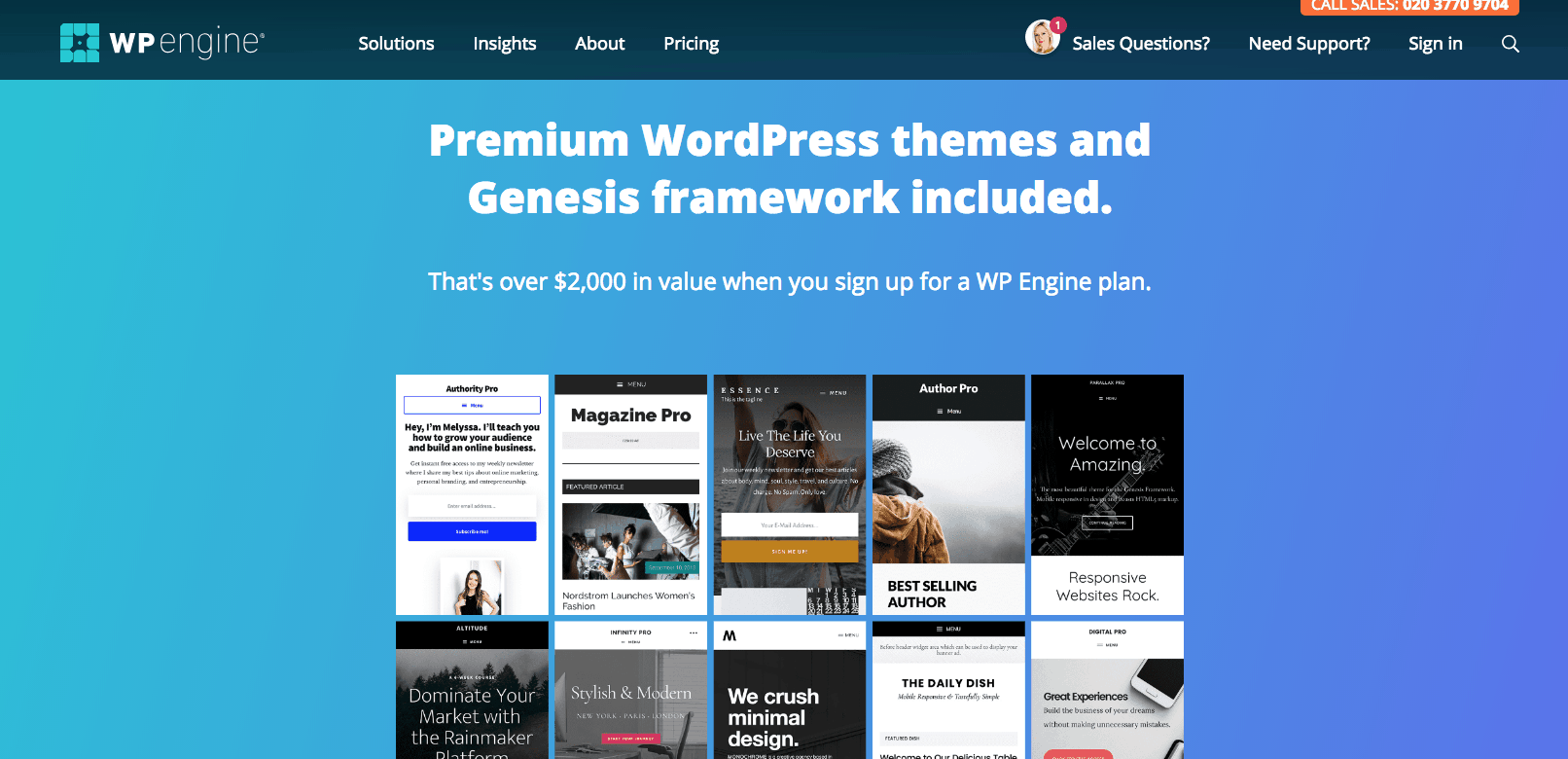 Among other included features, you'll find a global CDN (Content Delivery Network) – so your visitors experience faster page load speeds – and three different 'environments' (Development, Stage, Production) so you can test your website before it goes live.
Click here to learn more about WP Engine.
Pros
Your pages will load faster with WP Engine's 'aggressive caching'.
WP Engine handles your website's security for you.
You get amazing value for your money. WP Engine isn't as budget-friendly as some other hosts, but you get so much more: automatic backups, security, WordPress server optimization, the Genesis Framework and StudioPress Themes, and so on.
SSL certificates are automatically installed on your websites.
WP Engine can provide specialized support for WordPress issues.
Cons
The customized backend is a bit complex, and can take some getting used to.
WP Engine does not host DNS, so you must go through a (rather complicated) process to configure your DNS records so that your website can go live.
There's a list of WordPress plugins that are 'disallowed' because of conflicts with the WP Engine platform – this includes WordFence, Jetpack Related Posts, Broken Link Checker, and Fuzzy SEO Booster.
Sign up for a three-year plan with Hostinger and you can get shared hosting for less than a dollar a month (on the basic Single shared hosting plan).
Features
Hostinger's Single plan is a bit limited, but the Premium and Business plans have more to offer – including a free domain name and SSL certificate, and better server-side processing power.
Hostinger has a 99.9% uptime guarantee. This means that if your site's monthly uptime ever drops below 99.9%, you'll be reimbursed for the downtime.
You get weekly backups on all plans. The Business plan will give you daily backups.
Click here to learn more about Hostinger.
Pros
If you're a beginner, you'll love the included Zyro Builder website builder, which makes building your site easy. Zyro comes with a drag-and-drop interface, almost 200 templates, and even basic e-commerce features.
The Premium and Business plans include unlimited websites, SSD space, bandwidth, and MySQL databases.
Don't be fooled by those cheap prices – Hostinger uses all the latest technology, including PHP 7, NGINX caching, GZIP Compression and HTTP/2.
Customer support is excellent, with live chat agents available 24/7 and speedy response times.
Hostinger operates the Loyal Customer Guarantee Program for web hosting and domain renewals, meaning you'll get the best prices when it's time to renew your hosting. (Other hosts will increase prices by up to 500% after the initial term.)
Cons
Hostinger doesn't use the traditional cPanel, but offers a customized dashboard instead. While it's easy to use, it lacks some of cPanel's advanced features.
SSL certificates are only available on the (most expensive) Business Plan.
Live chat is only available to signed-in customers, meaning there's no easy way to ask questions before you commit to a plan.
With InMotion Hosting, a mid-range shared hosting provider, getting your website online is quick and easy. You can install over 400 applications (such as WordPress or Drupal) with just one click.
InMotion Hosting offers interesting features for advanced users, including SSH access.


Features
All InMotion's shared hosting plans come with a free security suite, which includes an SSL certificate, protection against hackers, free automatic backups, and protection against DDoS attacks.
The plans also include marketing tools that can help you make the most of your online presence, such as free advertising credits and visitor statistics. The larger the plan, the more you get.
InMotion Hosting also offers a free migration service.
Click here to learn more about InMotion Hosting.
Pros
The onboarding process is easy, with emails that tell you everything you need to know.
InMotion Hosting takes its 99.9% uptime guarantee a step further, providing a real-time network and server status page so you can check if there's a problem with the server (or if it's just a problem with your website).
You don't have to feel obligated to sign up for the longest term to get the best deal – the differences in pricing are minor.
InMotion gives you good value for your money: Even the most basic plan (Launch) comes with two websites, a free domain, and a free SSL certificate
There's a generous 90-day money-back guarantee.
Cons
InMotion Hosting's data centers are all US-based – which is great for US customers, but not so great for customers in other parts of the world, as site visitors may experience longer loading times.
To prevent fraud, InMotion operates a phone verification system – so you'll have to wait for a call from a support agent before your account gets activated. Non-US customers may find this inconvenient because of time zone differences.
InMotion doesn't (yet) offer NGINX, a server setup that can improve page loading speeds.
If unlimited hosting at a low price sounds good to you, you'll love iPage.
It's a no-frills hosting package that gives you everything you need to get your website online – including a website builder with e-commerce functions.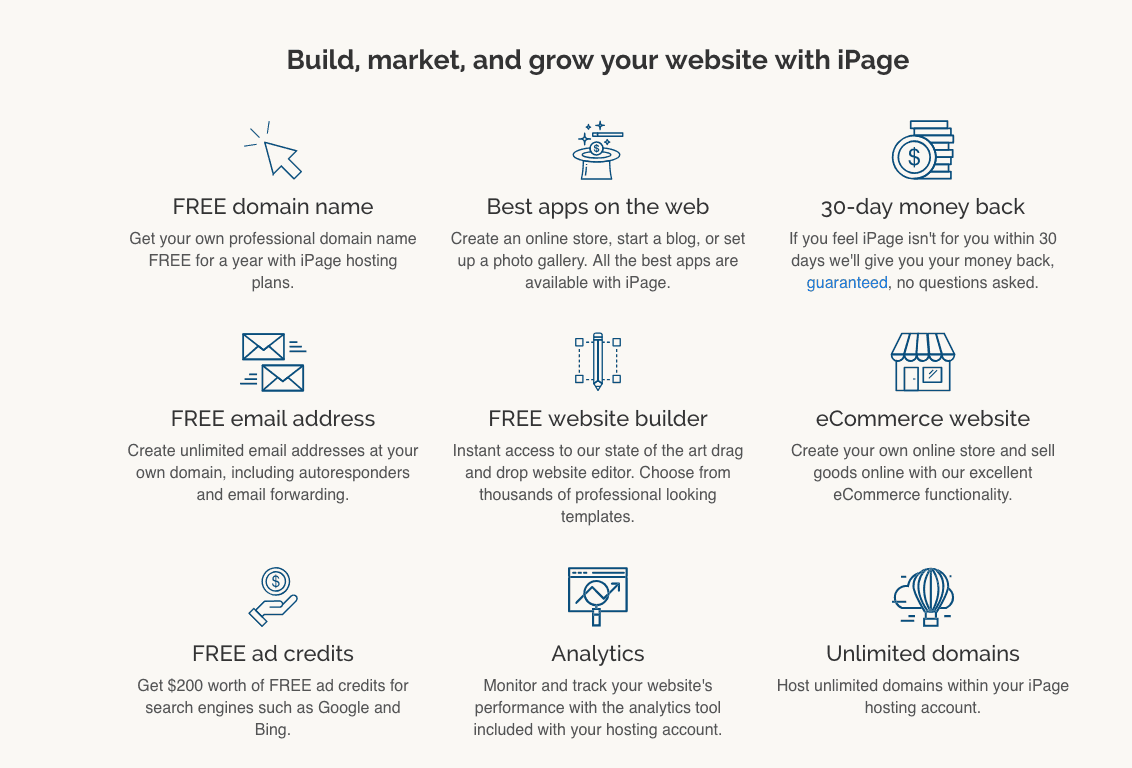 Features
iPage gives you lots of extras, such as support for unlimited domains within your account, free email addresses, and a wide range of apps to help you create any kind of website you want.
You also get an advanced security suite, provided by SiteLock (with a stated value of $100), and a free SSL certificate.
You'll also have plenty of customer service options – email, tickets, live chat, and phone support – that are all available 24/7. The tech-savvy support agents can resolve any kind of issue quickly and efficiently.
Click here to learn more about iPage.
Pros
iPage makes shared hosting simple and affordable, with just one plan that gives you unlimited storage, bandwidth, and websites.
As an EPA Green Power Partner, iPage's data centers and web servers are powered by renewable energy sources (such as wind energy).
As part of the included security suite, you get protection against malware, and a firewall to keep your website secure from hackers and other malicious attacks. Daily backups are also included.
iPage comes with a wide range of integrations, including Google Apps and PayPal, so you can easily launch a basic e-commerce store.
iPage offers a greater amount in ad credits than most other hosts, so you can get more traffic to your website without having to invest extra cash.
Cons
Instead of the user-friendly cPanel, iPage offers only the outdated vDeck to manage your hosting.
iPage sets limits on CPU usage, meaning your account could be suspended if you're using an excessive amount of resources.
While there is a 30-day money-back guarantee, it isn't quite what it seems: if you ask for a refund, iPage will deduct $15 to cover the cost of your 'free' domain name.
When you sign up for one of FastComet's shared hosting plans, FastComet provides you with great value that also pays off in the long run. FastComet offers a performance powerhouse that won't let you down, thanks to its cloud-based servers and BitNinja Server Security.
Features
Prioritizing performance, FastComet's shared hosting plans operate on an SSD-only cloud – giving you better speeds and higher levels of uptime and reliability.
With FastComet, not only do you get a free Let's Encrypt SSL certificate, but you also get a free Cloudflare CDN SSL, giving you additional protection against data theft.
If, against all odds, your website still gets hacked, the tech team will recover your files and get your site secured quickly – and at no additional cost.
FastComet offers a wide range of step-by-step tutorials so you can learn the skills you need to manage your hosting and build a professional-looking website.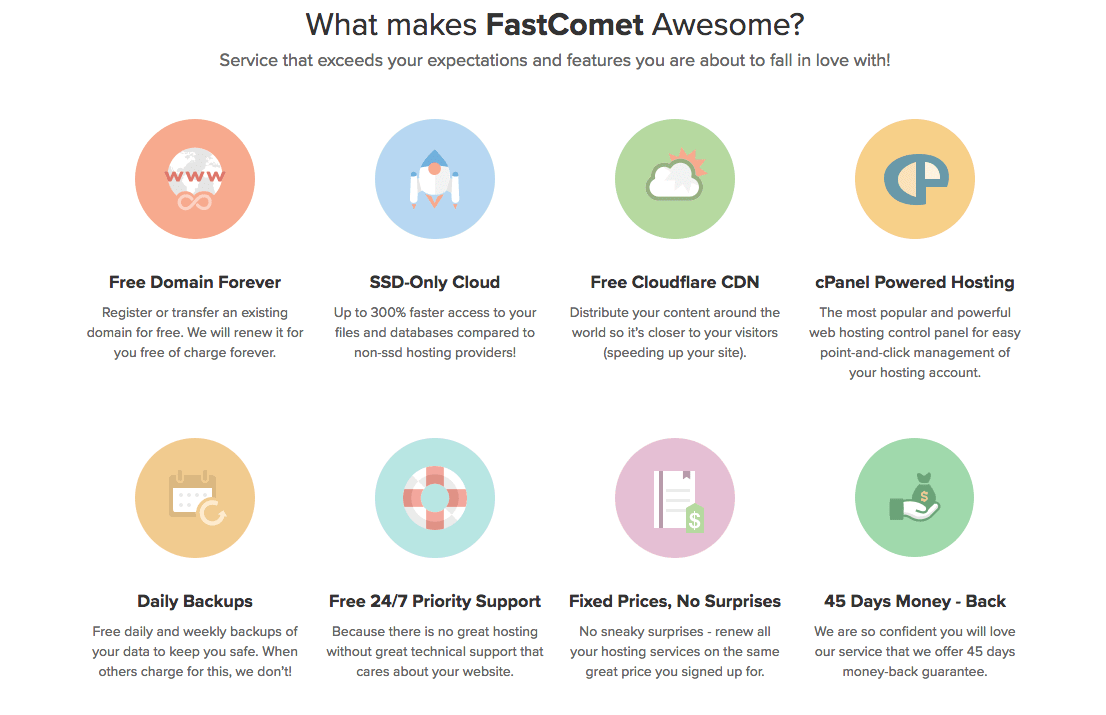 Click here to learn more about FastComet.
Pros
FastComet has eight data centers spread around the world – and you can choose your server location when you purchase a hosting plan.
You get a free domain name for the lifetime of your plan (not just for the first year, as with many other hosts).
The plans are bursting with extra features, such as Cloudflare CDN Caching to make your website run faster, and malware removal, firewalls, brute-force protection, and spam protection.
FastComet promises 3x fewer users per server and 3x more resources per account. You also get RocketBooster, a proprietary system that ensures you get great performance from your shared hosting plan.
Renewal prices are fixed with FastComet – meaning you won't be hit with massive price rises at the end of your initial term.
Cons
While FastComet offers a one-month recurring billing cycle option, you'll have to pay a setup fee if you prefer to pay this way.
If you transfer a domain name to FastComet, you don't get the free domain for life perk – instead, you'll pay $13.95 a year for domain name renewals.
None of FastComet's plans include unlimited SSD storage, with even the highest tier plan only offering 35GB of storage.
While Superb Internet may not be as well known as other hosts, it deserves its place on our list. Its custom platform makes it one of the most reliable and stable shared hosting providers available.
Features
With Superb Internet's Gridiron platform, you get the same kind of performance and stability you could expect with more expensive types of hosting, such as VPS or dedicated servers.
Superb Internet has a Customers First Guarantee covering a wide range of services. This means that if it does not meet one of its guaranteed benchmarks – for example, 'network uptime' or 'first response to support ticket' (which is guaranteed to be within 30 minutes) – you'll receive up to one-month credit.
Click here to learn more about Superb Internet.
Pros
With Superb Internet's proprietary Gridiron platform, you won't be affected by other websites on the same server.
There's a 100% uptime guarantee – not something you see very often with shared hosting.
Superb Internet's shared hosting plans are extremely scalable, meaning that your hosting plan grows with your business – giving you access to more resources as you need them.
Unlike many shared hosting plans, you can choose Linux or Windows options on all of the Gridiron plans.
The Gridiron platform prevents server failures, operating backup systems that ensure your website is always available. Plus, the servers are monitored 24/7 by trained technical experts.
Cons
MySQL Databases are limited to 5x 100MB for the basic shared hosting plan, which is okay for small- to medium-sized websites but limits your customization options.
Superb Internet doesn't provide cPanel or Plesk as part of its plans – if you want to use one of them, you have to pay for an add-on on top of your plan price.
Advanced protection against malware, DDoS and other malicious attack is only available as an add-on to your plan. Basic firewall protection is included, however.
Shared Hosting That Offers More Than Most
You'll notice that our best shared hosting list doesn't feature the usual big names that headline other 'best of' lists online. That's because we're committed to giving you honest reviews that aren't influenced by affiliate programs.
Every one of the vendors we've highlighted deserves its place on the list because of what it offers you, not because we get a higher commission. These shared hosting plans give you the best value for money and have stand-out features on offer.
Struggling to choose which one is right for you? Here's a comparison table to help.
https://www.websiteplanet.com/blog/best-shared-web-hosting/