If you are looking forward to making money from helping people get their websites online, then you need to choose the best reseller hosting provider in 2023. Otherwise, you may end up partnering with a mediocre hosting company that will destroy your brand due to poor services.
To prevent this, we researched many top web hosts and narrowed down the list to the best reseller hosting services. We looked into their features and performance in relevant areas to see if they meet the standard. Thus, this page will reveal the top providers for this job, and you will get to decide which one is best for your business.
What is Reseller Hosting?
In case you are still a bit unfamiliar with the concept of reseller hosting, let's provide the best answer to improve your understanding.
Reseller hosting, as the name implies, means buying hosting services from a particular host and selling them to others. In the course of doing this, you will make money from the sales. Typically, when a reseller purchases server resources from a particular host, they resell these resources in bits to their customers and at a higher price to make a profit.
Many top hosting companies in 2023, offer a white-labeling feature on their reseller plans. This allows a reseller to sell hosting services to clients using their brand name. For instance, if SiteGround is the host a reseller uses and their clients log in to their dashboard, they won't see anything related to SiteGround.
Instead, they will think the reseller actually owns the server and other resources. Besides, it lets them use private DNS too without exposing who actually owns the server resources they use.
In reseller hosting, the best providers in 2023 make available several tools for account management and billing. They include a control panel (eg. cPanel), Web Host Manager (WHM), and Web Host Manager Complete Solution (WHMCS).
Here is a quick explanation of what they are:
Control Panel: The control panel is the tool that clients will use to manage their accounts and sites. While many hosts use the cPanel as their control panel, others have more intuitive proprietary tools for management.
WHM: The Web Host Manager is the admin control panel. It allows a reseller to manage clients' accounts, giving them easy ways to allocate resources to them based on their plans. Some web hosts use custom tools for this purpose as well.
WHMCS: This does the work of the WHM with some additional features like billing, customer support, etc. Another alternative to the WHMCS is Blesta and some hosts allow you to choose between the two. Nevertheless, some hosts still have custom tools for this.
Top 5 Reseller Web Hosting Providers in 2023
Knowing what reseller hosting is, let's discuss the best providers to see what they have to offer.
SiteGround is the best reseller hosting provider in 2023. Unlike most other hosts, SiteGround has gone above and beyond to create the perfect hosting setup for websites and web applications. Thus, it can provide unrivaled performance with its servers.
One of the unique features that SiteGround reseller hosting plans have is scalability. You will have access to several resources and you can easily scale up or down depending on what your clients need. This way, you won't necessarily have no resources to sell or too many than you actually need to sell. Therefore, it is cost-effective.
Now, let's see how SiteGround performs in the crucial areas to consider.
Pricing & Features
The first crucial area that makes SiteGround a top reseller hosting provider is its pricing. SiteGround has a great introductory pricing system that allows you to make a profit easily and quickly from reselling their services. Since these prices are quite affordable, you will be able to provide services to your clients more affordably in the first year as well.
However, when it comes to renewals, SiteGround prices generally spike to almost 500% of the initial pricing. While this may seem like a red flag, the value for money for these plans is amazing even after the price spikes. Thus, you are definitely still going to make a lot of profit while providing decent services to your customers.
SiteGround plans are generally the same but some features that distinguish them from one another. Some of the features are storage space, server RAM, bandwidth, etc.
Generally, your clients will enjoy free one-click WordPress installation, automated WordPress updates, a free migrator plugin for WordPress websites, daily backups, WP-CLI, SSH access, and free SSL certificates. Additionally, the plans include website staging, caching, free CDNs, the ability to add custom collaborators, free email hosting, and automated daily backups.
Here is a quick summary of the pricing and features of SiteGround reseller hosting plans:
GrowBig: costs around $5 per month and renews at about $25 monthly after the first year. It supports unlimited websites and has only 20 GB of disk space. It is suitable for non-media-heavy websites.
GoGeek: costs about $8 monthly and renews at $40 per month. Aside from all the features of the GrowBig package, you will get 40 GB of storage, a private DNS to customize or own your name servers, and priority support to get faster help.
Cloud hosting plans: costs $100+ per month. It provides scalability and the ability to allocate resources to users or restrict their access to some features. In addition to GoGeek features, you will get up to 1 TB of storage space, 5 TB bandwidth, 33 CPU cores, and 130 GB RAM.
Hint: The GrowBig package is great if you want your clients to share the same resources without having concerns about them knowing that you are using SiteGround's resources. This is great for designers or web developers. If you want the white-label feature to build your brand then the GoGeek plan is great.
At the same time, if you want total control over the access of users and which features they can use, cloud hosting plans are recommended.
Ease of Management
Another reason why SiteGround is the best hosting provider for reseller services is that it has a great control panel that enables ease of management.
SiteGround provides Site Tools, a proprietary control panel that makes website management easy for your clients. Besides, your Client Area in conjunction with the Site Tools allows you to allocate resources to your clients and manage their billing cycle.
However, you should note that there is no way to integrate a payment gateway from the Site Tools since there is no WHMCS or any similar software. As a result, you will have to bill your clients through another method.
Overall, SiteGround has one of the best management tools in the reseller hosting industry in 2023.
Speed & Security
SiteGround is one of our favorite reseller hosting providers when it comes to performance and security.
For speed, SiteGround has out-of-the-box caching, multiple data centers, CDNs, Ultrafast PHP & MySQL database setups, and Brotli compression. This means that your clients will enjoy unrivaled website loading speeds that will make them trust and stay loyal to your brand. Besides, based on our firsthand experience, a typical web page on a SiteGround server loads in about 731 ms, passing the Core Web Vitals test, seamlessly.
Furthermore, SiteGround ensures that your clients' sites are fully secure through the provision of free SSL certificates, automated & on-demand backups, geo-distributed backups, and SSH access. If your clients install WordPress on their sites, they will also be able to use the SiteGround Security plugin for free. At the same time, your entire server will enjoy security features like an AI anti-bot system to prevent bot traffic or brute-force attacks, Web Application Firewalls (WAF), and DDoS protection.
Therefore, you can provide a complete package to your clients in terms of security and performance without breaking the bank.
Top-notch Customer Support Team
SiteGround also qualifies as a top reseller web hosting service when it comes to customer support. The host provides 24/7 customer support via live chat, ticketing, and phone calls. This means you will be able to resolve any issue your clients may have quickly and at any time. Despite being quick on normal support, the host still allows priority support on its cloud plans. This ensures that you skip every queue any time you need help and your requests are directed to experts.
2. InMotion Hosting
InMotion is another reliable reseller hosting provider to use in 2023. The web host is known for delivering great hosting services that excel in affordability, speed performance, security, ease of use, etc., and are trusted by many users.
The main reason why InMotion is our favorite reseller hosting provider is that it offers a complete solution for the service. It provides cPanel licenses, WHM, and WHMCS for billing. What's more, it lets you resell domain names and behave like a registrar. Now, let's have a quick look at what InMotion Hosting has to offer in some crucial areas.
Pricing & Features
One of the reasons InMotion Hosting is part of the best reseller web hosting services in 2023 is affordability.
InMotion Hosting has a total of 4 plans which are R-1000N, R-2000N, R-3000N, and R-4000N. In general, you will get features like white-label, unlimited email accounts, free cPanel licenses, WHM, WHMCS, and dedicated IPs from the plans. However, the restriction on these features varies from one plan to another.
Here is a quick look at the pricing and features of the InMotion reseller hosting plans:
Note: There is no limit to the number of websites you can host on your server. Nonetheless, the number of cPanel accounts available determines how many clients you can sell to on a particular plan at a time. Again, it doesn't mean that these clients cannot have multiple sites on their cPanel accounts. It all depends on your configuration. If you need more cPanel accounts, you may need to upgrade or purchase an additional cPanel license pack.
Ease of Management
Another reason why InMotion Hosting is a top reseller web host is that it is very easy to manage.
The web host offers cPanel as the control panel for site management for clients and provides a pre-installed Web Host Manager (WHM) on your account. This allows your clients to use the power of the cPanel to manage their websites. Besides, the cPanel has a one-click app installer (Installatron) that lets you/them install any of the over 400 web applications on your/their site.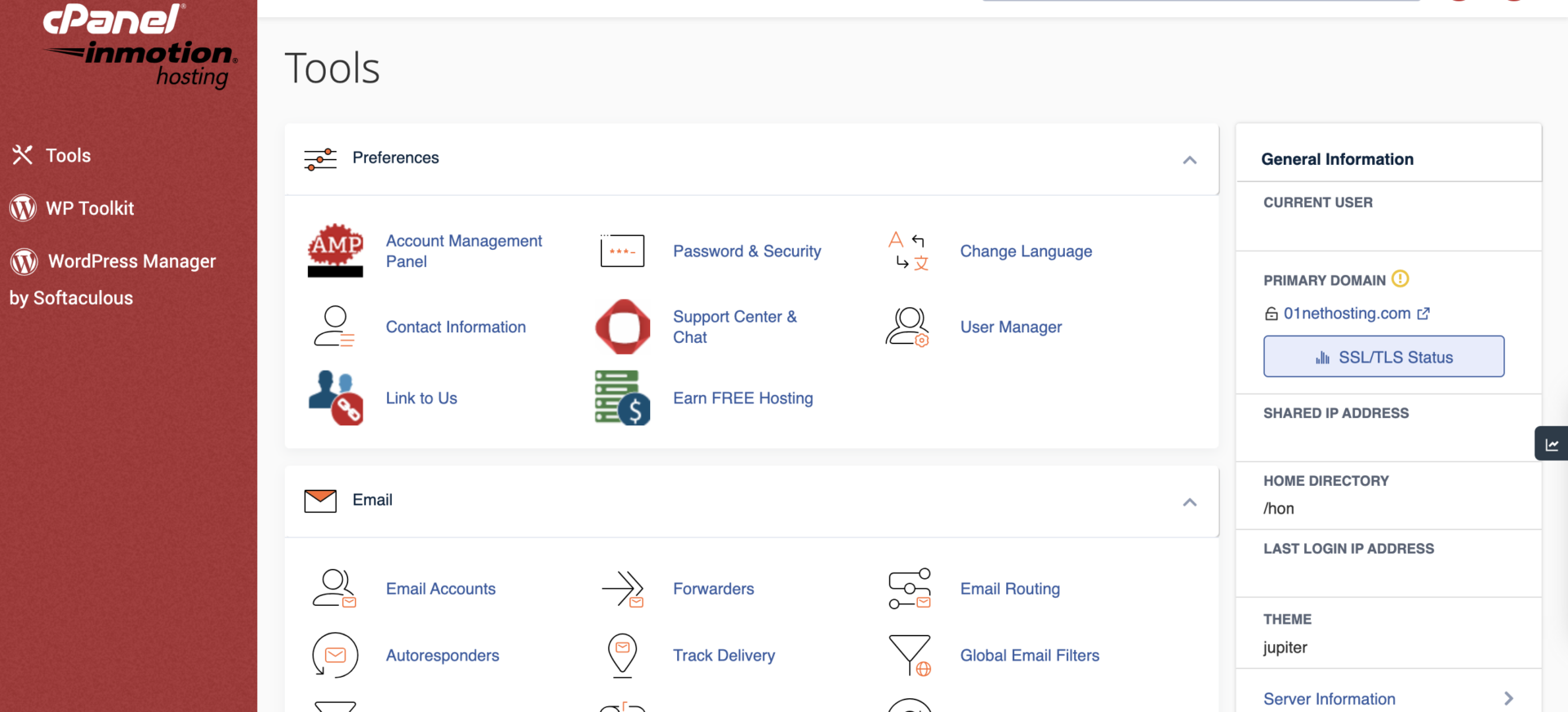 The Web Host Manager lets you manage all the sites on your server or account so that when your clients have a problem, you can access their website to help them resolve it. It is great for customer support since it grants you super admin access to their sites.
What's more, you will get access to Web Host Manager Complete Solution (WHMCS) that does not only grant you access to users' websites but also lets you set up automated billing for them. Since InMotion does not take part of your money or profit, whatever you make is yours and you will have full control over the management.
Speed & Security
The ability to deliver fast-loading websites to your clients from anywhere in the world is another reason to choose InMotion Hosting as your reseller web host.
The web host achieves this feat through the provision of an UltraStack performance setup. UltraStack performance setup involves the use of caching technologies like Redis together with the Nginx server and NVMe SSD to create a powerful hosting environment for fast websites. According to our experiments with InMotion Hosting, you can get a website loading of 530 ms or less.
Get a Plan from InMotion Hosting
At the same time, the web host provides security measures like DDoS protection, SSH access, free SSL certificates, and hack & malware protection for free. However, to access the Backup Manager, you will have to purchase the add-on.
Excellent Customer Support
InMotion Hosting generally provides live chat support to their clients irrespective of the package they are on. So even if you are on the cheapest plan, you will get great support.
Although, InMotion provides additional phone support on its last three plans. Thus, you will be able to get in touch with support faster and ensure that any issues your clients have are resolved quickly.
3. A2 Hosting
A2 Hosting is a great reseller hosting company in 2023.
It is an excellent web host in many aspects. The host is great for hosting fast-loading web pages, it lets you create an eNom Domain Reseller account for registering new domain names, it gives you the white-label feature, etc.
Pricing & Features
Our findings while researching the best reseller hosting services in 2023 show that A2 has four main plans. However, each has a variant configuration called Turbo. The main differences between the normal and Turbo configurations/servers are that the latter is 20 times faster, uses NVMe SSD, and has 2 times RAM. At the same time, it is more expensive.
All the packages have similar features but their server configurations, pricing, and restrictions differ. Let's have a quick breakdown of the plans:
Even though the normal servers are great, we strongly recommend the Turbo servers for the best performance.
Ease of Management
A2 Hosting also uses cPanel as the main control panel for your users and it allows you to white-label it.
At the same time, it provides the Web Host Manager for you to manage the cPanel accounts and websites of all your clients. Furthermore, A2 provides you with free Blesta and WHMCS for billing, customer management, and support purposes. While Blesta is free on all plans, you may have to purchase a monthly subscription for WHMCS depending on the number of clients you have.
Speed & Security
A2 Hosting is of course a reseller hosting service to make a favorite when it comes to speed. Even on a normal server, our experiments revealed that A2 Hosting can deliver a website in only 418 ms. This means you can deliver great performance to your clients.
Moreover, A2 Hosting provides commercial-grade security in the form of DDoS protection, automated backups, free SSL certificates, and 24/7 network monitoring.
Oustanding 24/7 Customer Support
A2 Hosting excels as one of the best reseller hosting companies in terms of customer support as well. The web host provides 24/7 customer support via live chat, phone calls, and ticketing.
Thus, you can always reach out when there is an issue, and rest assured that someone will be available to help.
Another web host to consider in 2023 for reseller services is HostGator.
HostGator provides a very easy and affordable way to resell your server resources with free tools and no strings attached. The web host does not take out of your money and you can scale your business easily as you grow.
Pricing & Features
HostGator is one of the cheapest reseller web hosts in 2023. The web host has only three hosting packages all with similar features. Yet, these packages differ in terms of pricing, storage space, and bandwidth.
Here is a quick summary of HostGator's reseller hosting plans with the configurations and pricing.
Aluminum: costs about $20 per month. It has 60 GB of storage and 600 GB of bandwidth.
Copper: costs almost $25 monthly. It has 90 GB of disk space and 900 GB of bandwidth.
Silver: costs about $25 monthly. It has 140 GB of disk space and 1400 GB of bandwidth.
Ease of Management
HostGator also provides cPanel as a control panel while you can use the Web Host Manager (WHM) to manage the cPanel accounts of all your customers. With the WHM, you can easily allocate server resources to every cPanel on your account.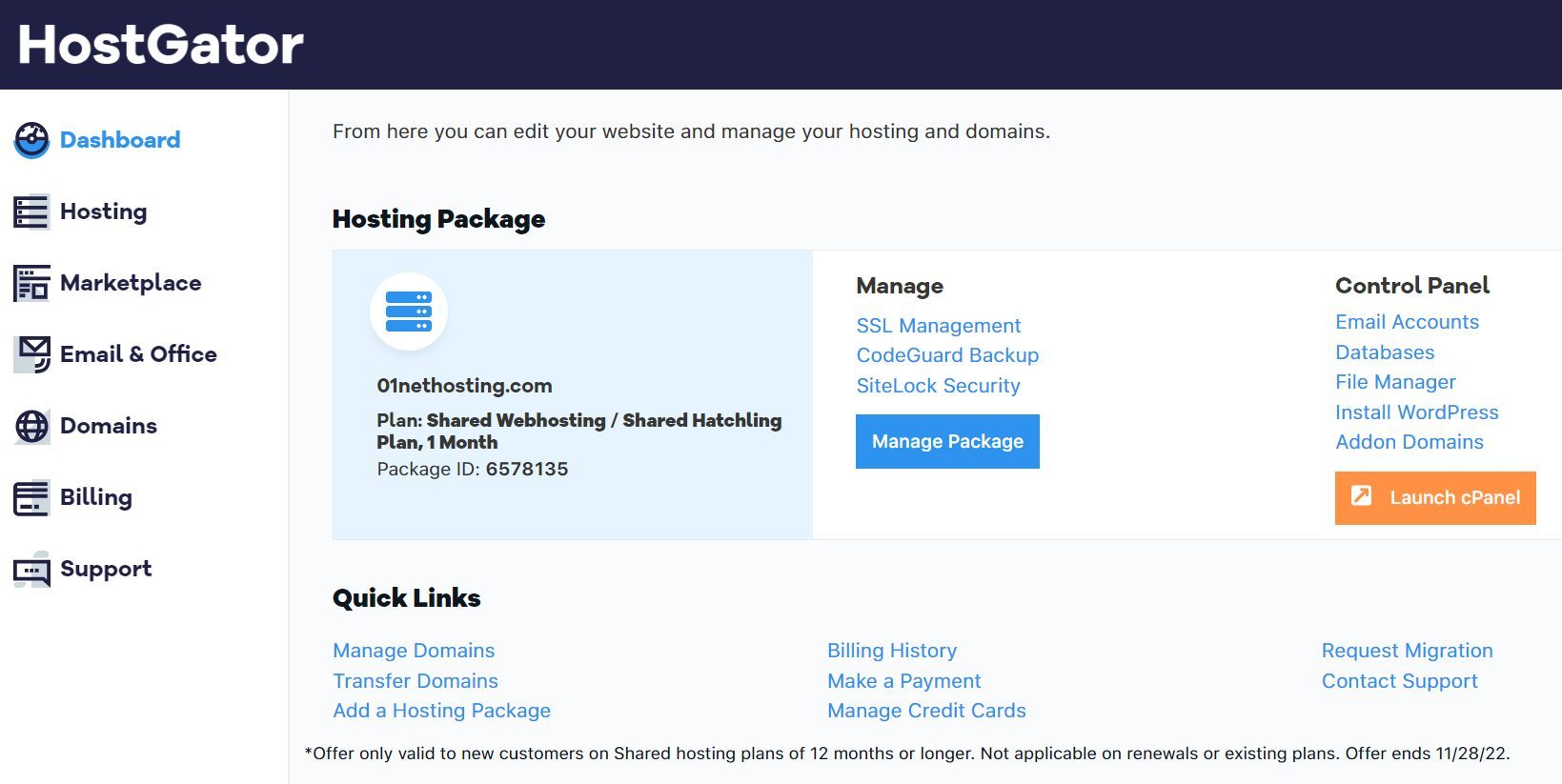 At the same time, HostGator pre-installs WHMCS on your account for free to automatically bill your clients for the allocated resources. Of course, 100% of the money goes to your account since HostGator does not take a commission.
Speed & Security
Our research shows that HostGator needs to do better in security. The host provides only SSL certificates on its reseller hosting plans. Whereas, you can get more security features from its other hosting types. So if you are going to brand your hosting service a security-conscious type, consider SiteGround instead.
What's more, HostGator is great if you want a server that delivers fast-loading websites. Our recent HostGator review indicated that you can get a server with a website loading of 465 ms or less! Therefore, your clients can easily host a website that will perform great in SEO on your HostGator servers.
Overall, HostGator excels as one of the best reseller web hosting services in affordability, speed performance, and ease of management. Nevertheless, the company is found wanting in customer support and security.
5. GreenGeeks
The last host on our list of the best reseller hosting services in 2023 is GreenGeeks.
This is the best host to partner with if you want to start your hosting business without contributing to increased carbon emissions or global warming. GreenGeeks claims that every hosting plan you purchase equals planting one tree. Besides, it is an affordable and easy way to start your reseller business.
Pricing & Features
As we said earlier, GreenGeeks is an affordable way to start your reseller business. The company offers only three reseller hosting plans and the packages all have free cPanel accounts, SSL certificates, managed support, and free cPanel migrations. Yet, they differ in prices and configurations.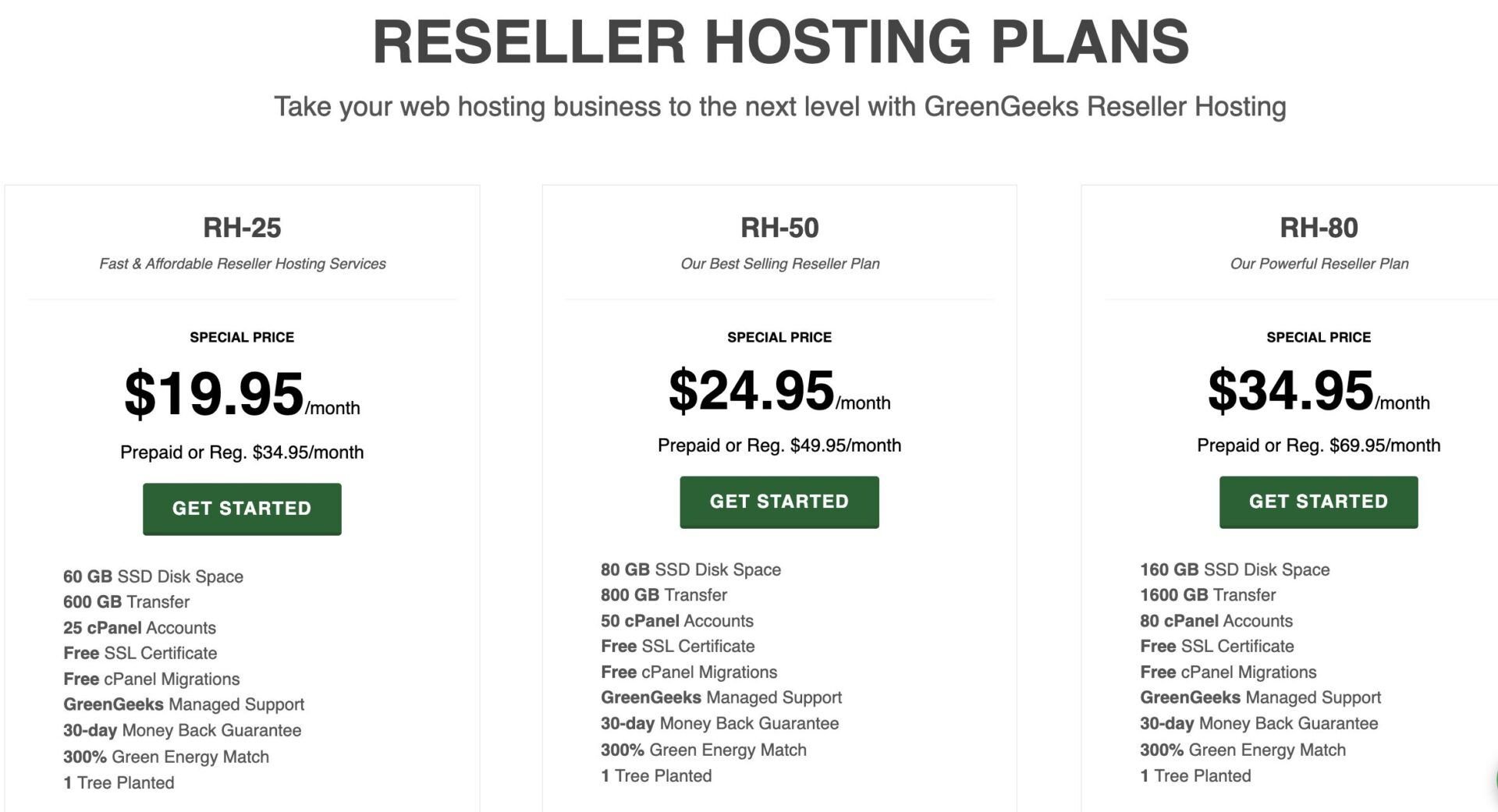 Let's see a summary of what the plans have to offer:
RH-25: costs around $20 per month; comes with 25 free cPanel licenses, 60 GB of storage, and 600 GB bandwidth.
RH-50: costs about $25 monthly. It has 50 free cPanel licenses, 80 GB disk space, and 800 GB bandwidth.
RH-80: costs almost $35 per month. It has 80 free cPanel licenses, 160 GB of storage, and 1600 GB of bandwidth.
Ease of Management
GreenGeeks provides the Web Host Manager (WHM) on your account for easy management. Here, you can allocate server resources and cPanel accounts to several sites and users you are providing hosting services. In addition, you will get access to a free WHMCS installation that allows you to set up automated billing for your clients.
What's more, since GreenGeeks lets you sell domain names too, you will get access to an eNom account that gives you the power of a registrar. The best part is that everything is under white-label (your brand & private DNS) and your clients will not know it is GreenGeeks's resources you are selling.
Great Speed & Security
Another reason GreenGeeks is one of the best reseller web hosting services is its speed performance. It provides free CDNs, multiple data centers, advanced caching technologies, and a RAID-10 array of SSD storage drives. This ensures that your server and the websites on it perform excellently.
What's more, the web host has firewalls set up to filter bad traffic from your server and free SSL certificates to ensure secure data exchange between your clients' websites and their visitors. Moreso, it has zero-day vulnerability and real-time 24/7 security monitoring.
24/7 Customer Support
In conclusion, based on our experience, GreenGeek customer support is great. You can contact them via phone calls, live chats, and emails 24/7. They are always available and reply quite swiftly to customers to resolve their issues quite fast. Hence, you won't have issues getting support on GreenGeeks.
How Do I Choose the Best Reseller Web Hosting Service?
Choosing your favorite reseller hosting service depends on a lot of factors. These factors, depending on the ones that are the most important to you, will help you make the best choice for you or your business.
Firstly, you have to consider the pricing. The pricing of a host's plans must be bearable and worthy of the money. Since you are going to resell the server resources, the pricing will have to be friendly enough to ensure that you don't have to resell too much higher than the market price to make profits. Otherwise, you may run at a loss since you are selling the services too expensive and clients can see cheaper alternatives.
Furthermore, the features or server configuration must be worthwhile. The configuration includes the RAM allocation, the allowable storage space, the bandwidth, etc. The more favorable these are, the better the services you can provide to your clients. In the end, you will make more profits.
Additionally, you should avoid web hosts with so many restrictions. For instance, if a host restricts the number of cPanel licenses you have or the number of clients you can allocate resources to at a time, ensure that it is favorable to you. If it is not and you will probably make no desirable profit, then choose another.
One of the most important factors that define the best reseller hosting services in 2023 is the white-labeling feature. Since this aims to keep your customers focused on your brand, your favorite reseller hosting provider must have it. Preferably, both the options to white-label your control panel and provide private name servers (DNS) should be provided.
Another crucial factor that points out the top reseller web hosting services in 2023 is the ease of management. You should always go for a web host that has a great control panel for your management and users as well. The control panel should generally include pre-installed billing software like Blesta, WHMCS, or equivalent, or the chance to easily integrate them without too many technical processes.
In addition, it is important to choose a reseller hosting provider that delivers great performance. In fact, this is the most important thing to consider. Performance spans the website loading speed, uptime, server strength, caching technologies, etc., that the host offers. Since the performance of the host is also what you will deliver to your clients, it is advisable to ensure that it is top-notch.
At the same time, always ensure that the web host provides adequate security features on its plans. You may now decide to hoard some of the security features for more money or to upsell your clients. That is totally your decision to make.
Finally, be certain that the customer support team of your favorite reseller web host is competent and always available. This ensures that if you are ever in a difficult situation where your clients have issues that may only be fixed by your host, you can easily get help. Otherwise, it will hurt your customer success rating and your brand. Most hosts offer priority support on their reseller hosting packages.
Conclusion: What is the Best Reseller Hosting Provider?
The best reseller hosting service you can use in 2023 is SiteGround. The web host provides top-notch services that give you total control over your servers, clients, websites, billing, etc. It is a complete solution for speed, security, and scalability.
However, if you want a billing software like WHMCS that you could easily integrate into your account to automatically bill clients, InMotion Hosting is the right choice. With this web host, you will get an all-around solution for reseller hosting.
Get a SiteGround Reseller Plan
---
FAQ
Is Reseller Hosting Profitable?
Absolutely! Reseller hosting is highly profitable, especially when you choose one of the best providers. First, they will provide you with affordable plans that offer great value for money. Thus, you won't have to sell your server resources for too high a price to make a profit.
Besides, you will have so many resources to resell and clients will love your brand due to the quality of the services you are reselling. The advice is to not sell too high because of profits. This will ensure that you build a base of loyal clients that will ensure a steady income flow.
How Much is Reseller Hosting?
There is really no specific pricing for reseller hosting. However, the pricing of the top reseller hosting services in 2023 can be used to know the price range. Let's have a quick summary of the pricing of the best cheap hosting services in 2023.
https://www.01net.com/en/web-hosting/reseller/