XINSTALL BY CLICKING THE DOWNLOAD FILE
Call of Duty: Vanguard's action returns to the period of the Second World War, but this time in a slightly different plot and through a somewhat different presentation of the end of the war itself. The feel of shooting and moving is slightly more fluid and accurate in the Vanguard, but that doesn't mean it's the best in class. It's better, but you won't notice the changes if you haven't played previous Call of Duty titles. It's the same with most other things at Vanguard. You can see the changes in the small details. However, if you have decided to play Vanguard, you may be suddenly kicked out of online matches with the message "Server snapshot error." You are not the only one to whom this happens; we have created this guide to offer you the best solutions to fix this problem.
Why do I get Server Snapshot Error in Vanguard?
Several possible causes could trigger a CoD Vanguard Server Snapshot Error:
downtime or outage of the gaming server
Internet connection issues
bug in Domination game mode
your NAT type is not open
This problem affects PC, Xbox, and Playstation equally.
How do I fix Server Snapshot Error in Vanguard?
Do these simple steps first before doing our tips:
Check the game server status. If the server is down, wait for it to be operational again.
Power cycle your modem and router (unplug the power cords for a few minutes, then plug them back in and turn on the devices). Wait for the LED indicators to return to operational status.
Use ethernet for a faster and more stable connection than wireless for e-sports gaming.
Check with your ISP for any other problem related to your internet connection.
If you still have Server Snapshot Error in CoD Vanguard, do the following:
1. Don't use Domination game mode
We advise you to avoid playing Domination Mode. If you try to play that game mode, you will likely get Server Snapshot Error in CoD Vanguard. Also, playing Team Deathmatch, Patrol, or Hardpoint can sometimes cause the same problem. Avoid playing these game modes until this issue is fixed with a patch. Game modes that should not cause problems are Free-for-All, Kill Confirmed, Search & Destroy, and Control.
However, if you still encounter the same error while playing any game mode, proceed to the next step.
2. Enable UPnP
Time needed: 1 minute.
You may also encounter a Vanguard Server Snapshot Error if your NAT (Network Address Translation) is not open. This step requires you to log in to your router menu and set specific network parameters because sometimes your NAT type is restricted, resulting in an error connecting to the servers. The easiest way to overcome this limitation is to enable UPnP.
Log in to your router menu

Open the browser and log in to your router's admin panel. An example is for TP-Link router interface.


Find UPnP option

Select the UPnP option and select Enable. Confirm changes and exit from the router menu.

Relaunch CoD Vanguard

Now try running CoD Vanguard to check if Server Snapshot Error is gone.
3. Enable Port forwarding
The UPnP option performs automated port forwarding, which can lead to an insecure connection susceptible to malware. If CoD Vanguard Server Snapshot Error is resolved after enabling UPnP, we advise you to disable UPnP after you finish playing. If you are tired of doing this every time, the solution is manual port forwarding. Here's how to do it:
1. Log into your router's admin panel.
2. Disable the UPnP option and then select the Forwarding option.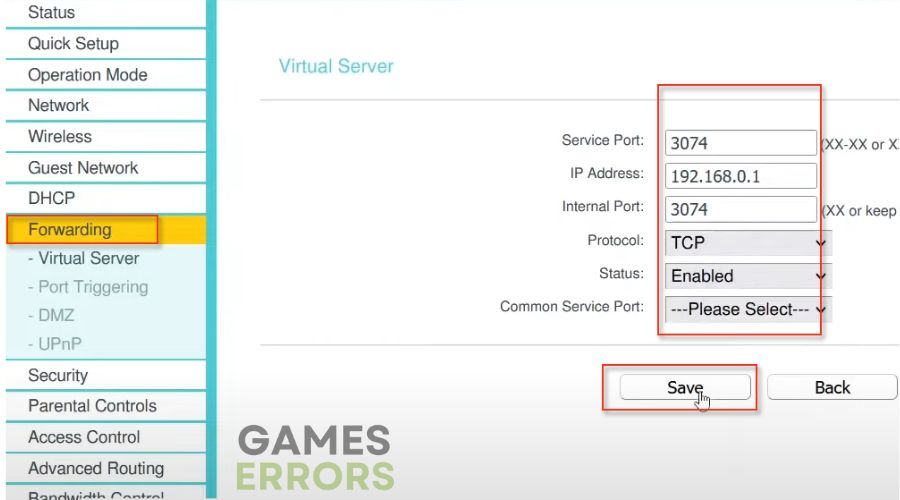 3. For PC, add the following ports in the boxes; TCP: 3074, 27014-27050, UDP: 3074-3079.
4. For Xbox, add the following ports; TCP: 3074, UDP: 88, 500, 3074-3079, 3544, 4500.
5. For PS4/PS5, add the following ports; TCP: 1935, 3478-3480, UDP: 3074-3079, 3478-3479.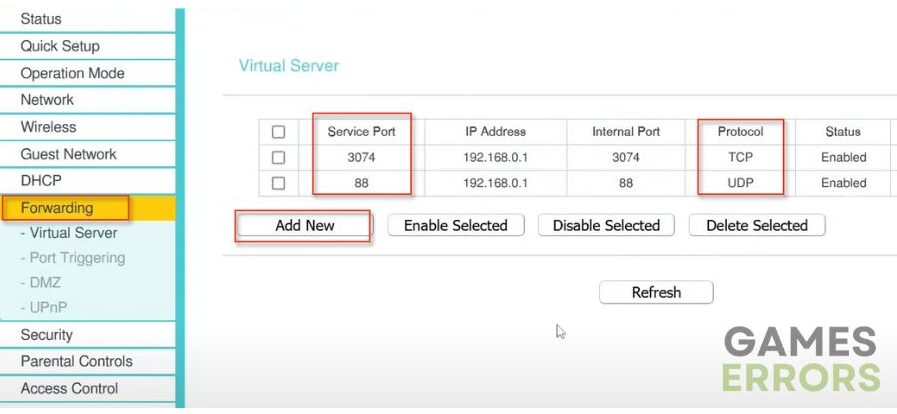 4. Update game
To get rid of Server Snapshot Error in CoD Vanguard, we recommend updating the game to the latest version if you haven't already. Using the old version of the game, you may face various errors and problems while playing or connecting to the game server. We advise you to check frequently for an update; if there is, install it immediately. Do the following:
1. Open the game launcher and locate CoD Vanguard in the games library.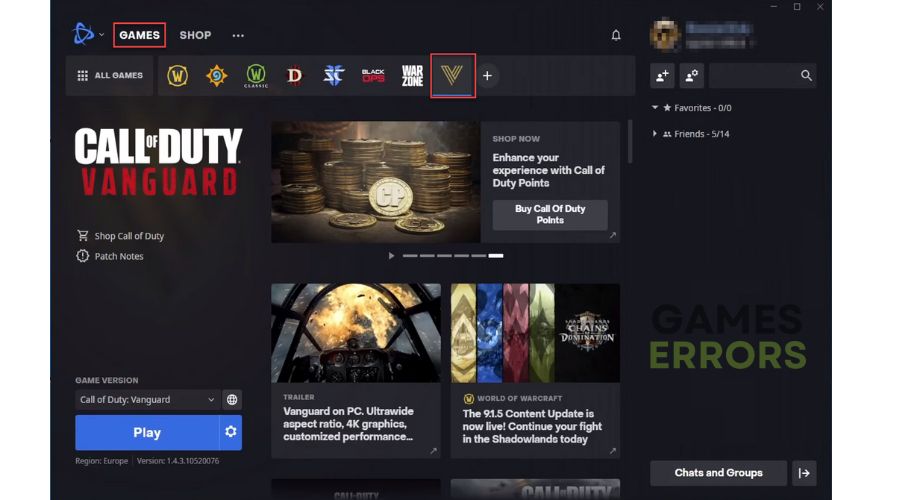 2. Select the gear icon (options) next to the Play button and choose Check for Updates.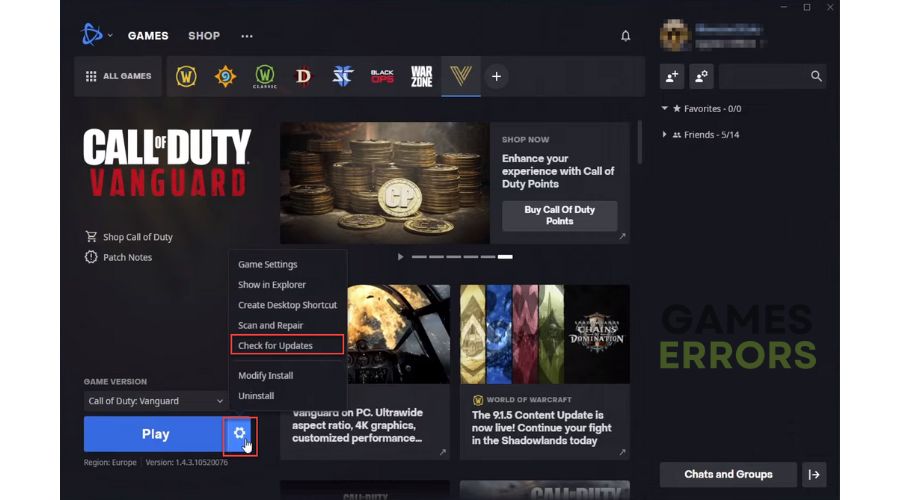 Related articles:
Conclusion
We hope our guide helped you fix Server Snapshot Error in CoD Vanguard. However, if you've tried all the steps above and still have problems, contact Activision CoD Vanguard Support and describe your issue in detail. However, don't hesitate to comment with additional questions or suggestions.
If you encounter any issues or errors while playing your favorite games and require support, feel free to contact us here. Our team is always ready to assist you and ensure your gaming experience is seamless and enjoyable.
https://gameserrors.com/server-snapshot-error-vanguard/