Post Views: 37
Zomboid is a survival and horror video game with a breath-taking adventure. Project Zomboid got very popular after its launch. If you love playing games, you would have definitely heard about Zomboid. The player's goal in the game is to survive as long as they can in a post-apocalyptic world overrun by zombies. To survive, you'll learn how to construct homes, make weapons, fight zombie attacks, and go food hunting.
It is pretty cool! However, many players are still unaware that playing their Zomboid game might help them learn new skills. All you need is to integrate it with a gaming server to avail a fantastic gaming experience.
But again, how do you know which is the best Zomboid server? Well! To make it easier for you, we have penned down some of the best project Zomboid servers for gaming. Further, we have listed a few factors that one must take into account when selecting a Project Zomboid Server Hosting. Before we proceed to the hosting providers, let us first understand Project Zomboid in detail.
Top Project Zomboid Servers – Best Picked
What is Project Zomboid?
Project Zomboid is a sandbox video game developed by The Indie Stone. In this game, players look for supplies, build shelter homes, manage hunger, and make strategies to survive and fight zombies. You can go for multiplayer mode and play with friends or team up with others to fight zombies.
Learn how to survive by playing Project Zomboid as it has different levels in which you will encounter diseases, zombies, and sadness. You can play the popular game on Mac, PC, and Linux systems without any stress. But to play with full power, you require suitable and dedicated game server hosting.
Methodology for Selecting the Best Project Zomboid Server Hosting
Before investing in a game server hosting, make sure to take into account the following factors. The below-listed factors and features will help you select the best Project Zomboid server hosting.
Check if your selected server hosting provides a 100% uptime guarantee.
Does it offer technical support at all times to resolve your queries?
Does it offer protection against DDoS attacks and other security measures?
Can you create backups for quick future recovery with the selected server hosting?
Does it provide a money-back guarantee?
Can you play with selective players or multiple players as per your wish?
5 Best Project Zomboid Server Hosting
Let's explore the list of the top Project Zomboid Servers.
1. Shockbyte Hosting
Shockbyte is one of the best options in the market when it comes to selecting a Project Zomboid server host. The popular platform provides a 100% uptime guarantee, free access to the MySQL database, and FTP access. It also offers free subdomains and 24/7 assistance for user queries.
If you're looking for a Project Zomboid dedicated server host, we're confident that Shockbyte server hosting services will help you achieve your goals.
Key Features
Automatic Backups and Updates
24/7 customer support
Free Subdomain
Free MySQL DB
Server Console
DDoS Protection
100% Uptime
Full FTP Access
Full configuration
Multicraft CP
EDITOR'S CHOICE
Shockbyte Hosting is a top pick for it supports more robust hardware than any of the other hosting providers in the market. It offers a money-back guarantee and other advanced features that can improve your gaming experience.
Additionally, Shockbyte Hosting provides a free FTP file migration service, a powerful server control panel, and 24/7 customer support. You can even modify your plan at any moment from the client area with Shockbyte Hosting.
Official Site:  https://shockbyte.com/
2. Zap Hosting
Zap Hosting is the second-most top-rated and cheap Project Zomboid Server Hosting provider with easy-to-use control panels and advanced features. Most gamers around the world choose Zap Hosting over other hosting providers because it offers excellent performance and gaming experience.
Players can perform experiments and invite friends to join the team and play together. You can upload unique maps and install mods instantly with the Zap Hosting plan. For support or assistance, it provides access to live chat options, emails, and a ticket system. You can also troubleshoot basic issues with the help of a supported knowledge base and tutorials.
Key Features
Free DDoS protection
SSD server
Backup options
Multiple modpacks
Live chat assistance
Online configuration editor
Automated setup
In-depth customization
3. Apexhosting
Apexhosting is another best Project Zomboid server hosting with features like DDoS Protection, automated backups, best modpacks, etc. With Apexhosting, you can play anytime you want as it provides top-notch 24/7 online game servers that help you take pleasure in a seamless gaming experience. You no longer have to worry about the backups and updates as it manages it all.
Further, setting options hardly takes any time as it has a quite simple configuration. Once everything is set, the server will be online in a matter of seconds. You also gain access to FTP, File Manager, and a mobile-friendly control panel with Apexhosting.
Key Features
DDoS Protection
One Click Modpacks
Low Latency
Troubleshoot server errors
Powerful control panel
24/7 live chat assistance
Free Subdomain
Automated Backups
Quick setup in seconds
Plugin integration
Map creation
Unlimited player slot
Server transfer for free
Money-back guarantee
4. PingPerfect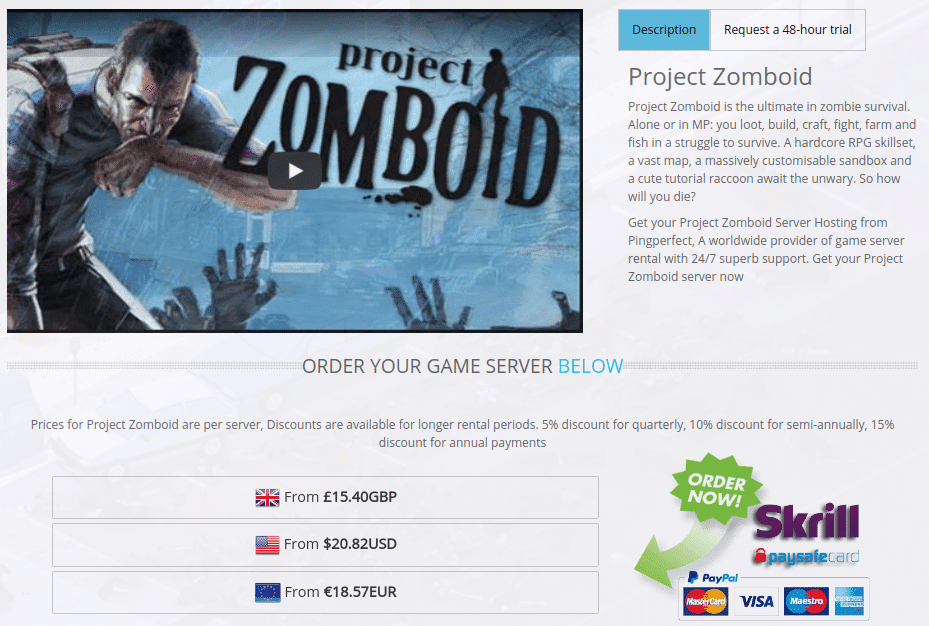 PingPerfect comes with simple sliders and drop-down menus that make it easier for users to control and configure the game server. It also offers in-house DDOS protection that reduces any interruption to your game server.
You can even create data backups for quick recovery in the future. Once you purchase the hosting service, it will immediately begin installing your Project Zomboid server rental. Further, the game panel is easy to use and has an intuitive design.
Key Features
FREE Webhosting
1GB web space
Full Backup
Global Locations
Instant Server Setup
24/7 Customer Support
Easy-to-use game panel
FTP access
Game switching
DDOS Protection
Free Debranding
Latest CPU and storage options
5. HostHavoc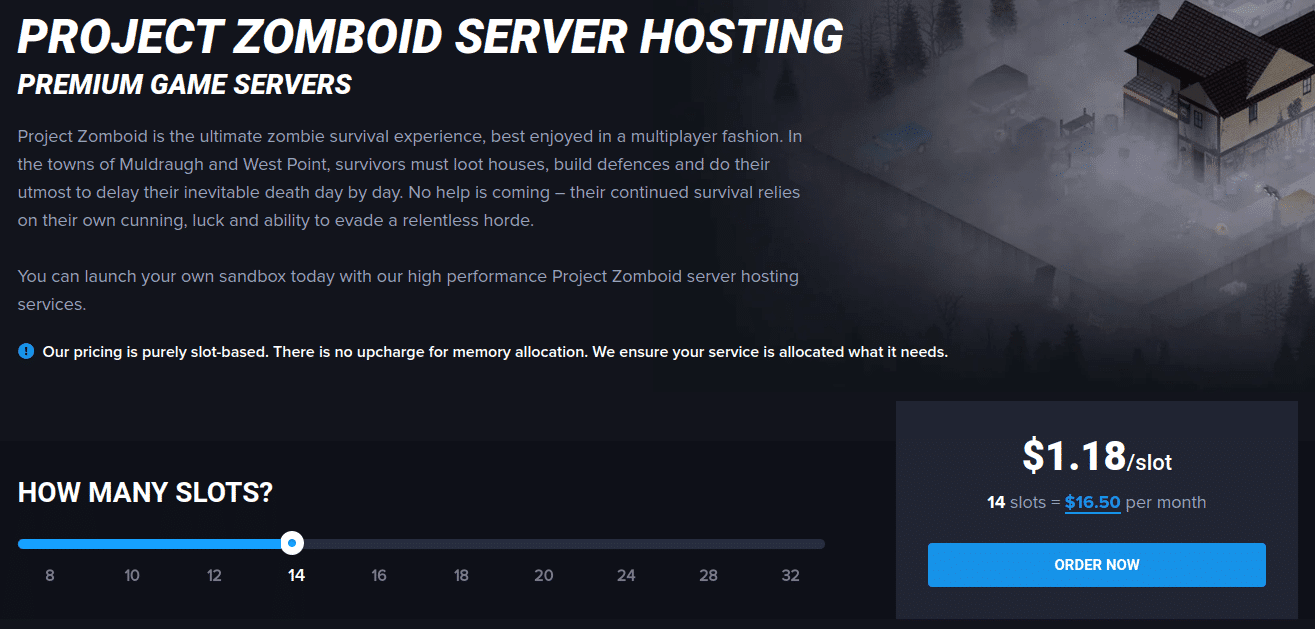 HostHavoc is a popular Project Zomboid Server Hosting provider that offers NVMe SSD drive and other best server hardware to improve gaming performance. The NVMe SSD storage drive includes lightning-fast data transfer capabilities.
With this excellent feature, users can expect incredibly quick performance. Apart from the world's best hardware, the hosting provider offers a 99.9% uptime guarantee, unlimited bandwidth, and full-time technical support to its customers.
With HostHavoc, you can even create daily backups and recover quickly in case of any misfortune. Another intriguing feature of HostHovac is that they give you complete control over your resources, allowing you to effortlessly adapt them to your needs and specifications. For security, the Project Zomboid Server Hosting provider uses a two-factor authentication system.
Key Features
99.9% Network Uptime Guarantee
Two-factor authentication
Unlimited bandwidth
Instant Server setup
Workshop-based mods support
24/7 Technical support
DDOS Protection
Full FTP access
Torch Integration
Daily backup feature
Full money-back guarantee
Final Thoughts: Best Project Zomboid Servers
Investing in a dedicated Project Zomboid server hosting will not only improve your gameplay performance but also make your gameplay more fun. Most hosting providers offer greater uptime, enhanced security, FTP access, and more features. Check out our above-listed game server hosting services to enjoy your games without any problem.
But before investing in any platform, make sure to go through their features and compare them. Also, check for yourself as if which hosting provider meets your requirements and budget. Rather than just purchasing a hosting provider for its popularity, look for its supported features and your requirements.
FAQs: Best Project Zomboid Server Hosting
1. How to play Project Zomboid with Friends?
First, log in to your hosting panel and click on the Join option to get a list of active servers hosted by other players. Next, find the right server for your group, and click the specific server to play project zomboid with friends.
2. What is the Best Project Zomboid Server Hosting?
We explored the list of the best Project Zomboid Server Hosting providers with their features and pricing plans. You can choose any of them as per your specific requirements. However, my recommendation is to choose Shockbyte hosting as they provide different pricing plans and a better gaming experience.
3. How to Join a Project Zomboid Server?
Follow the below steps to join the project zomboid server:
Log in to your hosting control panel
Open Project Zomboid and click on Join.
Select the 'Favorites' tab at the top of the screen.
Enter the IP address, Port number, username, password, and click on the Save button.
Now, click on the Join button to join the server.
4. How much RAM is needed for a Project Zomboid server?
I would recommend having at least 8GB RAM for a better gaming experience.
5. Can you host your own Project Zomboid server?
Yes. You can host your own Project Zomboid game on a dedicated server. You can sign up for Kamatera cloud hosting and get a 30-Day Free Trial to host your own Project Zomboid server.
https://linuxbuz.com/best-resources/best-project-zomboid-servers