The biggest obstacle that many multiplayer gamers face while playing the hardcore online game, Miscreated is low performance due to lags. 
This mostly happens because players are either self-hosting the game using their regular internet connection or have rented a poor hosting service. 
If you opt for a Miscreated hosting service provider that doesn't have enterprise-level hardware and needed features, there will be an impact on the performance.
It will ruin not only your gaming experience but also the enthusiasm to explore the post-apocalypse world of Miscreated with your friends. 
So, the best way to get past this obstacle is by getting the best Miscreated hosting service provider. 
Sounds exciting? 
Well, I'm excited to present to you some of the best Miscreated hosting service providers for the ultimate survival experience. 
These hosting service providers will ensure high-performance gaming and an immersive experience with greater convenience.
Before moving on to the hosting server providers, let's talk about Miscreated first and how helpful they can be. 
Miscreated: An Overview
Miscreated is a hardcore multiplayer survival game that is based on a plot set in a post-apocalyptic future. It is a widely popular sandbox survival game built on CryEngine, and it was released on 18 December 2018 by Entrada Interactive. 
The plot depicts an era after a massive event of nuclear fallout, and everyone is attempting to survive on what is remaining in the world. Through this multiplayer game, you will have to endure the hostility and take control of the situation either alone or with your friends. You will explore the dark world and look for food and resources for your survival. 
Apart from this, you will have to survive against animals, terrifying mutants, other survivors, and mother nature herself. The open-world environment of Miscreated will immerse you in a place with varied landscapes and unique surroundings. When you explore the ravaged world with your friends, you will come across 100 types of weapons, which include popular options like assault rifles, pistols, and traps. 
This game will introduce you to more than 15 types of vehicles. It allows you to create many bases, campfires, improvements for weapons, and other items. Using weapons and vehicles, you can utilize and hunt for animals to survive. It also offers you a huge inventory system where you can store all your collectibles. 
Moreover, using the item storage, you can create a building that will act as a base or hideout for you and your friends. The highly expansive environment makes the game more interesting and keeps you engaged for long hours. This game is only available on PC. 
Minimum Requirement for Miscreated Server Hosting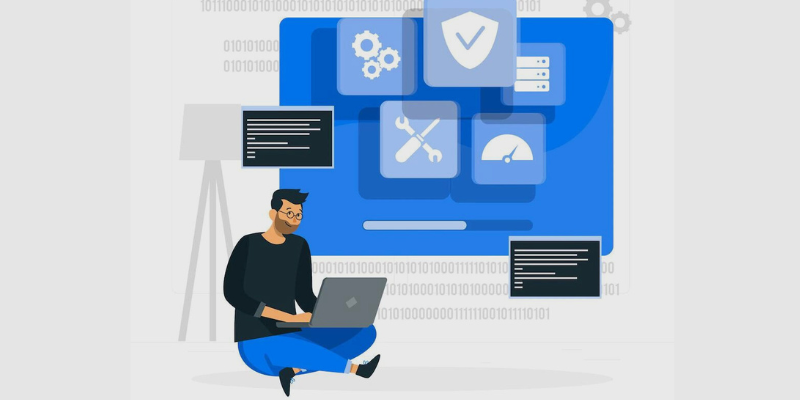 Miscreated is one of those multiplayer games that require modern hardware support for a high-performance gaming experience. And when you want to play with your friends, you require higher performance, network stability, control, and security. 
So, it becomes important for you to rent a dedicated game server from a decent Miscreated server hosting provider, which can meet the system requirements. It will come with all the required hardware specifications so you can play the game lag-free, even if you are playing with 10-20 players on the server. 
Here is the minimum requirement for miscreated server hosting:
Operating system: Windows 7 or Windows 10 64-bit.
Processor: Intel i5-6600K or AMD Ryzen 3 1300X.
Graphics unit: GeForce GTX 780 or Radeon R9 285 with 4GB VRAM.
Direct X support: Version 11.
RAM: 8GB of RAM with 3600 MHz clock speed.
Storage: 20GB to 30GB storage space in HDD or SSD.
Sound card: Direct X compatibility.
Network support: Broadband internet connection.
Although these are minimum requirements for hosting servers, it is always best to look for hosting that offers enterprise-level hardware specifications.
Now, look at the best Miscreated hosting server providers you can choose from.
PingPerfect
PingPerfect is one of the best Miscreated hosting server providers that will pamper you with a seamless gaming experience every time you will play. It is a renowned gaming server that you can't go wrong with. It provides the latest CPU and modern SSD support to help you play Miscreated with your friends without lag.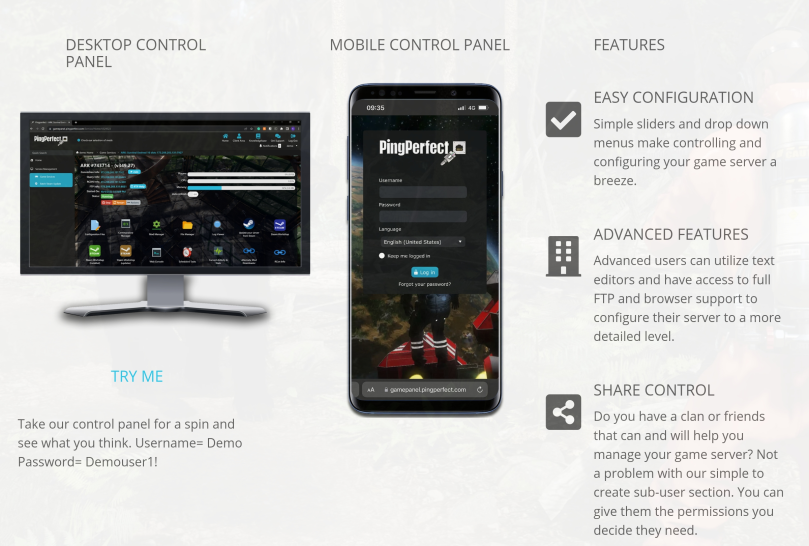 Their data centers are spread across different parts of the world, ensuring a low ping during the gameplay. You won't be plagued by frequent interruptions while you fight against mutants in the game, and the credit goes to superior DDoS protection from PingPerfect. 
Moreover, this hosting service's in-house backup system gives you complete peace of mind that you will never lose your game data in any situation. Once you purchase your plan for a Miscreated server, PingPerfect will instantly set up the server. 
The minimum pricing for each slot starts from $0.97/month, and you will get a discount for long rentals. 
Nitrado
Considered in the top tier list of game hosting servers, Nitrado is a plausible choice if you are looking to rent a Miscreated hosting server. With its enterprise-level server hardware with fail-safe functionality, you will have a great time exploring the unknown world of Miscreated.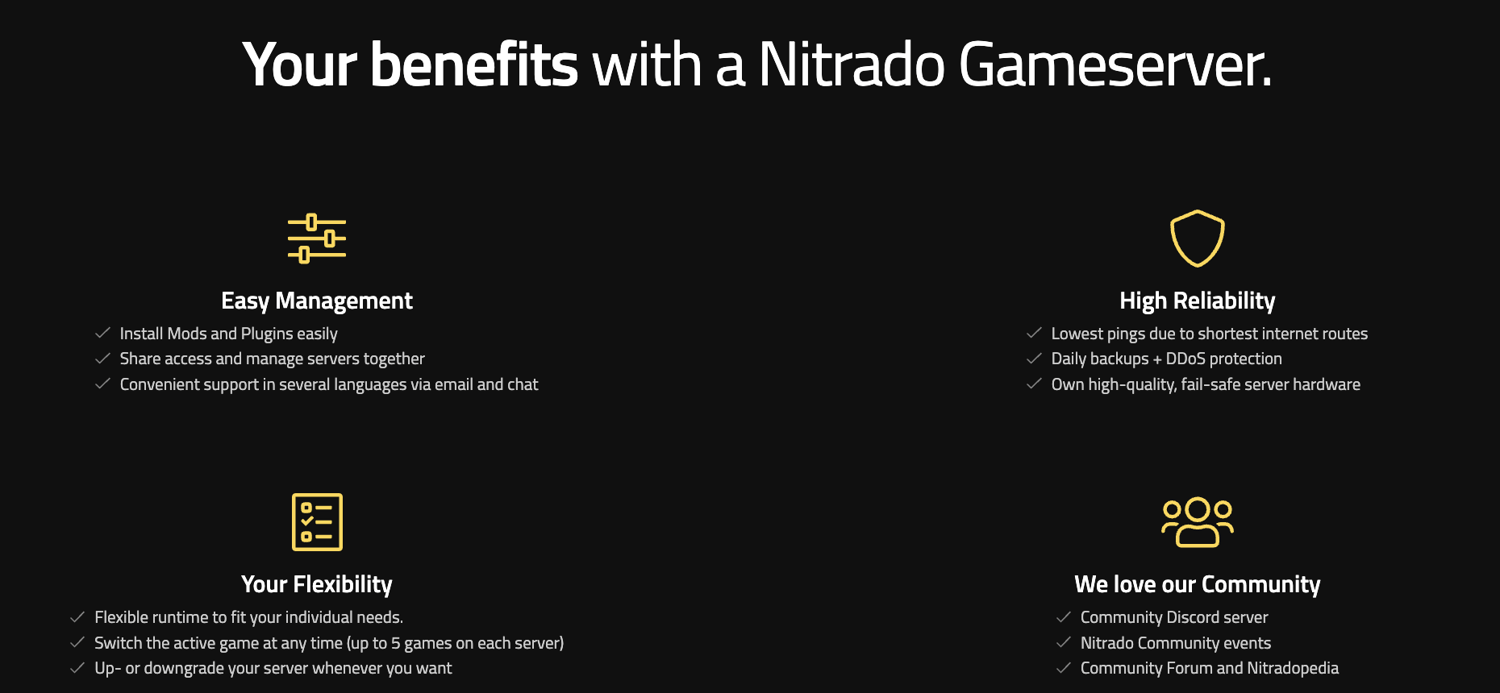 Whether you are crafting weapons or building a base, you will be able to utilize it the next day as the daily backup system stores all your saved games. It offers a flexible runtime server that makes sure you and your friends from different geographical locations can play the game at any time. 
You can play alone or with other friends, and depending on the slot, you can easily upgrade or downgrade your server. The Nitrado game hosting service offers the Miscreated server in four different plans – 10 slots at $13.67, 14 at $16.55, 20 at $21.29, and a customizable plan.
4NetPlayers
If you want to play Miscreated on a dedicated server with other players and experience the game without any lag, you can consider 4NetPlayers. Immediate availability of the server and auto-update are some of the highlighting features that aid in a seamless gaming experience on this dedicated server.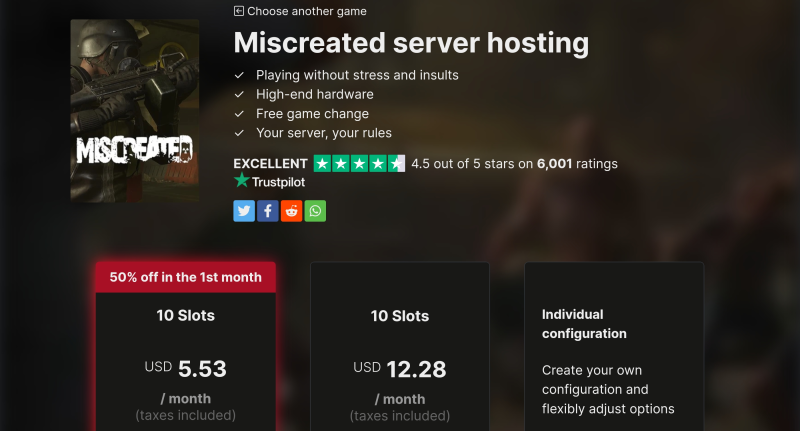 The full database access and full FTP access also make it easier for you to manage your game server and hunt for food and resources in the game. In addition, its super-fast NVMe storage support and high-end CPUs, along with GPUs, will immerse you in the game so you can explore the vast and detailed world of Miscreated. 
The server also comes with automatic backup, so you won't ever lose any saved game to ruin your experience. So, experience the game's full potential on dedicated servers of 4NetPlayers by paying $12/month for 10 slots.
Streamline Servers
Streamline Servers is a popular game server hosting provider that comes with low ping servers to help players enjoy Miscreated without lags. It provides high-end hardware to ensure seamless exploration while playing Miscreated.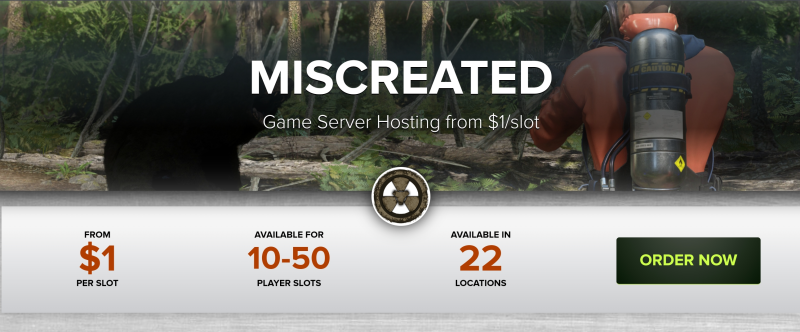 All the servers of this hosting service are located at different global locations 9 in North America and Canada, 1 in South America, 7 in Asia and Oceania, and 4 in Europe. The user-friendly control panel makes every customization easy for you because it not only shows you the main game but also allows you to tweak the configuration. 
The server modding for Miscreated has also been made easy using a 1-click facility via the Mod Manager. When you decide to play Miscreated with your friends, you can instantly opt for Streamline Server's dedicated server with its instant installation service. 
A great thing about this service is its flexible pricing, starting at $1 per slot per month, and you can choose between 10 and 50-player slots depending upon the total player you want to accommodate.
GTXGaming 
Once you start playing Miscreated with your friends on a dedicated game server of GTXGaming, you won't have to look for others. 
It is a leading game hosting service that provides amazing control so that you can make changes to the server configuration and set it up the way you want. The hosting service offers 24/7 customer support, so if you have any queries during the setup, you will be one call away from getting your queries solved.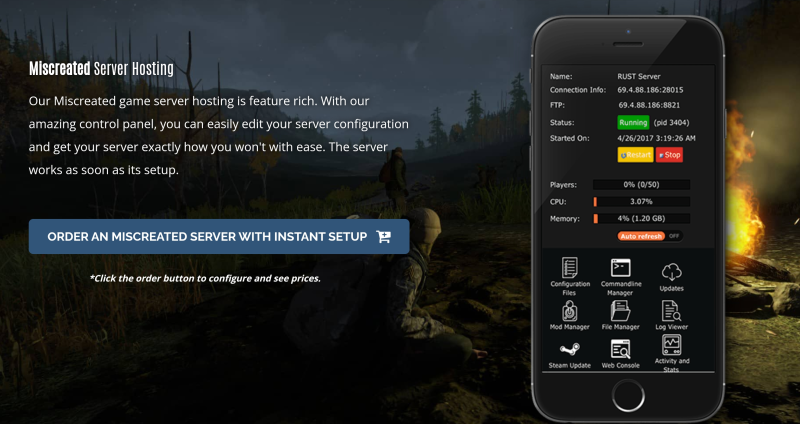 Whether you are exploring the world on a vehicle or killing mutants, you will have a thrilling experience as you will get the support of the latest Intel i7/i9 or new AMD processors. Moreover, GTXGaming has its server located in almost every part of the world, and it helps maintain a low ping for all your friends. 
To play on this dedicated server, pay $12.06/month for a 10-player slot.
Survival Servers
Eager to be involved in an intense fight with mutants with your friends but not sure which server will treat you with a flawless gaming performance? 
You should check out Survival Servers. 

Backed by ultra-fast NVMe SSD storage and the highest single-thread Intel/AMD CPUs, you won't ever face low FPS or stuttering issues while moving through dense forests in Miscreated. 
Survival Servers come with complete DDoS protection to make sure you are never interrupted in the middle while playing Miscreated. This dedicated server also provides you with some exciting features like server pass locking, automated server notification, custom launch parameters, and full FTP access to enhance your playing experience. 
The in-house custom control is great; it lets you make a lot of changes without any hassle. The minimum amount you have to pay for renting the dedicated server is $15.75 per month for 10 slots.
1GServerHost
Get a best-in-class dedicated server from 1GServerHost and play Miscreated with other players without interruptions. Its instant server setup and easier customization with a custom control panel make this dedicated hosting service highly suitable for Miscreated.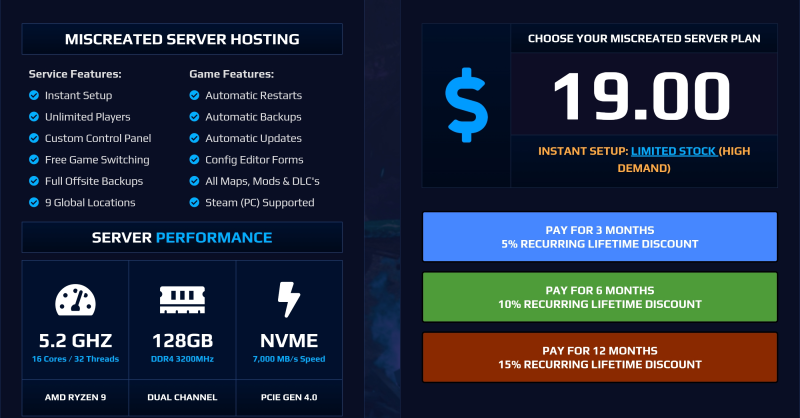 1GServerHost regularly performs server maintenance and offers automatic updates, backups, and restart functions. By offering a full offsite backup facility, the chances of losing your Miscreated saved game are almost negligible, even in case of a sudden server crash. 
Once you start playing Miscreated, this hosting service won't ever give you room to complain as it is based on a 5.2 GHz AMD Ryzen 9 process, 128 GB dual channel DDR4 RAMs, and NVME Gen 4.0 SSDs. The presence of the servers in 9 global locations also aids in smooth gaming performance, ensuring you can easily craft and explore the surroundings. 
You can opt for the server for 3 months, 6 months, or 12 months, and the minimum amount you will have to pay is $19. 
Citadel Servers
Citadel Servers is a popular choice among Miscreated enthusiasts that has helped many players to enjoy the hardcore multiplayer survival game with their friends. It is one of those game hosting services that provides Miscreated DLCs, including the latest map DLC.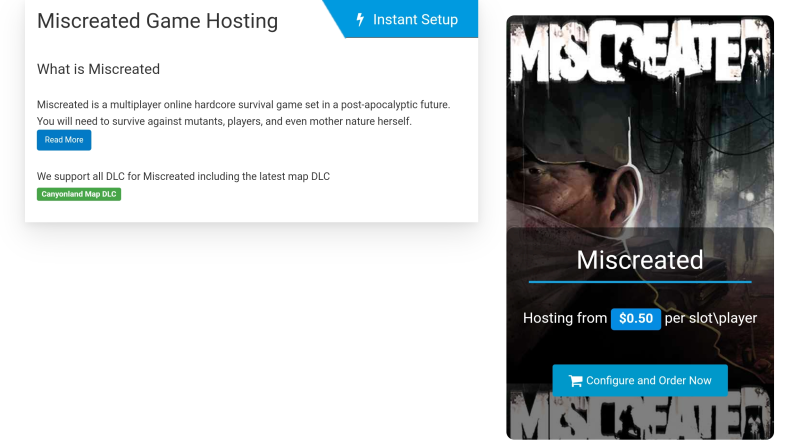 The hosting service understands the specification requirements to run this high-end game, and that is why it offers global servers with high-performance Xenon processors and NVMe SSDs. 
DDoS attacks are quite a common issue faced by Miscreated players while using a dedicated server. Citadel Servers offers advanced DDoS protection to safeguard your games and data from attackers. The highly customized TCadmin control panel makes it a straightforward task to install mods and plugins and access many third-party tools. 
It offers one of the most affordable slot pricing to gamers, charging $0.50 per slot for each month.
BlueFang Solutions 
If your priority is high performance and reliability while playing Miscreated for long sessions with your friends, then BlueFang Solutions serves as a good option.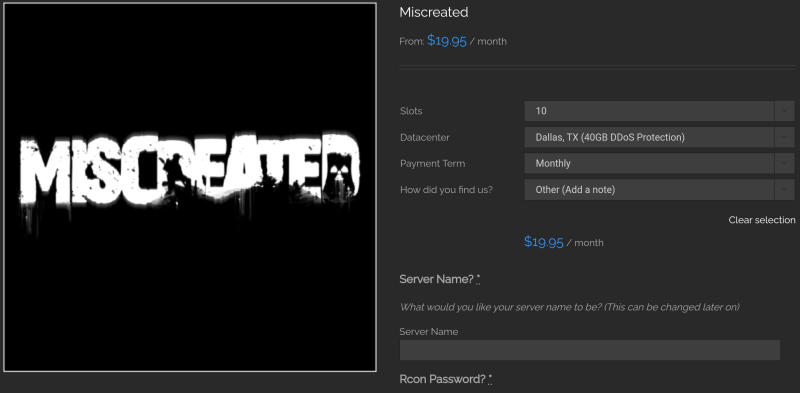 You will have fun playing your games because it offers high-end hardware to make sure there is no stuttering or framing issue, even with 30 players. The top-end 40GB DDoS protection from this service serves as an added advantage that safeguards you from frequent interruption while you are in the middle of a raid against other players. 
The Overseer Panel from this dedicated server is highly intuitive, so you can easily customize your server and have a seamless gaming session. An interesting thing about it is unlike other game hosting servers; you won't see any branding logo while playing Miscreated. 
Get your server from BlueFang Solutions at a rental fee of $19.95/month for 10 slots. The pricing changes according to slots and data center type.
LogicServers
LogicServers is a popular game hosting service that many Miscreated players across the world prefer using. It has servers located in different parts of the world, which enables low-ping gaming for players located in other countries.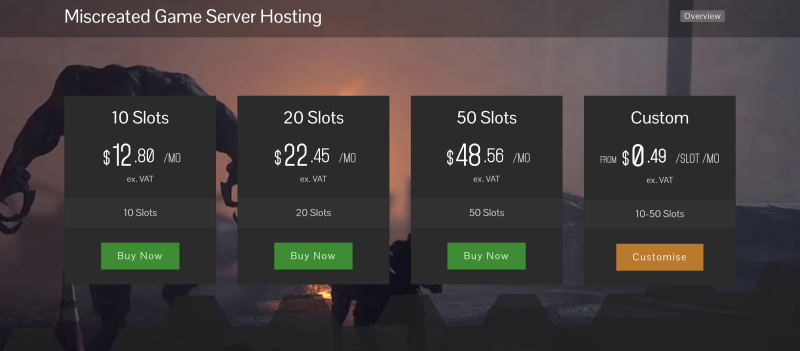 The best part is that all the hosting servers come equipped with automated DDoS protection to safeguard against attackers and intrusions. The detailing and constant FPS you will get while playing Miscreated will simply baffle you. This has been made possible by 4GHz processors along NVMe SSDs in the server. 
The hosting service offers the dedicated server in four affordable plans. The starting plan costs $8.43/month for 10 slots per month. Another good thing about it is that once you opt for any of the plans, it sets up your server within a few seconds.
ActiveGameHost
Offering powerful dedicated servers with enterprise hardware-level specifications, ActiveGameHost is a go-to choice for many Miscreated players. 
With active DDoS protection and robust servers, you can enjoy Miscreated at the highest frame rate, even when there are a lot of players on the server.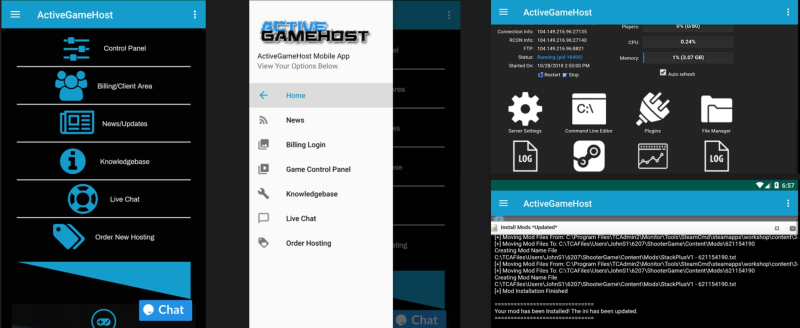 ActiveGameHost adjusts hardware specifications according to your requirements, which is a huge advantage while playing on this server. You will also get The ActiveGameHost game server manager app to make all the changes and set up the server with ease. 
The game server provider offers you 24 hours free trial while you opt for any plan, and if you don't have the gaming performance, you can cancel the subscription without paying anything. Its rental plan costs $15 per month for 20 slots with the option to customize slot selection depending on your needs.
Final Words
This article helps you choose the best Miscreated hosting server providers that will give you the ultimate gaming experience. All the hosting services I have mentioned above are in terms of features, functionalities, ease of use, and security they offer.
The pricing of the slots varies from one hosting service to another, and most services provide a money-back guarantee, so you won't have to worry about a refund after you face any poor service. Thus, choose any of the above Miscreated server hosting depending on your requirements and budget, and continue playing the best game. 
Next, check out the best dedicated game servers for gamers and streamers.
https://geekflare.com/best-miscreated-hosting-server/