E-mails are not as stale a mode of communication as you might think.  Any small business aiming to establish its product in the market would understand the value of e-mail communication. They not only increase productivity within an organization but also help companies in raising brand awareness among masses.
Lately, many software companies are stepping up to provide efficient and cost-effective email hosting solutions for businesses. Any conscious business owner must have observed the hype around email hosting solutions. In fact, a recent study by the market research firm Fortune Business Insights reveals that the market for email marketing software has been experiencing an average annual growth rate of 11%, globally.
Today, companies are turning towards these hosting solutions to save on their hardware and resources. But how exactly do email hosting solutions help? And which one is the best? Why should one choose email hosting when Yahoo or Gmail can do the same job? — If these are some questions that trouble you, then you must read this article before it's too late for your business.
What is E-mail Hosting?
Before we begin with this ultimate list, let's first get to the basics!
What is e-mail hosting?
Imagine shutting down your business for an entire day due to a server overload! Or think of a day when a spam mail lands in the inboxes of your employees that leads to the leaking of confidential information.
Now imagine continuing your business effortlessly while someone else takes care of the security and confidentiality of your email communication. This is what email hosting services do.
They are simply a resource-saving solution that is dedicated to fulfilling all your email requirements and saving associated data on a server, as well as protecting and managing it efficiently.
In other words, it's like renting/buying a server from a third party and paying them to maintain it, instead of having your own server.
But now the question arises… why have a separate server for your email communications when you have email services like Gmail and Yahoo?
Email Hosting Services vs Email Services
Email hosting services are different from free email service providers that you may have used during your school or college time.
Email hosting helps businesses look more professional and trustworthy. While on some email service providers, your business mail ID may look like [email protected], on an email hosting that allows you to customize your email address your mail id may look like info@Sugar&CandyCo.com.
Email service providers also do not have the capacity to handle high-email traffic whereas email hosting services are specifically built to handle huge data traffic.
Handling fraudulent mails that may pose a threat to sensitive data of your business is the most daunting challenge that you'll face over time. For such situations opting for a trusted email host with a good security system is better than any ordinary email service provider.
As new members will join your business, consumer-based email providers will prove to be more complicated to maintain as compared to email hosting.
Though you can start your business with free mail services, as your business starts to grow, so will your need for better data management.
Hence, it would only be better for all small and growing businesses to switch to a good email hosting service that fulfills their business needs.
To help you sail through this complication, we bring you the 11 best email hosting services that'll knock your socks off.
11 Best Email Hosting For Small Business
Any hasty step in selecting your email hosting service can make your business suffer unimaginable losses, after all, data is the new currency. But we don't want you to slip into this hole, especially if you are at a growing stage. So, dive-in into this list to make an informed decision…..
The first on our list of the best e-mail hosting providers is Hostinger. This affordable and reliable platform has been providing email hosting solutions to medium and small businesses. Their plans come with antivirus as well as anti-spam check features that ensure protection against any malware. Their 24/7 customer support ensures quality help at any time of the day.
With Hostinger you can also configure your email hosting with Outlook, Apple Mail or any other mail service, automatically. The service also includes an auto-reply feature for times when you or your employees are out of the office or stuck in any other work. Each user will also be able to keep track of all the activities happening in their email account.
Features

Automation of email communication
Easy mail migration from other providers
Up to 50 GB storage per user per month
Advanced filters to strain out spam mails from other important emails

Plans & Prices

Business Starter at ₹39.00 per user per month
Business Premium at ₹89 per user per month
Why Choose Them?
Hostinger offers a 30-day money-back guarantee on all their hosting plans.
It also provides automatic email backup so that you don't suffer any loss of data.
Custom based email IDs that'll let you pick your own domain name.
Why Avoid Them?
Just like most cloud-based servers, Hostinger is also prone to account hijacking.
Its storage may not be suitable for large enterprises.
Phone support is unavailable, however the platform has live chat support 24/7.
2. Google Workspace
Our most trusted Google provides Gmail for businesses along with many other tools, that are sure to fulfill any enterprise's requirement, in one place – Google Workspace. Formerly known as GSuite, this app comes with software and tools that make businesses more productive.
Along with a customized Gmail ID, you can also get apps such as Google Calendar, Drive, Meets, Docs, Sheets, Slides, and more. With this app, your employees will be able to access their mail from any device—anytime, anywhere. We especially recommend this host for enterprises that heavily rely on Google products for their day-to-day activity.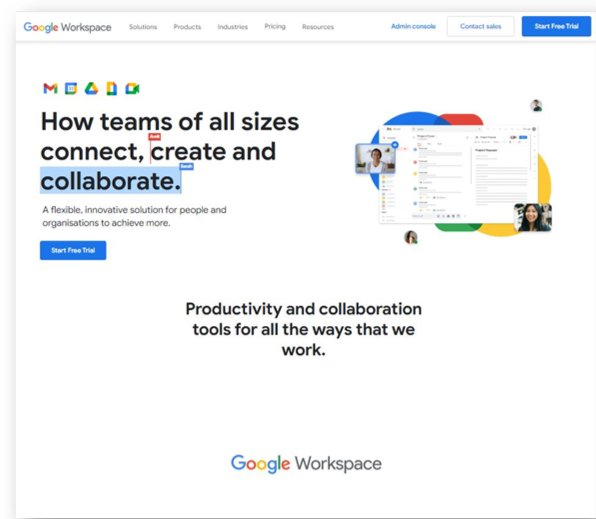 Features

Unlimited group email addresses
Automatic backup, spam protection and 24/7 customer support
Up to 5TB storage for each user
Sync with other platforms such as Outlook

Plans & Prices

Business Starter at ₹136.90 per user per month
Business Standard at ₹736 per user per month
Business Plus at ₹1380 per user per month
Enterprise plan details can be enquired by contacting Google's sales team
Why Choose Them?
Their security system is regularly verified from third-party members like ISO/IEC.
Cloud based storage system that ensures data storage convenience.
Seamless file and document transfer among team members.
Why Avoid Them?
Apps such as Docs and Sheet are not as good as other apps in the market.
Businesses running tight on budget may not find Google Workspace affordable.
Downloading files and folders can be a daunting task.
3. Microsoft 365
Similar to Google Workspace, Microsoft launched its 365 to make email hosting easier for businesses. Along with features such as Outlook, you'll also get access to Microsoft Office, Teams, One Drive, Exchange. As compared to Workspace you'll find 365 providing more storage space per user even with their basic plans.
Most businesses find it easier to conduct their day-to-day activities with 365 due to its user-friendly interface. This email hosting also comes with a cloud-based email filtering that protects your employees' inboxes against any malware or spam emails. A 99% uptime guarantee from Microsoft also assures smooth functioning of your communication system.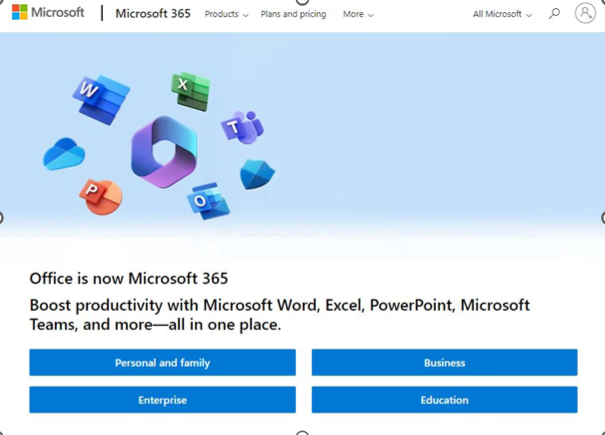 Features

File access from any device anywhere
Downloadable desktop version of Office Apps
Minimum 1TB storage per user per month
Work on files in collaboration with teammates in real-time

Plans & Prices

Business Basic ₹136.25 per user per month
Business Standard at ₹719.40 per user per month
Business Premium at ₹1730 per user per month
Microsoft 365 Apps for Business ₹650 per user per month
Why Choose Them?
Your data will be automatically backed up on a cloud server.
Its bundled apps such as Office, One Drive, etc. are easy to use.
The incorporation of Microsoft 365 copilot, an AI assistant, makes 365 even more productive.
Why Avoid Them?
Apple users may not find it as compatible with their devices as Windows users.
Adapting to frequent system updates may cause a hindrance in the work of non-technical employees.
Requires apt infrastructure to work smoothly.
4. ZOHO
Zoho is perfect for small business owners who are looking for budget-friendly options. It is a reliable and secure email hosting solution that offers both paid as well as free versions of its services. With Zoho Mail, you can create professional email addresses using your own domain, giving your business a professional and authentic appearance.
Along with mail, it also bundles features such as Calendar, Tasks, Notes and Contacts that can ease day-to-day tasks. Moreover, Zoho Mail offers extensive control and customization options through its powerful Control Panel, allowing administrators to manage users, configure settings, and set up policies for business email content moderation.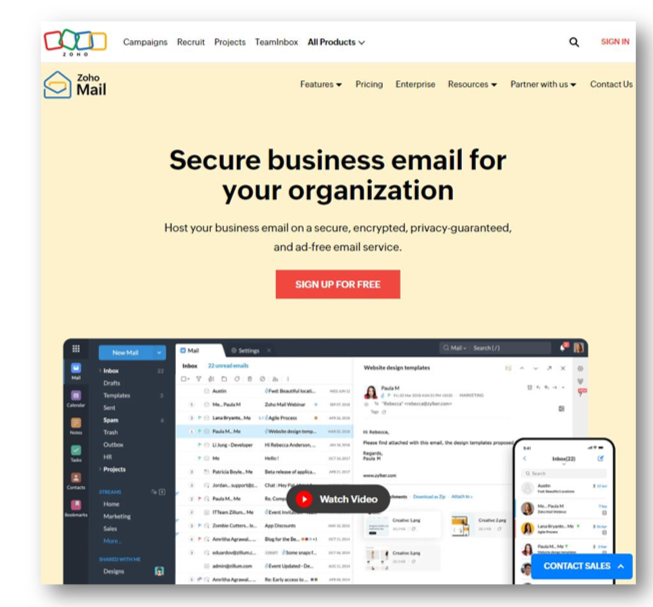 Features

Combine different plans to create the one that suits your business the most
Access to mails even in offline mode
Up to 100 GB storage per user per month
Tools to transfer all business mails seamlessly from other platforms

Plans & Prices

Forever Free Plan for new startups
Mail Lite at ₹58.34 per user per month
Mail Lite at ₹75 per user per month
Mail Premium at ₹199 per user per month
Workplace starting at ₹99 per user per month
Why Choose Them?
Double security check points for extra protection of the employees' accounts.
Users can customize their Zoho mailbox to some extent.
All paid versions of Zoho are ad-free.
Why Avoid Them?
The free version would not be apt even for a company with just 30 employees.
Navigating via the application can be confusing sometimes.
Low storage as compared to some popular e-mail hosting providers on our list.
5. Dreamhost
Next up on our list is Dreamhost which is known to provide a number of cloud-based solutions for businesses. Along with a plethora of web hosting solutions, you'll also find customizable easy-to-use email hosting solutions. At its core, the platform believes in not losing human touch and hence provides a reliable tech team that works at the backend to protect your data from phishing and virus attacks.
You can expect pocket-friendly prices on all their plans. Dreamhost's email hosting service is compatible with popular email clients and offers seamless integration with other productivity tools. They also offer mobile access, allowing you to manage your emails on the go.
Features

Ad-free services
Automatic mail delivery
Up to 25 GB storage per user per month
Accessible from multiple devices

Plans & Prices

Email monthly at $1.99, roughly ₹163.00 per user per month
Email yearly at $1.67, roughly ₹136 per user per month
Why Choose Them?
Users can get inbound spam filtering that will filter out all the unnecessary emails.
They have excellent customer support that is available 24/7 throughout the year.
In-built tools help in easy organization of folders in your webmail.
Why Avoid Them?
Add-on features may result in extra charges.
Their custom panels are not easy to use.
Since the hosts data centers are located only in the US, users accessing services from other countries may face speed issues.
6.Amazon WorkMail
Amazon WorkMail is a secure and scalable email hosting service. Just like others mentioned in the list, with this one as well you can set up custom email addresses using your own domain. The platform provides advanced security features, including encryption at rest and in transit, to safeguard your emails.
When it comes to integration, the platform supports applications like Amazon Web Services (AWS) products, allowing for enhanced collaboration and productivity. Their email hosting service offers a user-friendly web-based interface and supports popular email clients. With Amazon WorkMail, you can have a reliable and secure email solution for any small business.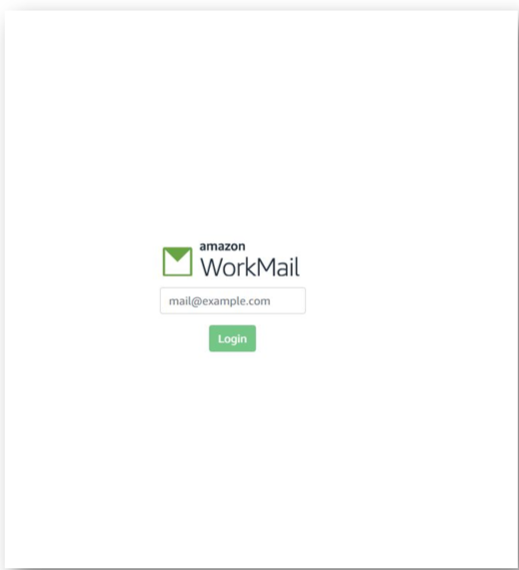 Features

Integration with AWS Cloud Trail
Journaling helps in recording all mail communications
Up to 50 GB storage per user per month
Compatible with Outlook

Plans & Prices

Amazon WorkMail at $4, roughly ₹327.00 per user per month
Why Choose Them?
WorkMail gives a 30-day free trial for 25 users.
Collaboration with reputed migration companies like Audriga and Transend makes email migration easy.
The services offered by WorkMail come with AWS Key Management that'll help you in controlling the encryption keys for your data.
Why Avoid Them?
Users may have to pay extra charges for additional services.
It is too pricy and may not do justice to its worth.
Their spam filtering is not as efficient as its competitors.
7.A2 Hosting
If ultimate speed and reliable email services are your things, then A2 Hosting is the go-to choice. This feature-rich platform is designed to enhance your email management and boost your productivity to a great extent. Some incredible features in the offering include follow-up reminders, sending emails as an alias, scheduled sending of emails, priority inbox, and many more features that add to the organizing power of the host.
With A2 Hosting you can get secure access to your emails and spam protection that'll help you keep your inbox clean. Its 20x Turbo server speed and responsive customer support is what makes it our personal favorite. This host also brings with it the facility of easy and free migration of your emails and a 99.9% uptime that assures smooth operation of your communication system.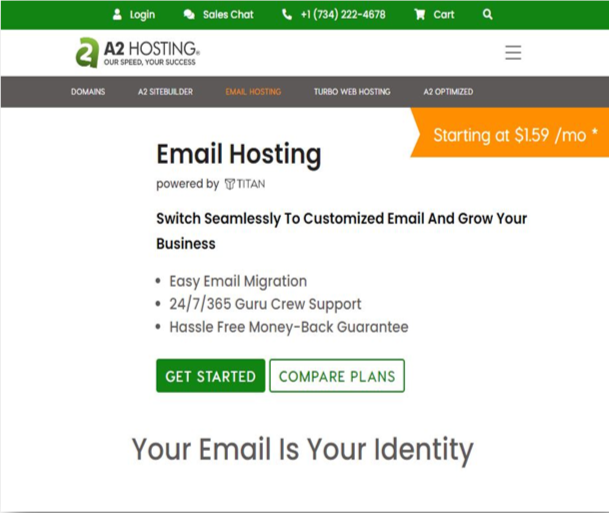 Features

Read receipt alerts
Undo sent emails and edit them
Up to 30 GB storage per user per month
Can be maintained and accessed from multiple devices

Plans & Prices*

Professional at $2.49, roughly ₹204.00 per user per month
Pro Plus at $3.49, roughly ₹286.00 per user per month

*These are A2 Hosting's short-term plans pricing
Why Choose Them?
Domain owners can create a customized email address without purchasing a web hosting plan.
30-90 days money-back guarantee for those who do not find it right for their business.
Users can create email templates with their most frequently sent responses and save time.
Why Avoid Them?
Their long-term plans of 3 years are more affordable as compared to the short-term plans.
Advanced server services are available on expensive plans only.
The site has high-renewal rates.
Expect complete hosting solutions with SiteGround. Here, you can get a comprehensive solution to all your hosting problems. You'll find email hosting integrated with web hosting, WordPress hosting, reseller hosting, and Woo Commerce hosting.
Businesses can customize their email addresses using their own domain and also take advantage of advanced security measures, including anti-spam and antivirus protection, to ensure the safety of emails. Moreover, this email hosting can be the best choice for environmentally conscious businesses who aim to leave less carbon footprints.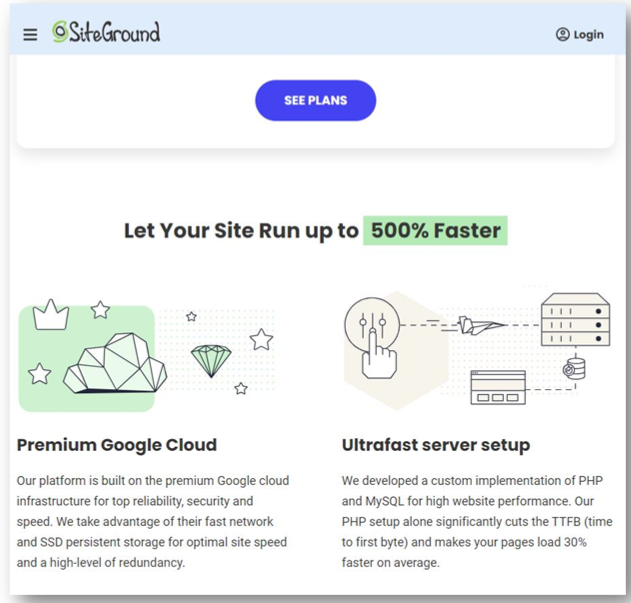 Features

Unlimited email accounts
Cloud-based storage
Up to 10 GB storage per user per month
Attachments of up 50MB can be sent

Plans & Prices

All the email hosting plans come free with the following: –

Web Hosting, WordPress Hosting, WooCommerce Hosting Plans starting at $3.99, roughly ₹327.00 per user per month
Reseller Hosting Plans starting at $ 6.69, roughly ₹548.00 per user per month
Why Choose Them?
The host has advanced software that helps in maintaining high speed.
With SSDs in all their servers you can expect a quick server response.
No extra payment for additional features.
Why Avoid Them?
Not suitable for email marketing campaigns.
Less storage space may prove to be an obstacle to smooth communication.
No filter for your inbound mails.
9. Rackspace
This one is a low-priced solution for those who are seeking plans that'll help them save more. Their advanced smart cloud solutions have been helping businesses flourish without demanding much investment.
Along with traditional email hosting the platform also offers Microsoft 365 Exchange hosting, Microsoft 365 management. Thus, along with an email with your domain name you can also have access to some basic apps from Microsoft Office Suite. The platform also gives a 14-day free trial which adds to the affordability of their various email hosting plans.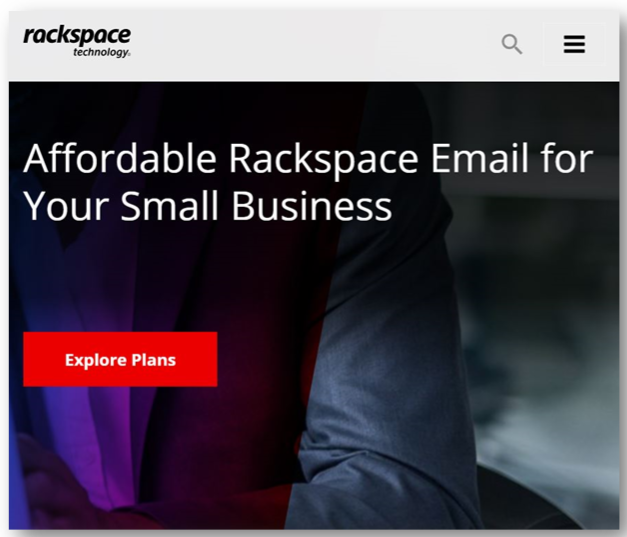 Features

Unlimited email aliases
Shared calendar and contacts
Up to 25 GB storage per user per month
Compatible with Outlook

Plans & Prices

Rackspace Email at $2.99, roughly ₹245.00 per user per month

Rackspace Email Plus at $3.99, roughly ₹327.00 per user per month
Why Choose Them?
Customers will not have to sign up for any long-term plans.
They have an easy and simplified migration process.
Quick and responsive customer support available round the clock.
Why Avoid Them?
Users may be charged extra for features such as unlimited storage.
Many users have reported slow upload speed.
Limited features as compared to others in this list.
10. IceWarp
IceWarp offers a powerful and feature-rich email hosting. They provide advanced security measures, including anti-spam and antivirus protection, to keep your inbox secure. IceWarp's email hosting service offers a user-friendly interface and supports popular email clients.
They also provide mobile access, allowing you to manage your emails on your smartphone or tablet. It also bundles features such as calendar, contatcts, team chats, instant messaging, video conferencing and more. With IceWarp, you can have reliable and efficient email hosting to support your business communication needs.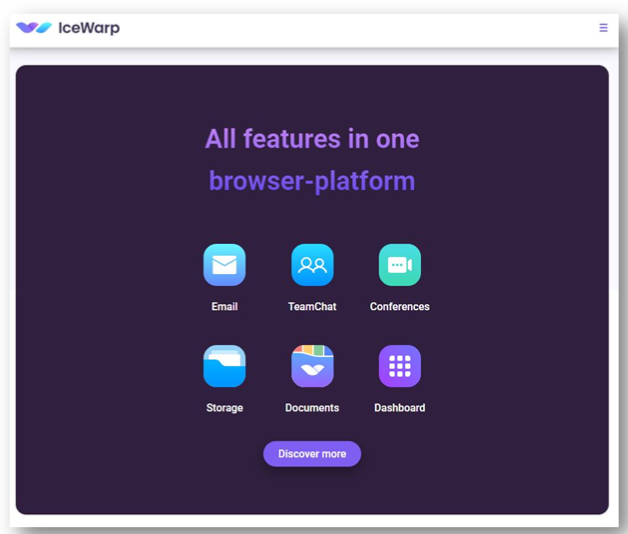 Features

Desktop app available
Real time collaboration
Up to 200 GB storage per user per month
Unlimited domains

Plans & Prices

Startup Package at $1.50, roughly ₹122.00 per user per month
Business at $3.50, roughly ₹286.00 per user per month
Corporate at $2.60, roughly ₹213.00 per user per month
Why Choose Them?
They offer free services for the first 3 months on most of their plans.
Easy to use chat rooms feature.
Reliable file sharing that makes communication faster.
Why Avoid Them?
Users may find it difficult to navigate.
The video calling quality is not up to the market standards.
May not be suitable for large enterprises.
11. Fastmail
Fastmail may not be as widely known as some of its competitors mentioned in this list, but it offers a solid email hosting solution for small businesses. While it doesn't come with an extensive suite of productivity tools like Google Workspace or Microsoft 365, Fastmail focuses on delivering reliable email services with some valuable features such as Calendar, Contacts.
With Fastmail, each user gets 30 GB of email storage space and standard calendaring capabilities. It offers easy management of email accounts across multiple domains, making it convenient for businesses with diverse email needs.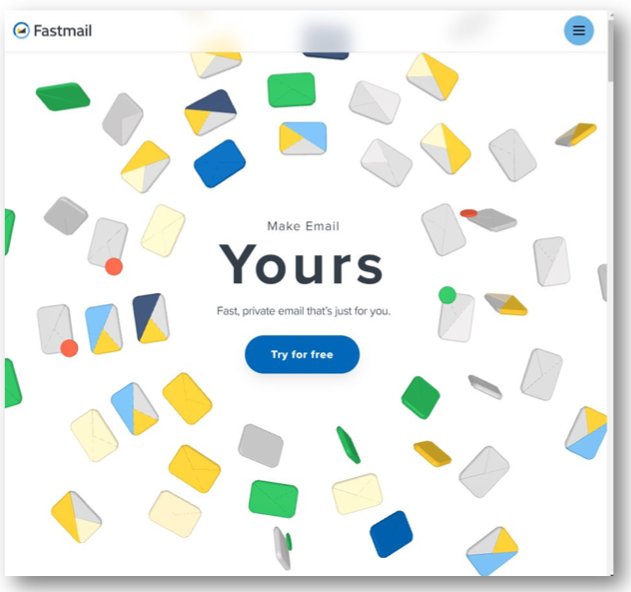 Features

Available for access from multiple devices
Generation of masked email for the security and privacy of users
Up to 100 GB storage per user per month
Automatic organization of mails for better productivity

Plans & Prices

Basic at $3, roughly ₹246 per user per month
Standard at $5, roughly ₹410 per user per month
Professional at $9, roughly ₹738 per user per month
Why Choose Them?
Users can import mail, calendar, and contacts from other email services easily.
Can create more than 600 alias addresses for protection.
Compatible with third party apps such as Outlook and iPhone Mail.
Why Avoid Them?
Does not offer free trial for new users.
Many users have often reported inadequacy in managing spam mails.
The service doesn't come with end-to-end encryption which makes your data more prone to threats.
Free E-mail Hosting vs Paid Hosting
We have presented to you both paid as well as unpaid options in this list. Many of the providers on our list also offer free trials that add to the customer experience of these services.
Though many of you may be inclined to opt for the unpaid versions, we recommend not using them for a long period of time.
Moreover, paid services come with the advantage of reliable customer support, ad-free services, larger number of visitors and more security. Many paid hosting services come with the added benefit of organization tools that can make your work process easier.
How To Choose The Right E-mail Hosting For Your Business
Now that you have a better idea of all the best email hosting services out there, we would advise you to consider this last step. Before selecting any service for your business analyze a couple of them on the following parameters……
Security – Most email hosting services have a cloud-based infrastructure. While this saves a lot of your resources, it also makes your data vulnerable to outside threats. It would be beneficial if you select services that offer spam filtering, malware & virus scanning and have data-loss prevention tools.
Ease of Use – A complicated interface that takes your employees months to get used to will only mess up the communication process within your organization. An intuitive interface that creates no hurdles even with regular updates and can be accessed from multiple devices would be best suited for all small businesses.
Data Storage – Evaluate the storage needs for your organization. Do not simply view this parameter from a current point of view, but as a future investment that will contribute towards scalability. Your selection should also cater to the needs of your business as it grows.
Value for Money – Not all good things come at low prices. Go for a service that offers ample features along with their email hosting. Mostly, companies that offer services for free compromise on other vital aspects such as storage, security or ask users to pay for each feature.
Frequently Asked Questions
1. Does Google Workspace give free trials to businesses?
Yes! Google Workspace gives a 14-days free trial to its users when they subscribe for any of their plans.
2. Will I get free email hosting along with my web hosting plan?
Many web hosting platforms offer free email services. However, these services do offer a dedicated server for your email needs.
3. What is the maximum mailbox storage provided by email hosting services?
Mailbox storage varies from provider to provider and from plan to plan. You can expect a minimum of 10GB to a maximum of 5TB or even more.
4. What are shared email hosting services?
In shared email hosting your data would be stored on a server along with other businesses that opt for the hosting service.
5. Which type of email services is best for small businesses?
Cloud email hosting services are best for small businesses as they are more affordable and resource saving.
Our Take
We believe having a dedicated email hosting is crucial to any small business. So, boost your business's productivity and give a more professional look by signing-up for any email hosting service from this list today!
Write to us or leave a comment if you want us to cover any of your email hosting service that we may have missed.
https://www.grabon.in/indulge/tech/best-email-hosting-for-small-business/