A common question we're asked is if we provide email as part of our hosting packages. The short answer to this is 'no'. The reason for this is that we feel our energies are based focused on providing the best possible Managed WordPress hosting experience available! We hope you'd agree that this is something we have succeeded in doing.
Email is a whole other ball game and there are plenty of
good quality email providers for you to choose from making it an unnecessary
addition to our product line up. That's not to say that we don't handle email
on our platform… where so-called 'transactional' emails are concerned (emails
that get sent as a result of a contact form submission or a password reset
email etc.) we do indeed have a sophisticated system in place to handle these.
For your day-to-day personal or business email needs however, there are three
providers we'd suggest you check out. Google, Rackspace and Microsoft.
Let's jump right in and take a look at each system and get a
feel for their strengths as well as weaknesses, cost of each system and how to
get started!
Google
It would be an understatement to say that Google is a household name and Gmail similarly is probably one of the best-known email services out there. Many of us have a free Gmail account (that comes with an email address that likely ends @gmail.com). It's a great service, particularly when you consider it's free. But what about if you want to use your own domain name for your email?
For quite some time now Google has offered what they call 'G Suite'. This is an 'all in one' business package that is pitched as a competitor to Microsoft's ubiquitous Office 365 offering. Not only does it include a Calendar, Docs (a Microsoft Word equivalent), Hangout Chats (for video calls), a spreadsheet package, Google Drive for cloud storage plus several other useful apps, but you'll also get access to Gmail for Business.
Gmail for Business does exactly what it says on the tin…
provides the great Gmail system for businesses. This means no adverts, twice
the storage of a personal Gmail account and of course, the ability to route
email through your own domain which looks a LOT more professional than using
the personal @gmail.com address.
Gmail Features
The Gmail interface will be familiar to anyone who has
already used a personal Gmail account but comes without the adverts. There is
nothing hugely unique about Google's email offering but users will notice some
clever extras such as auto predict typing (which is surprisingly good). The
reliability of the system and speed at which emails are sent and received is
excellent. It's a robust email system and that's important particularly when
it's for business use.
Gmail does a great job of integrating with other tools in the G Suite including our favorite, Google Hangouts which allows you to talk to colleagues either by video or voice from within your browser.
Pricing
There are three editions on offer. Basic, Business and
Enterprise. Basic is $6/month per user, Business jumps to $12/month per user,
whilst Enterprise gets pricey at $25/month per user.
For most businesses, the Basic plan will probably be more
than enough. Included are pretty much all the G Suite tools and apps (such as
Docs and Drive) plus of course Gmail. The primary differences with the Business
and Enterprise plans lay in the Security and Management features with each
addition offering progressively more in terms of data control, archiving rules
and access features more suited to larger organizations.
Gmail Summary
Gmail is not sold as a standalone product. Instead, it comes bundled with all the extras we've discussed, and this is for good reason. G Suite is designed very much as a Microsoft Office 365 competitor and, the addition of all the tools you could reasonably need for the day-to-day running of your business make it an attractive package. G Suite is a comprehensive system that is easy to use as well as affordable if you go for the basic plan. The lack of desktop software however is a potential downside and despite Google's best efforts, their Microsoft Word and Excel equivalents (Docs and Sheets) are just not as good.
A 14 day free trial is on offer so check it out!
Rackspace
Rackspace is a long-standing provider of cloud-based IT services including hosting. Established in 1999, they were made famous by their promise of 'Fanatical Support' which aimed to deliver industry-beating help for their clients.
As part of their portfolio of products, Rackspace offers
several email hosting services which includes Office 365, Microsoft Exchange
and their own email system, Rackspace Email.
Unlike Google and Microsoft who now bundle their email
offering with other services, Rackspace Email just does one thing… email!
Rackspace Email allows you to setup your own domain so email
then flows through this meaning you get email from @yourdomain.com. Once setup
(and they will help onboard you and even migrate email from another system to
theirs), you can access your email via IMAP through your phone, Outlook (if you
own a copy) and also their own proprietary webmail interface.
Rackspace Email Features
Email is vital for your business and Rackspace recognise this by offering a 100% uptime guarantee. We're always wary of SLA's that make this kind of promise but clearly Rackspace are confident that their system will hold up no matter what. Support is available 24×7, 365 days a year which is important. Mailboxes are generously sized at 25GB each. Rackspace Email also includes a calendar, contacts list and tasks.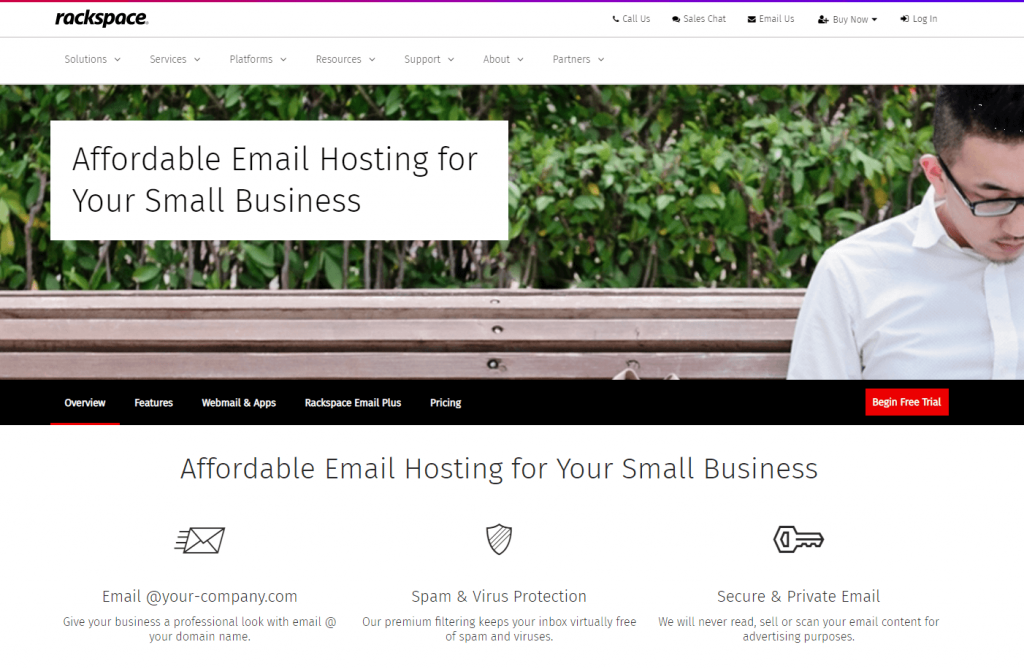 Unlike Gmail and Microsoft (more on that later), things like
Contacts will not automatically sync across devices unless you opt for their
'Rackspace Email Plus' version.
Pricing
Rackspace Email is available at $2.99 per mailbox making it
the cheapest of our 3 email options. There is however a minimum spend required
of $10/month, essentially meaning you'll be purchasing 3 mailboxes. Rackspace
Email Plus which comes with Contacts sync and Cloud storage is $3.99/month.
Rackspace Email Summary
Rackspace Email is a perfectly respectable email solution. There is nothing fancy about it and, if sending and receiving email is all you are interested in doing then it'll work well, particularly if your budget is tight.
Try our Award-Winning WordPress Hosting today!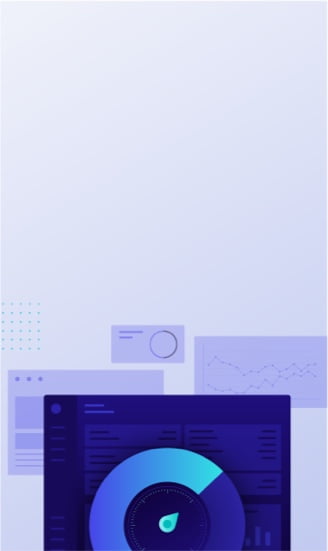 It's not, however, a particularly modern solution, with both G Suite and Office 365 offering a more rounded email product that syncs your data (such as contacts) more seamlessly. And whilst you save some money by virtue of it being upwards of 50% cheaper per mailbox than Gmail, you don't benefit from additional tools such as Docs (or Microsoft Word with Office 365). This means you're likely going to have to spend some additional cash on these tools if you need them.
Find out more and signup at rackspace.com
Microsoft
Microsoft might well be the most recognizable of the three providers of email hosting out there. Their product offering has altered quite considerably over the years so before we get into too much detail, we'll just clarify the names Microsoft gives its products and what they relate to with regards to email.
Microsoft first made a name for itself in the email game with its desktop software Outlook. Outlook is an email client that can connect to a variety of email services (including Gmail and Rackspace Email today). It's one key advantage to web-based email systems is its ability to handle multiple email accounts, even if the email provider is different, from the one interface. This means you can easily check and respond to all your email in one place. For example, you might have a personal Yahoo email account, a Gmail account for work and a shared family email account provided by your Internet Service Provider. Outlook allows you to hook into all three making managing multiple email accounts a cinch.
Microsoft not only provides email client software but also email hosting. This is commonly known as Microsoft Exchange and for many years was the go-to email hosting system for most businesses. Typically, businesses would purchase a Microsoft Exchange license and then host this on their own servers. Whilst this is still possible to do, Microsoft, like most other IT software providers have made the transition to the cloud. Now, their all-in-one Email and Office productivity suite is called Office 365 and is available, like Gmail for a monthly subscription.
Office 365 bundles some of Microsoft's most popular
products, including Word and Excel into a package alongside Exchange email.
Much like G Suite, this package is designed to offer businesses pretty much all
they need for the day-to-day running of their business.
Microsoft Exchange Features
Microsoft Exchange is a mature, feature-rich email system that has dominated the email market for many years and continues to do so. It's not hard to see why. Email sync is seamless across devices whilst tight integration with your contacts and calendar make communicating with colleagues and setting up meetings a breeze. A massive 50GB mailbox ensures you'll also never run out of space. Depending on the version purchased, advanced security and admin controls are available giving you the flexibility you need to handle how your team uses email. Oh, and of course, you're free to run all of this through your own domain name.
Email can be accessed using your own phone or tablet email
client, via the free to use Outlook app (available on iOS or Android), by using
the desktop version of Outlook (you may need to pay for a copy of this
depending on the Office 365 plan you choose… see pricing below for more
details) and also via the incredibly slick Outlook Web App which closely
mirrors the feel and function of the desktop version of Outlook.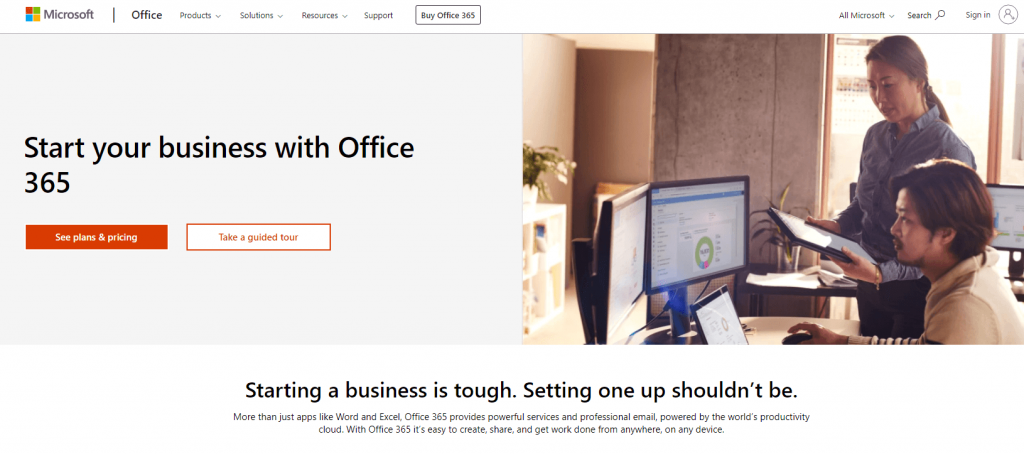 In addition, with an Office 365 subscription you get access to web-based versions of Word, Excel, PowerPoint and OneNote as well as One Drive (a cloud-based storage system with 1TB of space). For an additional fee, Microsoft also includes a license for the desktop versions of Word, Excel, PowerPoint and Outlook. Enterprise subscriptions also include access to further software such as Access.
Office 365 Pricing
Microsoft offer a slightly confusing array of pricing
options which are broken down into two primary categories… Small Business and
Enterprise.
Enterprise is the most suitable option for very large businesses (in excess of 200 licenses required), otherwise, their Small Business plans are more than adequate.
Small Business plans start with Office 365 Essentials at
$5/month per user and move to $12.50/month for Office 365 Premium or $20/month
for Office 365 Business. There is actually relatively little difference between
the plans in terms of core features. The Essentials plan gives you email and
access to Microsoft web apps (including online versions of Word and Excel).
Jump up to the Premium plan and a licence for the desktop version of Excel,
Word, PowerPoint and Outlook are also included. The Business plan offers all of
this with additional security controls suitable for larger organizations.
Office 365 Summary
As with many things in life, you tend to gravitate towards certain products that then retain your loyalty. Exchange was the original heavy-hitting business email system and there is an argument to be made that this position remains today. Now, combined with the original office productivity suite (Word, Excel, etc.) Office 365 offers an incredibly powerful email and productivity solution for businesses of all sizes. Whilst it can at times be a little complex, particularly if you start diving into more advanced security features, it still looks like the system to beat in 2020.
Find out more and purchase at office.com
Conclusions
So, which email provider is best? Google, Rackspace or Microsoft? Unless you're after a basic email solution, we'd probably suggest discounting Rackspace and looking at either Google G Suite or Microsoft Ofice 365. Both offer mature, feature-rich systems that include an excellent email solution. Which you choose is likely to be a personal preference and will in part also be dictated by whether or not you feel the need to use desktop versions of Microsoft Word & Excel. If you do, then an Office 365 subscription makes sense. If not, then you might be tempted to jump on the G Suite bandwagon like many millions of businesses have. Equally, there is a certain allure of using what has been the pre-eminent email and productivity software suite on the market for many years in the form of Microsoft Office 365.
Each to their own!
Start Your 14 Day Free Trial

Try our award winning WordPress Hosting!
START YOUR FREE TRIAL
VIEW OUR PRICE PLANS


https://pressidium.com/blog/google-vs-rackspace-vs-microsoft-which-email-provider-is-best/