Post Views: 496
Factorio is a massive game with numerous intricate automated effects where one can build and manage factories. The game also includes engaging in technological research, resource mining, infrastructure construction, automated production, and enemy combat; all of these activities are done to meet your resource needs. Factorio is a multiplayer server game. Recently, Factorio servers have become increasingly popular, making it difficult to find the best Factorio server hosting.
List of Best Factorio Server Hosting To Buy – Top Picks
However, here, we have compared the top Factorio servers hosting, taking into account some of their best key features. These servers offer you complete control of your Factorio gaming experience, high performance, an amazing support team in case you need customer care service, and a variety of locations throughout the world to guarantee the best connection.
Top 5 Factorio Server Hosting List
Check out these top five Factorio servers hosting in 2023.
1. Zap-Hosting
Zap-Hosting provides many services, including hosting services, VPS hosting, and dedicated servers. The inexpensive services provided by ZAP-Hosting are simple to use, making it one of the best and cheap Factorio servers for small enterprises and personal websites. Zap-Hosting is also one of the best places to rent high-quality servers, owing to its various features and advantages.
Key features:
All game servers are fully automated during setup and immediately accessible.
SSD Server provides fast processing and high Factorio performance.
All game servers can be seamlessly updated thanks to FTP access.
Modern DDoS protection is installed on every server.
The game server cloud enables users to switch between games while installing free extra game servers.
High-performance processor (Intel E5-2650v5) to provide a lag-free gaming experience.
Supports live chat (if any issue arises).
Includes various payment methods, such as credit cards, PayPal, etc.
A prepaid contract is available for those who do not want to enter into a contract.
Website Link: Zap-Hosting.com
2. GTXGaming

GTXGaming is another example of one of the best Factorio dedicated server hosting with years of experience. This reliable platform has been the top Factorio server hosting choice for over 10 years.
GTX Gaming offers the best features for the ideal gaming server hosting, such as DDoS-protected game servers, global support across all regions, and the largest collection of titles.
GTX Gaming is committed to enhancing its computing performance every year. You can avoid having slower performance over time by regularly upgrading your hardware.
Key Features:
Offers easy admin configuration that enables editors to add admins conveniently.
The backup option is available in case you lose your data. However, it will be stored only for 30 days from every reboot.
Easy-to-manage tools (best web interference) are available for you to download any workshop items mentioned on the server.
Provides 24/7 customer care service.
Uses an excellent grade of hard drivers to provide you unparalleled service.
Website Link: GTXGaming.com
3. Nitrous Networks
Looking for a Factorio server hosting with excellent customer service? Choose Nitrous Networks. It is continuously improving its products and hiring more support workers despite being more expensive than competitors. Additionally, it is well-known for its quick setup and high performance.
Their live chat staff is competent and helpful, and they frequently respond to you with a solution to your issue in a short period. They have a reputation for working together to get you out of sticky situations and back into game mode as soon as possible.
Key Features:
Provides unlimited Ram storage.
Provides high-quality hardware.
It has DDoS protection.
Large gaming board and free web hosting .
Enable multiple players (50) and payment options.
SSD storage.
Accessible through 7 different locations.
Website Link: Nitrous.com
4. AleForge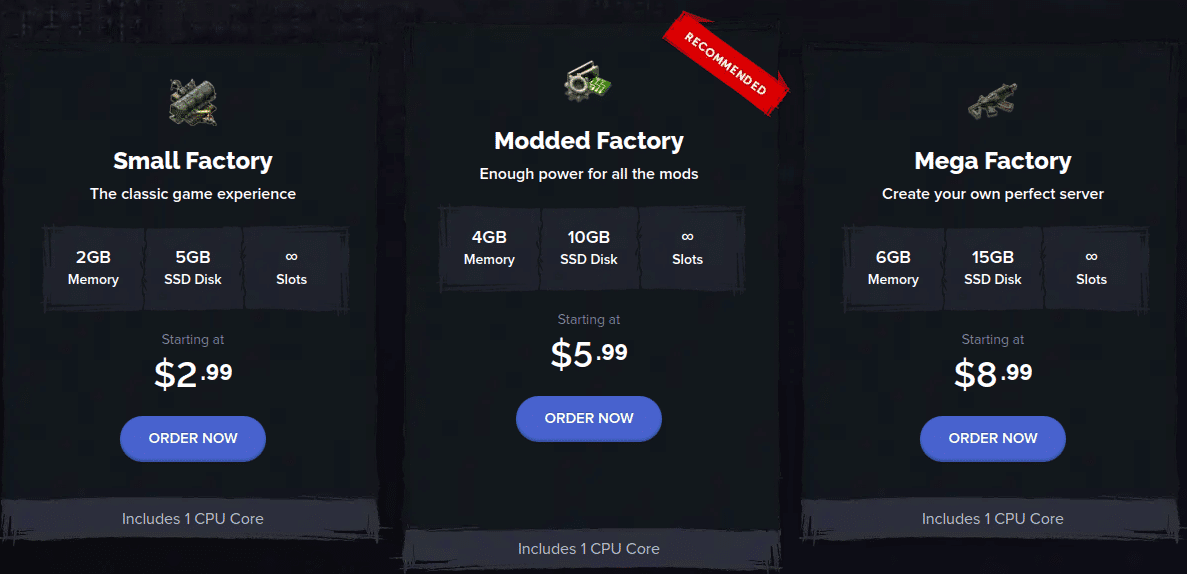 AleForge strives to provide a clear picture of server hosting, the resources you require, and the direction you need if you're in a dilemma. This platform aspires to be a service provider that takes pride in the best security system without impairing the quality.
An intuitive control interface that includes a mod installer, backups, and many other features lets you manage your game server. Both power users and beginners can use the robust UI. On the chosen games, you can install modpacks, Steam Workshop items, plugins, etc.
AleForge uses a global network with true redundancy and dependable infrastructure to deliver 99.9% uptime for lag-free games. You can choose from various adjustable options for a fun and seamless gaming experience.
Key Features:
Available at the best price with high-end performance hardware to make your gaming experience luxurious.
It provides mega supporting staff.
Provides assistance to install and play mods (easy or hard) available on space exploration.
Guarantees uptime operational servers.
Equipped with the best hardware and networking to make your gaming experience hassle-free.
All games are equipped with gigabit (minimum) networking; however, premium servers are entitled to 10 gigabits.
It has free subdomain options to share the customized URL with anyone.
It has DDoS protection to keep your data safe.
Website Link: AleForge.com
5. Nitrado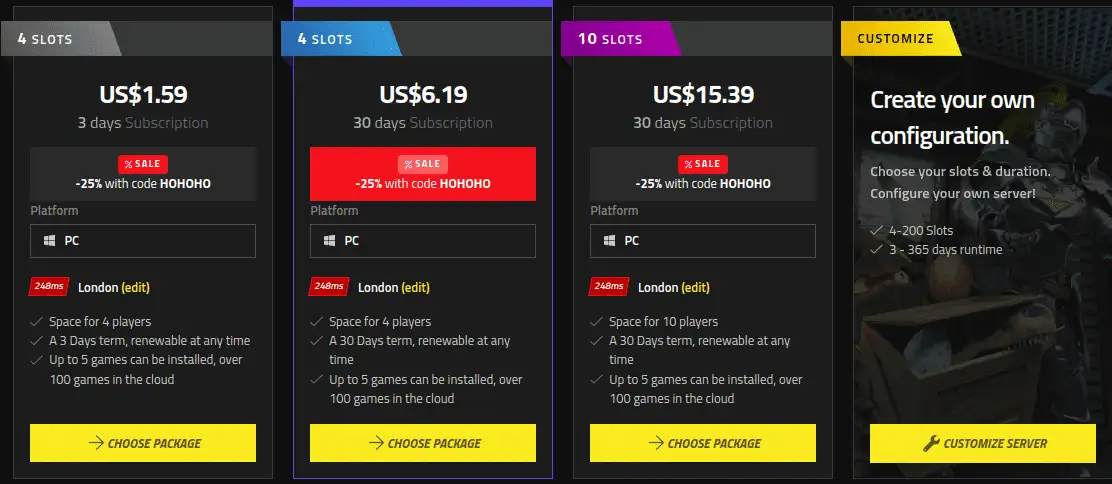 There is no better option than Nitrado when it comes at affordable prices, customer service, dashboard style, and with a large range of games. They use a special system that entirely automates and dynamically controls Nitrado game servers and other web hosting services in the cloud to offer economical Factorio server hosting.
There are servers for many different games, and the busy forums are a terrific resource for knowledge in addition to the usual customer support. Regarding server providers, Nitrado is a safe platform, and the numerous gaming communities provide its evidence.
The variable prepaid system ensures simple management of all facilities, because there is no minimum contract duration. You can update services without causing any problems at any time during the procedure. Each product includes a comprehensive and complete feature package for this reason.
Key Features:
It has a prepay system to manage prices.
Easy and quick management of services (including installing mods and plugging) without any contract.
Easy to switch between different services (up to 5 games) and easy updates.
Provides daily backup and DDoS protection and security.
High-quality and secure server hardware with a Free SQL database.
ESL premium certified.
Conclusion
To access Factorio with the utmost satisfaction and enjoyment, the best Factorio server hosting is mandatory. It's hard to go wrong when choosing the best server since the list above will provide you with the necessary assistance. However, ensure that the hosting company you select meets your needs and budget before choosing it.
FAQs
1.  Why do you need game hosting for Factorio?
Game hosting for Factorio is required to manage and host your gaming servers and enable the players to connect to a computer known as a game server to play multiplayer games. The server controls the game, and updates each player's computer with information on other players' positions, chat messages, etc.
2. How much RAM does a Factorio server need?
Follow the table below to have a proper answer for factorio server requirements:
| | | | | | |
| --- | --- | --- | --- | --- | --- |
| Factorio Server | Memory | Graphics Card | File Size | CPU | OS |
| Max. Requirements | 8 GB | AMD Radeon HD 5450 | 1 GB | Intel Core 2 Quad Q9650 | Windows 10, 8, 7 (64 Bit) |
| Min. Requirements | 4 GB | NVIDIA GeForce 7200 GS | 1 GB | Intel Core 2 Duo E6850 | Windows 10, 8, 7, Vista (64 Bit) |
3. Is Factorio an infinite world?
Yes, Factorio is an infinite world since there is no maximum map size, and the game engine's performance is excellent because it can support large factories. It's also stable – even with thousands of hours of play, you will never experience a crash or a glitch that will prevent you from playing.
Also Read
https://linuxbuz.com/best-resources/best-factorio-server-hosting-providers