Shared web hosting is a type of web hosting service in which multiple websites are hosted on a single physical server connected to the Internet. All the websites in shared hosting share the resources on a single server.
This is the most economical type of hosting as compared to other hostings such as dedicated and cloud. The cost is generally very less in this hosting type as all the resources such as CPU, RAM, memory etc. are shared by many websites simultaneously.
This hosting is very cheap also and most of the people new in blogging or in the online field start with shared hosting only. Shared hosting is usually recommended only for small sites and sites that don't have a very large amount of daily or monthly traffic. Also, as multiple websites share the same server so there may be sometimes security concerns. For business or company websites where security is important, this type of hosting is not very popular.
Due to the server is shared, system administration access is not given to the users and this is handled by the hosting company only. Now, this is a benefit for those who don't like to deal with these things but it is a limitation for power users who like to optimize their servers according to their choices.
Though shared hostings usually have some limitations and they don't offer a lot of features such as automatic backups, but most hosting providers offer a web-based control panel (cPanel in most cases) and with that, users get free statistics reports, email services, database access and other technical support.
Advantages of Shared Hosting
Shared hosting has some advantages over other types of hostings available, but the most important factor which makes this type of hosting so popular is its cost. Since most of the sites don't use too many server resources, shared hosting makes it possible for everyone to get their site up and running for as low as $2 per month. Most hosting companies offer multiple plans for every type of hosting so you can just start from shared and move to either dedicated or cloud hosting as your website will grow.
In shared hostings, the hosting company is responsible for the management of servers such as the installation of required software, updating, security patches and other regular updates. No technical maintenance needs to be done by you so you don't have to worry about anything related to your server. You can put your focus entirely on your website and on your business. Also, you can easily host multiple domains on a shared hosting provider that your plan allows you to do the same.
But if you are looking for extensive development on your server then dedicated or cloud hostings will be better for you as you will have full access to your servers there. Also, shared hostings are not that good when it comes to performance and system can also suffer frequent downtimes.
Uses of Shared Hosting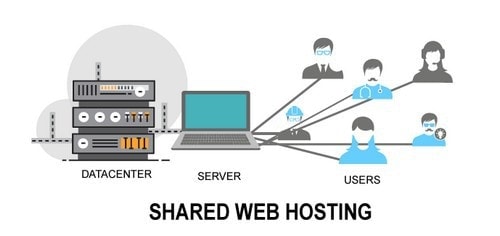 Before selecting any shared hosting plan, make sure that it is the right choice for you. Some uses of shared hosting are:
If your website does not have a lot of daily traffic or if your websites do not need a lot of resources to work.
You have a very simple and not so heavy website.
If you are on a tight budget and you need the cheapest hosting possible.
If you just need an online presence and some visibility.
And, if you want to just test some sites or if you are learning then go with shared hosting.
Nowadays, shared hostings are available in Linux and Windows based systems and many hosting providers also offer WordPress based hostings as well which are optimized properly only for WordPress sites.
Some of the Plans Available in Shared Hosting
There are thousands of big and small hosting providers who provide shared hosting services. You should always choose the hosting company according to your needs. Here we have listed some of the best shared hosting companies and their plans:
1) GoDaddy :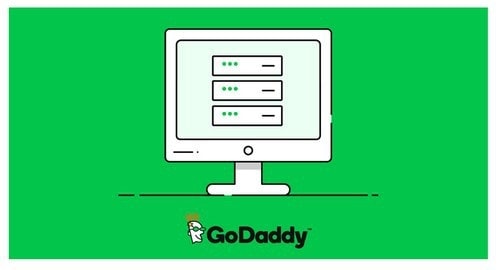 Though most people do not like GoDaddy, still, it is one of the world's #1 web hosting company. They offer a guaranteed 99.9% uptime and their plan starts at just $2.49/month.
Starter plan which costs just $2.49/month includes 30 GB of storage, unmetered bandwidth and you can host one website with this plan. The Economy plan costs $2.99/month and includes 100 GB storage, 24/7 support, free business email for the first year and a free domain of your choice as well if you go with their annual plan. They also have Deluxe and Ultimate plans which you can consider if you want to host more than one website or if you need more resources.
GoDaddy gives access to a very easy-to-use control panel, 24/7 security monitoring and DDoS protection with every plan. You can upgrade your plan anytime you want. Also, if you are new and don't know about websites a lot then don't worry, GoDaddy's customer care is an award-winning customer care service which will help you in any problem you will face related to your website. I have personally used GoDaddy when I started my websites and I was impressed by their customer service representatives who try their best to help you out with every problem. You can contact their support either using live chat, email or by the phone.
GoDaddy offers both Linux and Windows based hosting so you can choose according to your requirements. You can install over 125 different applications on your website with just one click from the control panel. All in all, Godaddy is best if you are looking for an economical yet best hosting provider.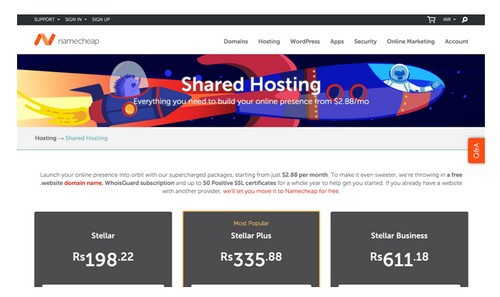 This is another popular hosting provider with plans starting as low as $2.88/month. With this, Namecheap also offers a free .website domain name, WhoisGuard protection and up to 50 Positive SSL certificates for one year.
You can host a maximum of 3 websites and use up to 20 GB SSD storage with their $2.88/month shared hosting plan. They have cPanel as their control panel and you can deploy any application such as WordPress in just one click. Also, now security is very important for websites and that is why they offer free SSL certificates. You will get the 24/7 support as well with a 30-day money-back guarantee.
Namecheap guarantees an uptime of 100% and twice a week backup which is good as if anything happens to your site, you can easily restore your latest backup. In short, Namecheap makes it easy for you to create attractive, functional websites according to the latest standards.
3) DreamHost :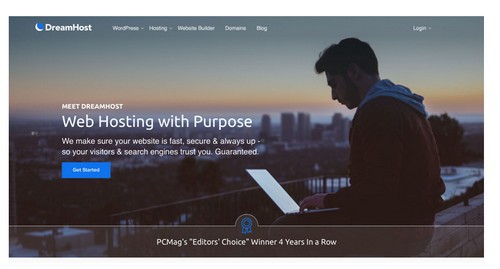 This is another shared hosting provider with plans starting from $7.95/month. DreamHost offers cPanel, 100% guaranteed uptime, their award-winning 24/7 available support and 97 days money-back guarantee.
With all this, you will get a free domain plus privacy if you will go with the annual plan. You can create unlimited custom email addresses with POP/IMAP/SMTP accounts. Free Let's Encrypt SSL certificates are also included with every plan and all of your website's data will be stored in their SSDs which are 200% better in performance as compared to traditional hard drives. Though DreamHost servers are completely Linux based and they don't support Windows-based hosting as of now but that will not be a problem if you are not going to use your server for development purposes.
Conclusion
Though the security risks are higher with shared hosting, still, it is best for you if you are just starting out or if you don't want to spend a lot of money. As your website will grow, you can easily move to higher plans and get enough resources for your websites.
https://www.marketing91.com/what-is-shared-hosting/