If you're searching around for web hosting, you've probably come across the term reseller hosting.
So – what is reseller hosting, and is it a type of hosting that you need to care about?
At a high level, reseller hosting is a lot like what the name suggests. It lets you resell hosting from a hosting service as if you were the hosting provider yourself. Another term you're familiar with might be white labelling.
If you're a web agency or freelancer designing client sites, it lets you offer your own "hosting service" without doing any of the work. Or, if you're building your own sites, it makes it easy to give each site its own separate hosting account.
In this post, we're going to dig into everything you need to know about reseller hosting, including the following:
What is reseller hosting? We'll explain it in more detail
Who should use reseller hosting
The biggest benefits of reseller hosting
How reseller hosting works
How to get started with reseller hosting
Let's dig in!
What is reseller hosting? Explained in more detail
Reseller hosting gives you the ability to resell hosting services from an established provider, or, to think of it in another way, to rent server space from a hosting provider to sell as your own.
You sign up directly with the reseller hosting provider and you get access to a certain amount of hosting resources. Then, you can sell access to those services as if you had your own hosting service.
You'll be able to customise the branding to match your own and create separate accounts for each person (or website).
Generally, as a reseller you're responsible for providing technical support to your clients and acting as a liaison between the reseller hosting provider's support team and your clients. The basic idea is that you're able to essentially create your own hosting service, but without needing to purchase or maintain a bunch of hosting servers.
Who should use reseller hosting?
The main users of reseller hosting are web agencies or freelancers who build client websites and want to also offer a hosting service for those websites.
If you build websites for clients, offering this type of hosting service is a great tactic because it lets you build a recurring revenue stream. You get the big upfront fee for actually creating the site but then you still get money coming in every month from the hosting service.
But at the same time, using reseller hosting lets you eliminate the need to have your own servers because the reseller hosting provider still handles managing the hosting for you.
Some people also like using reseller hosting for their own websites, though this isn't the main target market of reseller hosting.
For example, let's say you have five different websites. With regular shared hosting, you might host all five websites on the same account. That means they'd all be mixed in together and you'd use the same cPanel dashboard to manage all five sites.
With reseller hosting, you could add each site as a separate hosting account. That way, each site would have its own separate cPanel dashboard and you could clearly differentiate between them.
You would also have more control over dividing resources between sites. For example, you could give one site more resources than the other four sites.
Both methods are totally fine – it's really up to you which you prefer. But if you like the idea of having a separate account for each site, you might still prefer using reseller hosting for your own sites.
Benefits of reseller hosting
There are a lot of benefits of reseller hosting, though the exact benefits will depend on your specific situation.
First, let's talk about the two biggest benefits of reseller hosting:
Reseller hosting essentially lets you create your own hosting service, but without the need to have your own hardware and without any technical complexity.
You can charge any price you want to clients, which lets you make as much money as you want (as long as you can find enough clients to pay that price).
And then here are some of the other benefits of reseller hosting:
Separate cPanel accounts – you can give each client (or each one of your own websites) their own cPanel dashboard.
White-label branding – most reseller hosting providers let you apply your own branding to all the client-facing areas. For example, you can change the design, use custom nameservers, use a custom cPanel URL, etc.
Control over resource allocation – you can allocate different computing resources to different websites/accounts.
Fixed expenses – you know exactly what your reseller expenses will be every month, which makes it easy to project your profitability.
Is reseller hosting profitable?
Reseller hosting is as profitable as you want it to be because you can set your own prices for the hosting that you resell. If you're able to attract clients, you can absolutely make money using reseller hosting.
For example, let's say you sign up for Krystal's Unity plan, which costs £23.99 (incl. VAT) and lets you create up to 25 cPanel accounts (note: each Krystal reseller cPanel account is limited to 1 CPU core and 1GB of RAM).
If you were able to attract 15 clients and charge them £15 per month, your monthly profit would be ~£201 – the £225 that you collect from clients minus the £23.99 that you pay for the reseller service.
If you were able to fill all 25 cPanel accounts at £15 per month, your monthly profit would be ~£351.
How reseller hosting works
At a high level, reseller hosting works like this:
You sign up for a reseller hosting service from a hosting company.
That hosting company gives you access to a dashboard to manage your client hosting accounts. Typically, you'll get access to WHM WebHost Manager, but some reseller hosting providers might use a different system.
You use WHM to create a hosting account for each client. Each client gets their own entirely separate account, much as if they'd signed up for a shared hosting account directly with the provider.
You can also add your own custom branding to everything so that clients never know that you're using reseller hosting.
Here's an example of what it looks like to create your own hosting plan using WHM: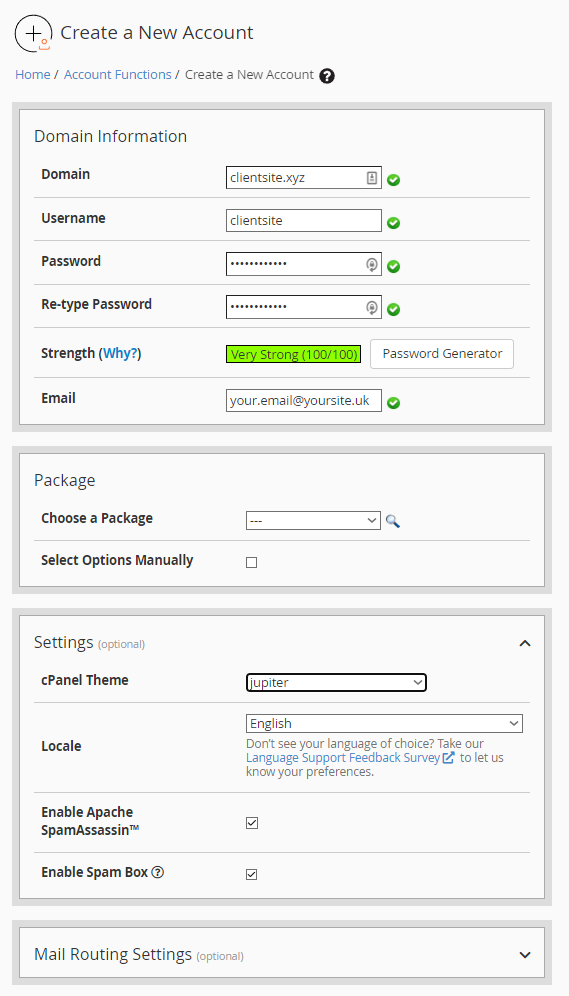 Get started with reseller hosting today!
If you've made it to this point and you think that reseller hosting is the right solution for your situation, Krystal's reseller hosting plans make it easy to get started.
With Krystal's reseller hosting plans, you get access to all of the tools that you need to make your reseller business a success, plus great hosting to keep your clients happy.
All plans come with WHM and cPanel to help you manage the hosting. Then, you also get lots of other goodies such as LiteSpeed Web Server for improved performance, free SSL certificates, off-site backups, and more.
To learn more and get started, head to the Krystal reseller hosting page or explore our library of easy-to-follow reseller guides.
https://krystal.uk/blog/post/what-is-reseller-hosting