Deciding on the suitable WordPress hosting for your needs is a complex task. It can be confusing with several types to consider, including VPS, shared, managed, and dedicated hosting. Ultimately, your decision depends on features, reviews, and cost-effectiveness. When it comes to cheap hosting options, you'll typically be limited to shared or VPS hosting and, in some cases, managed hosting. Your choice will depend on your specific needs for bandwidth, storage, and features. To help you make an informed decision, we'll guide you through our top picks for the best cheap WordPress hosting available.
Let's get started.
What is Considered Cheap WordPress Hosting?
Regarding cost, the term cheap can be subjective. To clarify, we're defining cheap by considering options priced at less than $15 per month. Each hosting company we'll discuss offers value, features, and expandability, making them excellent choices for budget-conscious website owners. It's important to note that opting for cheap hosting usually means compromising on bandwidth, storage, or advanced features. However, cheap options can still offer excellent value for those seeking affordable WordPress hosting. So, let's explore our picks for the best cheap WordPress hosting.
The Best Cheap WordPress Hosting Providers
We evaluated several factors to create our list of the best cheap WordPress hosting options. We considered the features provided by each budget provider, along with their reviews, security features, and ease of use. Considering these factors, we've compiled a list of our top picks for the best cheap WordPress hosting. So, let's dive in and explore these options in more detail.
SiteGround has regular web hosting, managed WordPress hosting, and a selection of other hosting options. With a track record for reliability and an easy-to-navigate control panel, SiteGround lives up to its reputation that it is cheaper than most managed WordPress hosting solutions with similar features.
The basic plan lets you create one website with 10GB of web space and 10K monthly visits. You'll also get standard features like free email, free SSL, and e-commerce features. We particularly like SiteGround's Collaboration and site tools, which let you give someone else access to the website and hosting dashboard. You can set permissions so they don't change or override anything they shouldn't.
SiteGround is for you if…
You need e-commerce features from the beginning.
You need to manage multiple sites from the same account.
Collaborating with team members or clients is a priority.
Quick and responsive customer support is important.
➡️ Read Our Complete SiteGround Hosting Review.
2. Cloudways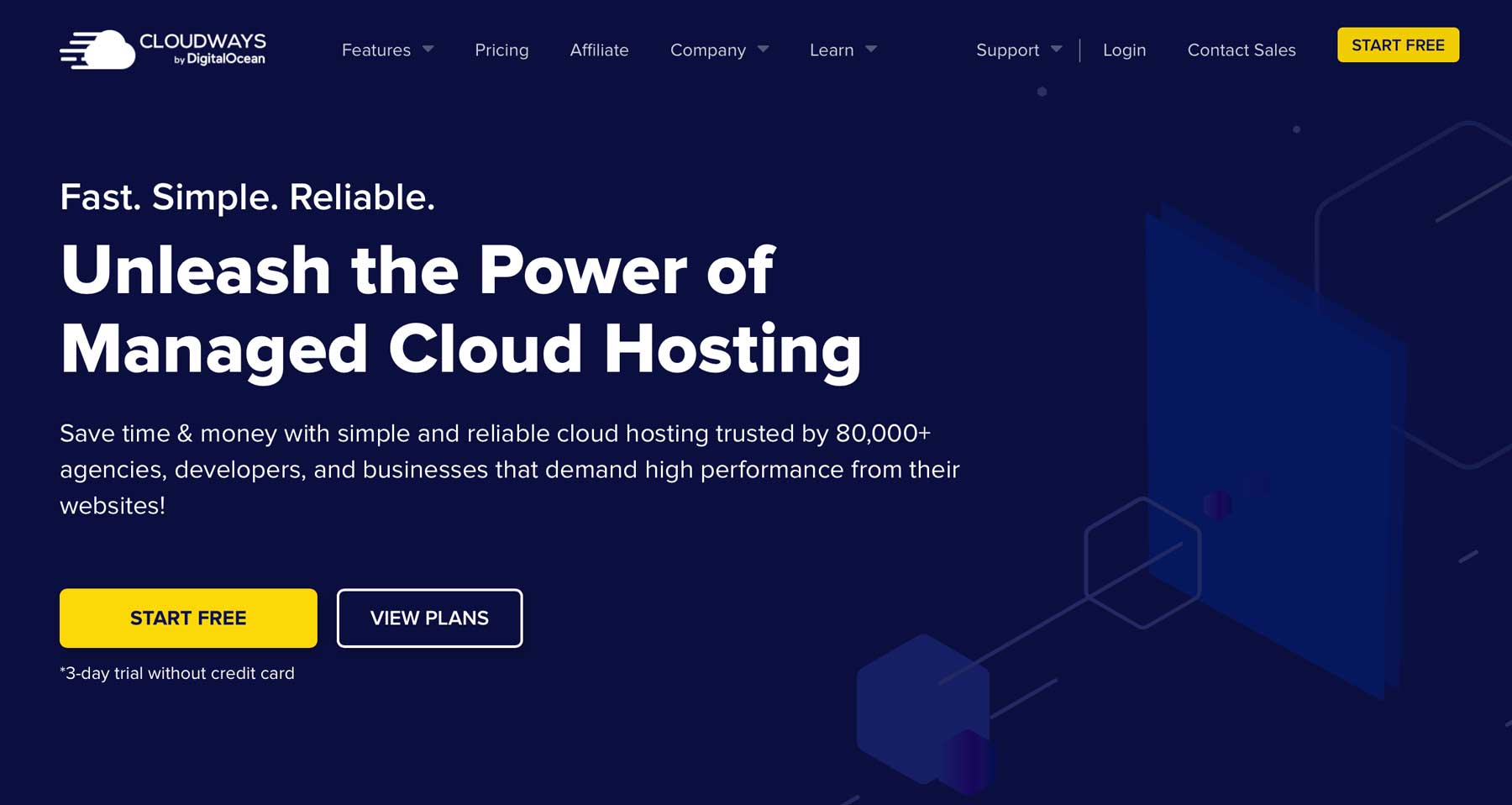 Cloudways offers managed cloud hosting for WordPress and beyond. What we like best about Cloudways is the modular hosting package. You can select your desired features and combine them into a custom package. This makes it a good candidate for cheap WordPress hosting without sacrificing performance.
Key Features of Cloudways
There's no limit to how many sites you can host with Cloudways, and they also don't blacklist any plugins or themes — you can create your website any way you want. That doesn't necessarily leave your site vulnerable, though. Cloudways has serious security hardening that's managed and updated often.
Cloudways is for you if…
You have some advanced technical skills regarding websites.
You're creating a multi-site network.
You want more control over your site than with other managed hosting plans.
➡️ Read Our Cloudways Managed Hosting Review.
3. DreamHost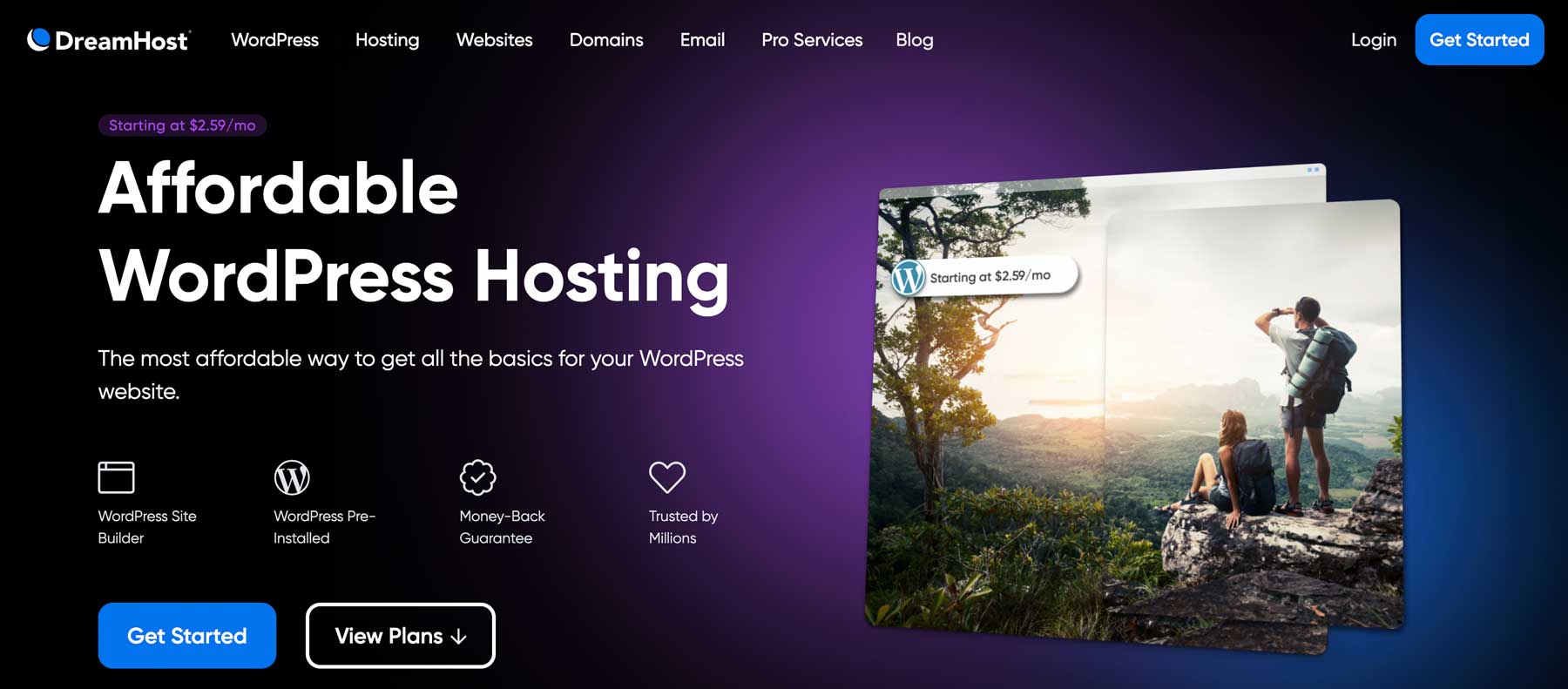 Our next pick for the best cheap WordPress hosting is DreamHost. They offer various plans, including WordPress Basic, built on a shared hosting environment. Those willing to spend more can opt for the cloud-based DreamPress plans, or VPS WordPress plans that simulate a dedicated environment with isolated resources. However, their WordPress Basic plans are impressive and offer a lot of value.
Key Features for DreamHost:
With a free domain, unlimited traffic allowance, free migration, SSD hard drives, a free SSL certificate, and a generous 97-day money-back guarantee, it's hard to go wrong with DreamHost. It's worth noting that their lowest-priced plan, the Shared Starter, only allows for one WordPress install. However, you can upgrade to the Shared Unlimited plan, which allows unlimited websites. Both plans offer free daily backups, automatic WordPress updates, SFTP, WP-CLI, SSH, and 24/7 ticketed and live chat support.
DreamHost is for you if…
You don't mind sharing resources with other clients.
You're comfortable installing a cache plugin to speed things up.
4. GoDaddy

GoDaddy promotes cheap WordPress hosting starting at $1. While that's technically possible, you'll probably pay a bit more. But not a lot more, most likely. Even the pricing page has the lowest option at $5.99 per month. You can still get away with keeping costs quite low, though.
The company has gone through a lot to improve its image and reputation over the past few years. Through our personal experiences with GoDaddy, we know they have good customer service.
Key Features of GoDaddy
The basic Economy hosting plan includes 25GB, a domain name, email, and a one-click WordPress installation. GoDaddy is also one of the biggest domain registrars in the world. They offer a drag-and-drop website builder, too. However, the WordPress Block Editor is far more intuitive and easy to use and customize. We suggest sticking with GoDaddy for domain names and basic hosting only.
GoDaddy is for you if…
You don't have a domain name and want it bundled with your hosting package.
You don't need managed hosting but want an easy-to-use control panel (cPanel).
High-level security isn't a concern. For example, you're not collecting private information or processing payments.
➡️ Read Our GoDaddy Managed Hosting Review.
5. A2 Hosting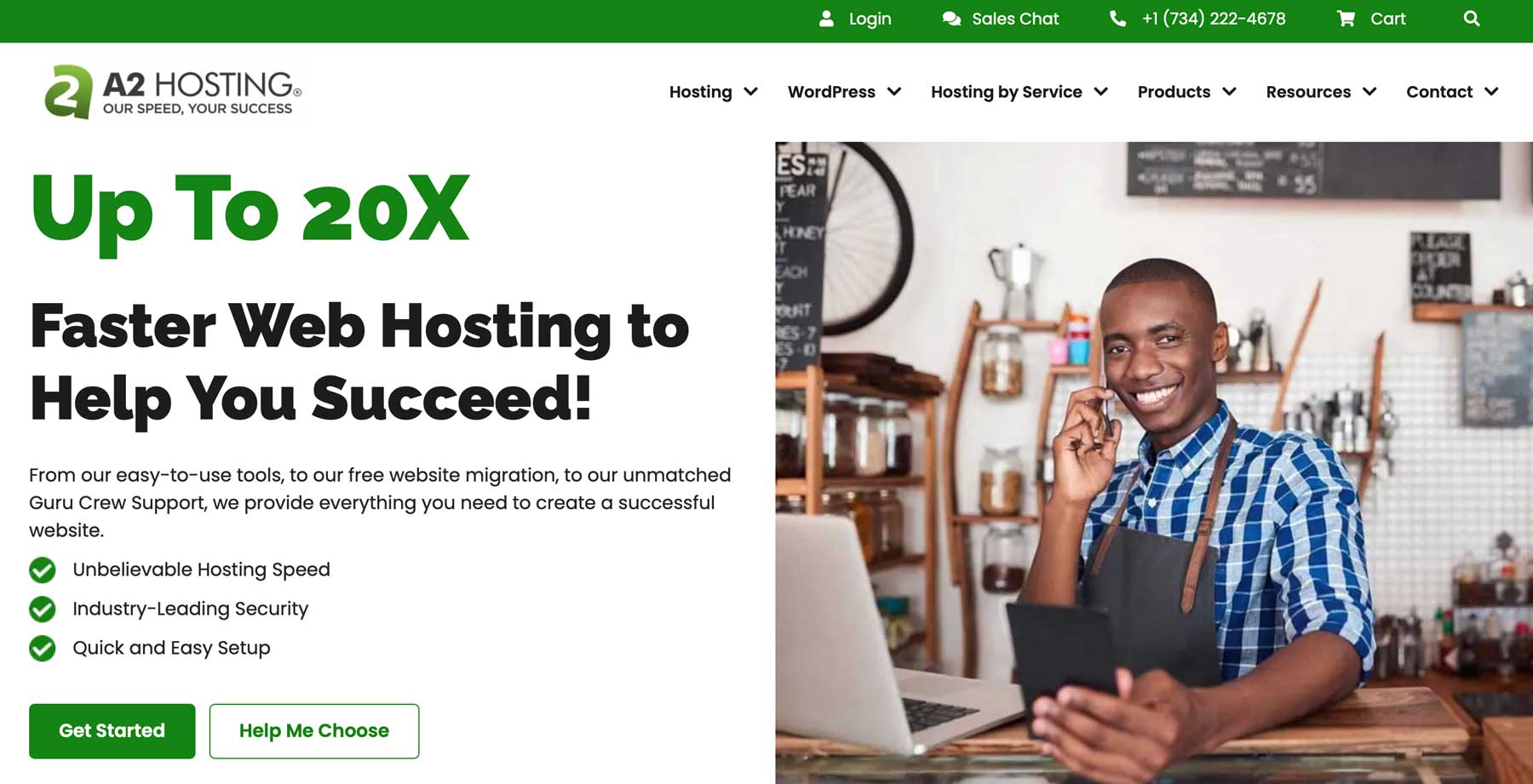 Our next pick for the best cheap WordPress hosting is A2 Hosting. They provide a diverse range of hosting options, including shared, VPS, managed, dedicated, and reseller hosting. They cater to a wide range of budgets, with price points ranging from $2.99 to well over $150 per month.
Key Features for A2 Hosting:
A2 Hosting's shared hosting plans start at just $2.99 per month. They offer many features, such as at least 100 GB of storage, free site migration, SSD storage speed boost, free SSL certificate, and top-notch security options, including DDoS protection, brute force defense, virus scanning, server hardening, and 24/7/365 security monitoring. Additionally, you can choose where your site's files are hosted, access Cloudflare CDN, have easy site staging and cloning, and have unlimited email accounts with SMTP. A2 Hosting also simplifies WordPress installation with the Softaculous feature built into cPanel.
A2 Hosting is for you if…
You want excellent features at a low price point.
Your site doesn't require a ton of bandwidth.
6. InMotion Hosting

Moving on to our next cheap hosting contender, InMotion offers various hosting options, including shared hosting. Their shared plans are powered by Nginx webservers and utilize a unique caching system, UltraStack. This advanced caching system includes Redis object caching, which improves website performance. Additionally, InMotion implements PHP-FPM for enhanced security and more efficient processing power than suPHP. To further improve website loading times, InMotion uses Brotli compression, which provides better compression rates than the standard GZIP used by other providers.
Key Features for InMotion Hosting:
Their lowest-tiered shared hosting plan, WP Core, offers 100GB of NVme SSD storage, free SSL for life, unlimited bandwidth, ten email addresses, an advanced security suite with backups, malware, and DDoS protection, live chat support, and W3 Total Cache support for an affordable price point of $3.99 per month. Those looking for more power can stay under that $10 per month price point by opting for InMotion's WP Power plan, which adds the ability to handle unlimited websites, and provides unlimited storage and email addresses for $7.99 per month.
InMotion Hosting is for you if…
You require a lot of storage for WordPress files.
Increased speed and security are a requirement.
➡️ Read Our Complete InMotion Hosting Review.
7. GreenGeeks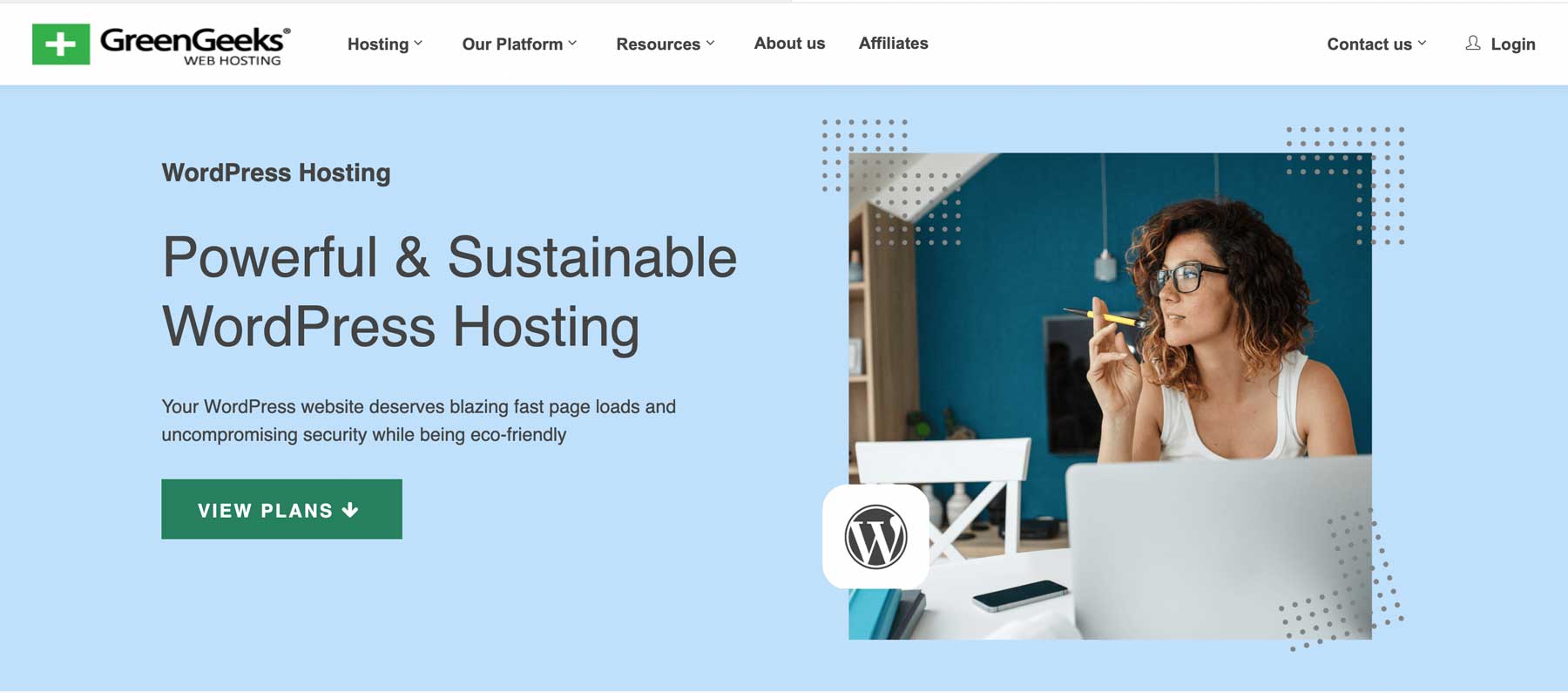 GreenGeeks is an eco-friendly hosting provider that offsets its servers' energy usage by purchasing wind energy credits. Their WordPress hosting plans, priced from $2.95 to $8.95 per month, include standard features such as email, pre-installed WordPress, free migration, automatic updates, an SSL certificate, and a free domain for one year.
Key Features of GreenGeeks
In addition, you'll get access to several other features, such as 50GB of storage space and 50 email accounts. The package includes free daily backups for your website, a free CDN, WP-CLI, and SSH access. You'll also enjoy built-in caching, unlimited databases, and a 30-day money-back guarantee – all included in the basic plan.
GreenGeeks is for you if…
You need a lot of business email accounts.
Free website migration is a must.
You require an SSL certificate at no extra cost.
You want a CDN for fast content delivery.
➡️ Read Our Complete GreenGeeks Hosting Review.
8. IONOS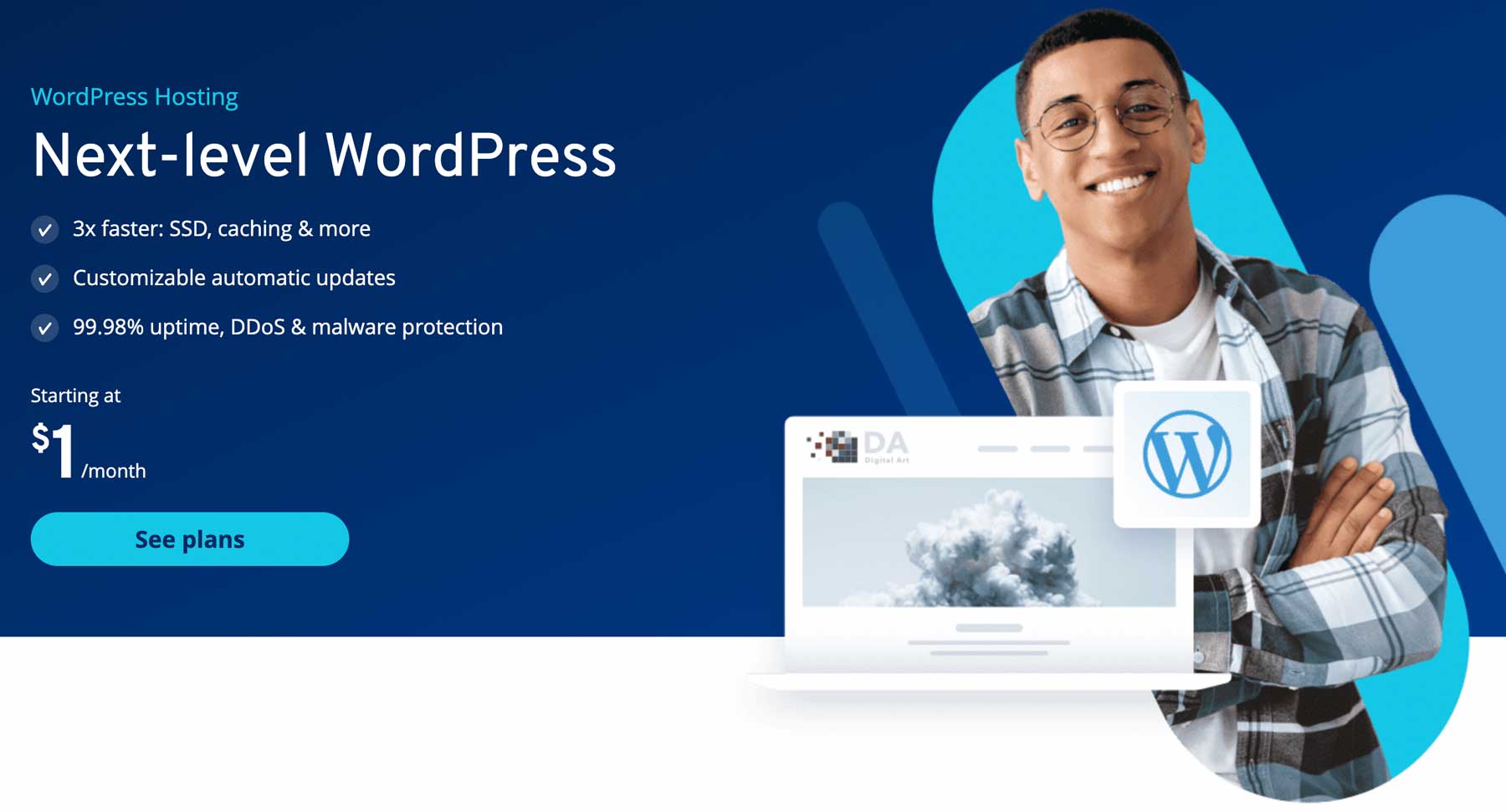 IONOS is a top contender for cheap WordPress hosting, offering a wide range of plans, including shared, managed, WooCommerce, and dedicated hosting. Their plans start from as low as $4 per month and go up to $120 per month, catering to websites of all sizes. IONOS' managed hosting plans provide impressive features to help website owners efficiently operate their sites. With a minimum of 25 GB of storage and 10,000 monthly visitors, they are well-suited for websites of all sizes.
Key Features fro IONOS
Additional features include automatic WordPress core and plugin updates, a free domain, SSL, and malware scanning to help keep your site secure and up-to-date. Plus, SiteAnalytics allows you to monitor key performance metrics like the number of visits, bounce rate, page views, and click events. To further safeguard your site, IONOS includes a DDoS shield, which protects against bad actors, and data mirroring at two data centers to prevent downtime. And in case of any issues, daily backups ensure you can quickly restore your site to a previous state.
IONOS is for you if…
You need enhanced speed and features at an affordable price.
You want managed hosting, so you don't have to worry about site updates or security.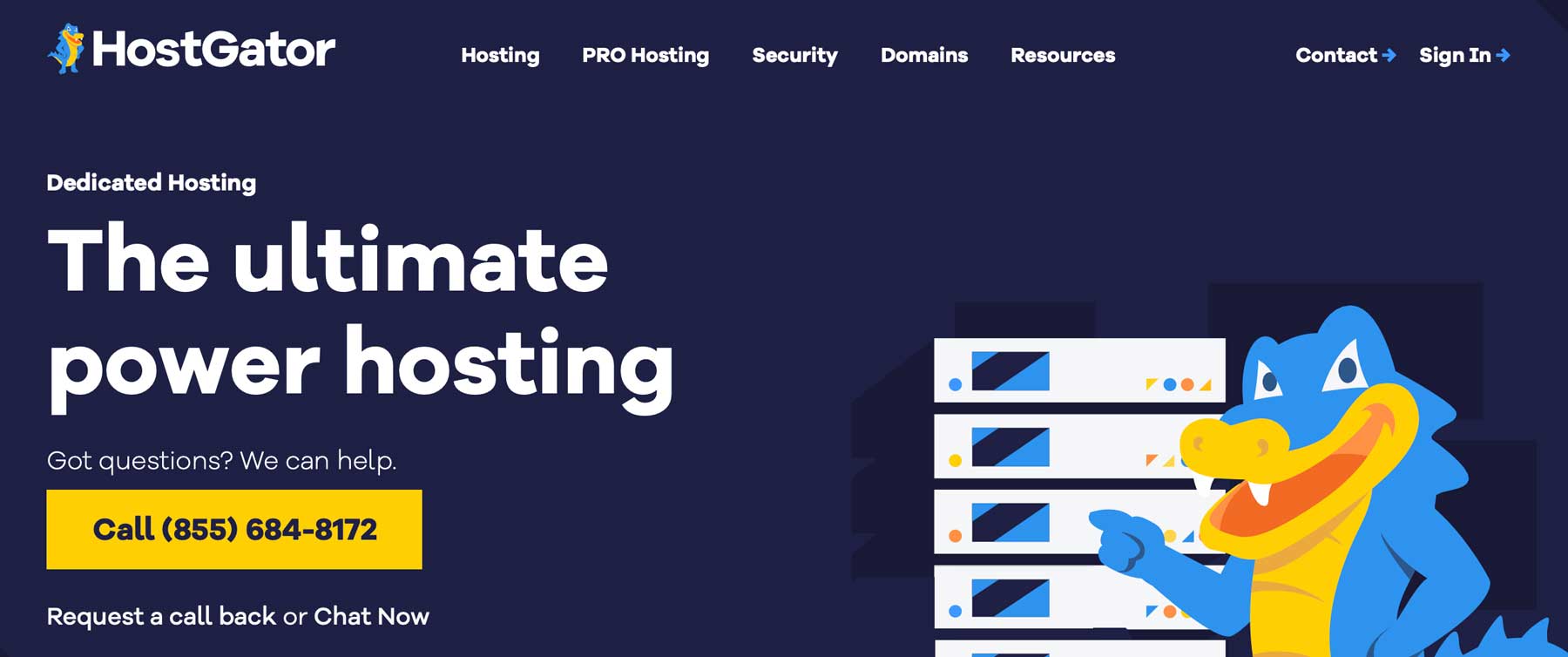 HostGator is the last company on our list of the best cheap WordPress hosting providers, a familiar name in the hosting industry. Renowned for its affordable hosting solutions, its WordPress hosting plans are no exception. These plans offer a minimum of 100,000 monthly visits, a free domain, migration, and email, a 99.9% uptime guarantee, one-click WordPress installs, and a 30-day money-back guarantee.
One of the notable features of HostGator's hosting plans is the unmetered bandwidth they offer. However, it's important to note that even though unmetered means that they won't track your bandwidth usage, they may still throttle your site if it continuously exceeds their system's resources. While this is unlikely a problem for most small sites, it's important to consider whether HostGator is the best option for resource-heavy sites like e-commerce sites or portfolio sites with many images. In such cases, it may be better to opt for a provider like Cloudways, which allows you to add storage and other essential resources as your business grows.
HostGator is for you if…
You have a small, informational WordPress website.
You don't require dedicated resources.
➡️ Read Our HostGator Managed Hosting Review.
What's The Best Cheap Hosting Option?
While cheap website hosting may not provide dedicated resources or vast amounts of storage and bandwidth, it is an ideal choice for small websites or those new to WordPress. For those seeking the most features and scalability, SiteGround and Cloudways are excellent options. DreamHost is a great choice for those needing a free domain, though it may not be suitable for ecommerce sites with high traffic requirements. Whether launching a new site or migrating your existing one, these hosting providers offer a range of affordable plans to suit your needs.
If money is an object to you or your brand, we feel like any of these choices will do you just fine. Budget options aren't always the most robust or powerful when looking for cheap WordPress hosting. That said, most options on our list have scalable plans that will allow your business to grow.
Disclosure: If you purchase something after clicking links in the post, we may receive a commission. This helps us keep the free content and great resources flowing. Thank you for the support!
https://www.elegantthemes.com/blog/wordpress/best-cheap-wordpress-hosting